Here is a vast collection of dessert recipes handpicked to satisfy all flavors and levels of sweetness. There are cakes, cookies, pies, and other more exotic desserts to impress friends and families alike!
Vintage and Traditional Cake Recipes
Our collection of cake recipes are the favorites, the ones that are baked for special occasions and birthday parties or when a perfect rich treat is needed to end a great meal.
From rich and delicious chocolate cake to spice-laden carrot cake, you'll find your favorite here.
Creamy Decadent Cheesecake Recipes
With recipes for the intensely rich New York cheesecake to gourmet flavors like pumpkin, eggnog, or cookies and cream, you won't run out of ways to make everyone's favorite dessert.
Whether you're trying a new flavor or an old favorite, these are the best cheesecake recipes to indulge in.
Blue Ribbon Pie Recipes
We have the pie recipes for classics like Apple Pie, Cherry Pie, Blueberry Pie, and Lemon Meringue Pie to old-fashioned favorite pie recipes for Raisin Pie, Nesselrode Pie, and Millionaire Pie.
Bake a favorite or try a new recipe, but remember to save room for pie!
Cookie Jar Favorites Cookie Recipes
Bake a homemade treat and fill the cookie jar, we have the cookie recipes everyone loves.
From the old-fashioned to the tried and true favorites, to the quick and easy recipes, they're all here! Melt-in-your-mouth shortbread, sugar cookies, chocolate chip cookies to please everyone, and more.
Rich Fudge Recipes
Fudge is a creamy, silky smooth treat that is easy to whip up as a special treat or a thoughtful decadent gift for someone you care about.
If you need a bit of pampering for yourself, the fudge recipes we have will take you away.
Mama Shirley's Heirloom Desserts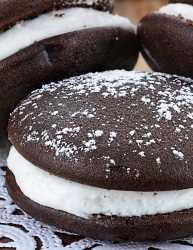 Mama Shirley's desserts were memorable from the minute she started to make one. Dough was rolled for pie, and old-fashioned cakes were part of Sunday Suppers.
Her recipes will take you to a simpler time, when every day held a treat.