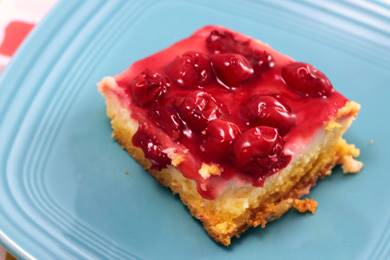 Cherry Cheesecake Recipe
When we think of cheesecake varieties, cherry has to be one of the most popular. This is with good reason as there is something about how the slightly tangy flavor of the cherry works with the creamy, smooth taste and texture of the cheesecake.
And let's not even talk about how the cherry juice melds with the cheesecake to give the entire dessert a wonderful fruitiness.
Although there are many variations on the cherry cheesecake, this recipe makes a cake that is more pastry like in nature. It is prepared in a flat pan which makes for small, pie like pieces. These smaller servings are lower in calories giving you a little, satisfying piece of heaven every time you eat it.
Of course, if you want a more satisfying treat, you could eat the whole pan!
Baking it in a pan also makes preparation easier but if you would rather make a full cake, you can adjust ingredients accordingly.
The recipe we have here calls for cherry pie filling, but for a purer cherry flavor, you can puree fresh cherries and add it to the top of the cake as a sauce. This can also be a great way to cover any cracks or imperfections that may have appeared on the top of your cake.
Another secret to perfect cheesecake? Use full fat cream cheese. You can fool yourself into thinking this is a healthful alternative, but it will certainly give your cake more of a full-bodied flavor.
Leave the cream cheese out for a few hours before preparing your cheesecake to give it time to soften. This way it will be easier to mix into your cake.
Now that you have the secrets to a great cheesecake, you can make one that is as delicious as possible. Serve it with whipped cream and look forward to how happy your guests will be when they take a bite.
Cherry Cheesecake
Cherry Cheesecake Ingredients:
Crust Ingredients:
1 package yellow cake mix
1/3 cup butter, softened
1 egg
Filling Ingredients:
2 (8 oz.) packages cream cheese
2 eggs
1 Tbsp. vanilla
3/4 cup sugar
Topping Ingredients:
2 cups sour cream
1 Tbsp. vanilla
1/4 cup sugar
1 (21 oz.) can cherry pie filling
Cherry Cheesecake Directions:
1. Preheat oven to 350 degrees F.
2. Mix cake mix, butter and egg with mixer on low speed until crumbly. Place into an ungreased 13 x 9 x 2 pan.
3. Combine cream cheese, eggs, 1 Tbsp. vanilla and 3/4 cup sugar, mix with electric mixer until smooth. Spoon over cake crust.
4. Bake 20 to 25 minutes until set.
5. Mix sour cream, 1 Tbsp. vanilla and 1/4 cup sugar until smooth; spread on top of cheesecake. Bake 5 minutes longer. Cool completely.
6. Spread cherry pie filling on top and refrigerate at least 8 hours.