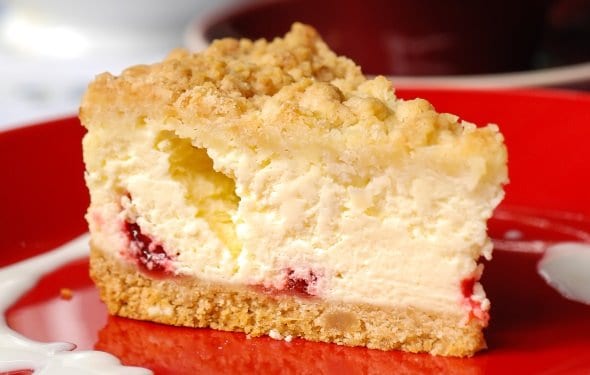 Filled Cheesecake
Instead of topping the cheesecake with pie filling, it is baked right in for a wonderful cross between traditional fruit pie and cheesecake.
Ingredients:
1 cup flour
1 cup old-fashioned rolled oats
1/2 teaspoon baking powder
1/3 cup packed light brown sugar
1/2 cup butter
1 3/4 cups cherry pie filling (or any other flavor pie filling)
16 ounces cream cheese, softened
1 cup white granulated sugar
1 1/2 teaspoons pure vanilla extract
2 cups sour cream
3 eggs
Directions:
1. Preheat oven to 350 degrees F (175 degrees C).
2. In a medium bowl, combine the flour, oats, baking powder, brown sugar and butter.
3. Press all but 3/4 cup of the crumb mixture into the bottom of a 10 inch round baking pan, forming a crust.
4. Spread the pie filling evenly over the top of the crust.
5. Bake at 350 degrees F (175 degrees C) for 15 minutes. Remove from oven and let cool for 10 minutes.
6. In a large mixing bowl, beat the cream cheese and sugar on low speed until well blended.
7. Add the vanilla and sour cream and beat until smooth. Beat in the eggs, mixing well after each addition.
8. Pour into prepared crust. Top with remaining crumb mixture.
9. Bake at 325 degrees F for 50-60 minutes. Remove from oven, cool to room temperature and refrigerate overnight.