These Pumpkin Pie Squares Are Perfect For Your Fall Gatherings
If you love pumpkin as much as I do, then you're going to love each and every pumpkin pie square recipe that we'll share with you. We guarantee that all of these pumpkin-inspired desserts will present a full-flavored richness in their own special way. With some having chocolate swirls, a few others incorporate crumble tops, or a cream cheese filling layered in the middle. The great thing about these pumpkin pie square recipes is that they are so darn good and super easy to prepare. This means that anybody can make them.
These pumpkin pie squares are perfect for any fall get together as well as your new Thanksgiving dessert. You can create however many batches you want so all of your guests will be thankful for them. The core recipe is below, but here are many variations for you to consider as well:
Pumpkin and Cheesecake Squares
Just the way this square look has decadence written all over it. From the two-layered cheesecake middle, and a topping of caramel streusel to its cinnamon-spiced crust of graham cracker, this square screams indulgence.
Pumpkin with Chocolate Chip Squares
You will feel like you're having a chocolate overload when you see how much chocolate chip is in this delicious square. Not only are they soft, but they're also sweet and moist.
Pumpkin Cookie with Stuffed Nutella Squares
This square has two doses of yummy Nutella that advances the overall flavor of the square. Taking more than one is highly recommended.
Pumpkin Roll Squares
This pumpkin roll square is perfect for all of you pumpkin cake lovers. Not only does this type explode with pumpkin, but it'll remind you of a roll without any work involved.
Pumpkin Cinnamon Squares
As soon as you smell these you'll know you're in heaven. The combined cinnamon chips instantly kick things up a notch.
Oat Peanut Butter Pumpkin Squares
A nice dose of chocolate? Yes, please! Not only are these good for any time snacking, but you can easily grab one as you head out the door.
Pumpkin Pie with Crumble Squares
You get a triple shot of layers and a delectable crumble top with a smidge of whipped topping on the top.
Pumpkin with Streusel Squares
The streusel on this square gives a feeling of a cookie while the cream cheese and pumpkin mix finish it off as a pie.
Pumpkin Sugar Spice Squares
When you spread some frosting made of cinnamon cream cheese, you are only adding to the chewy goodness.
Paleo Pumpkin Squares
These are packed with flavor and are perfect for paleo as well as vegans – so there is plenty for everyone.
Macadamia Pumpkin Pie with Caramel Squares
This square provides richness and crunch that only macadamias can provide as well as balancing out the pumpkin pie's smoothness.
Magic Pumpkin Squares
Why are these magic? Well, when you add chocolate chips, pureed pumpkin, and coconut to a cake mix magical things tend to happen.
Pumpkin Cheesecake Chocolate Cookie Squares
You are going to have to brace yourself for this one because this takes the pumpkin to a whole new echelon of yum. With every bite of this chocolate cookie, you get a nice taste of pumpkin cheesecake layered with a smooth chocolate spread that's whipped to perfection.
Pumpkin Gingerbread Squares
You'll be glad that you took a bite out of these babies. |With a nice powdered sugar dusting, you are sure to enjoy how sweet and spice mingle well together.
Streusel Topped Caramel Pumpkin Cheesecake Squares
These pumpkin-based squares give you a nice helping of cheesecake with a streusel crumble on top as it sits on a crust of graham cracker while caramel smothers it all from above.
So as you can see, there are plenty of pumpkin pie squares recipe options available. All you need to do now is decide which one(s) you want to make.
If you like these pumpkin recipes, try these!
Print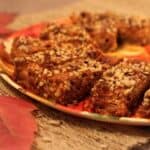 Pumpkin Pie Squares
---
Author:

Total Time:

1 hour
1 cup

all-purpose flour

½ cup

rolled oats

½ cup

packed brown sugar

½ cup

butter

2 cups

pumpkin puree

1

(12 fluid ounce) can evaporated milk

2

egg whites

¾ cup

white sugar

½ teaspoon

salt

1 teaspoon

ground cinnamon

½ teaspoon

ground ginger

½ teaspoon

ground cloves

½ cup

chopped walnuts

½ cup

packed brown sugar

2 Tablespoons

butter

1 cup

whipped cream (optional)
---
Instructions
Preheat oven to 350°F (175°C). Spray or grease one 9×13 inch pan.
Mix together the flour, oatmeal, brown sugar and butter or margarine. Press into pan; bake for 20 minutes or until golden brown.
In a large deep metal bowl, beat egg whites until soft peaks form.
Blend together the pumpkin, evaporated milk, egg whites, sugar, salt, cinnamon, ginger and clove.
Pour custard into baked crust; bake for 30 minutes or until firm.
Mix together the chopped nuts, brown sugar and butter. Sprinkle topping on custard and bake additional 15 minutes.
Remove from oven and allow to cool. Cut into squares and top with whipped cream if desired.
Prep Time:

15

Cook Time:

45