This Thanksgiving, why not think about trying something different? Pumpkin finds its way onto many a Thanksgiving table, but have you ever thought about turning it into a sweet dip for dessert or a side dish?
Pumpkin Dip Recipe
Our recipe for pumpkin dip pairs the nutty flavor of pumpkin with cream cheese, cinnamon and sugar for a sweet treat you won't soon forget! It goes great as an appetizer with apple slices or graham crackers, and you can put out other complementary apps like a cheese ball or cheese and crackers to go with this as well.
Not Just For Adults
Because this dip is a finger food it's great for small hands – kids will love it! Thanksgiving is a time of thanks and many families feel nourished and happy when they're sitting around a table filled with the hearty foods that they love.
If you're serving it for dessert, don't be afraid to top it with some whipped cream or pumpkin pie on the side – you can't have too much pumpkin! Apple pie is also a great accompaniment.
Nutritious, Delicious Pumpkin
Pumpkin is a nutrient–dense food that's low in fat and contains essential vitamins like vitamin A and lutein. It can be used in a variety of different dishes and is a traditional Thanksgiving food, usually used in pie or muffins.
You can use either fresh or canned pumpkin, it's your choice. Both work well, and have the same nutrition benefits. If you're using a fresh pumpkin, be sure it's a sugar pumpkin, and scoop out the seeds before cooking the nutty pumpkin flesh by either boiling or roasting it.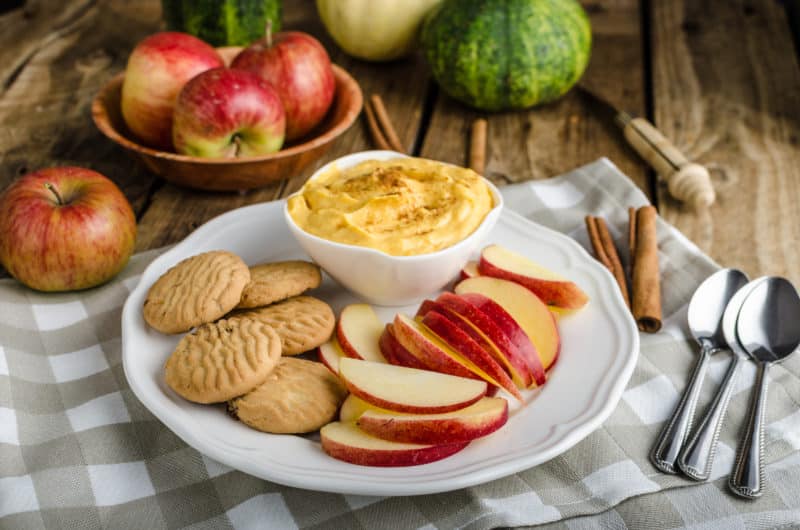 Easy For Thanksgiving
This pumpkin dip recipe is simple and can be made the day before, as it has to chill for a while before it's ready. You can also prepare it the morning of your meal and have it ready in time for dessert.
Tweak To Your Heart's Content
Don't be afraid to tweak your pumpkin dip either and add spices or different foods to dip in it. If the dip is for adults only you can also try mixing in a little sweet liquor like pumpkin pie, apple or cream brandy for an extra kick.
During the holidays it's always a good idea to use fresh foods that are in season like sugar pumpkin. Serve your dip chilled and with either milk or coconut whipped cream, a sprinkle of nutmeg or cinnamon, and cinnamon sticks to garnish. Honey can even be drizzled over the dip.
Print
Pumpkin Dip
---
1

(8 ounce) package cream cheese, softened

2 cups

confectioners' sugar

1

(15 ounce) can solid pack pumpkin

1 Tablespoon

ground cinnamon

1 Tablespoon

pumpkin pie spice

1 teaspoon

frozen orange juice concentrate
Optional Dippers:
Apple slices
Vanilla wafers
Cinnamon graham crackers
Honey graham crackers
---
Instructions
In a medium bowl, blend cream cheese and confectioners' sugar until smooth.
Gradually mix in the pumpkin.
Stir in the cinnamon, pumpkin pie spice, and orange juice until smooth and well blended.
Chill until serving.