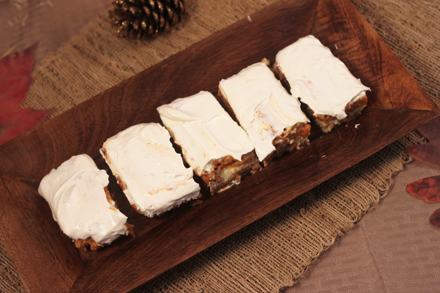 Certain seasons simply lay claim to different types of produce. In the spring, strawberries are an undisputed champion and take on a starring role in our drinks, salads and desserts.
By summer, watermelon and corn on the cob battle for dominance, but end up co-starring at many family barbecues and back yard social events.
But by the time the weather starts to cool off in the northern hemisphere and leaves begin to fall, it is pumpkin's time to shine.
Is It Officially Autumn Yet, If You Don't Have a Pumpkin Recipe?
Once the children are going back to school, it is time to start thinking about the joys of pumpkin spice in your coffee as you see them off on their day and start your own. But as great as that pumpkin flavor is in your caffeine, the best way to know that fall has finally arrived is by the smell of pumpkin taking over your kitchen.
There is no shortage of pumpkin recipes for you to consider: pie, muffins, cookies, smoothies and even savory pasta sauces can allow our favorite fall gourd to shine.
Often accompanied by the powerful combination of nutmeg and cinnamon, there is are few greater culinary comfort foods during the Thanksgiving season than pumpkin.
What Makes This Pumpkin Cream Cheese Dessert Stand Out?
In a season full of everyone's favorite pumpkin recipes, why should you prepare this pumpkin cream cheese dessert recipe instead of your grandmother's pumpkin pie?
The answer is simple: this pumpkin cream cheese dessert is designed to appeal not only to those who come to your table wanting pumpkin pie but those who would prefer to have a decadent slice of cheesecake.
The richness of a cheesecake meets the boldness of pumpkin flavor in this dessert recipe. The kids will also prefer this pumpkin cream cheese dessert recipe, thanks to the fact that is is much easier to pick up and hold than a piece of pie.
Potential Improvements for the Pumpkin Cream Cheese Recipe
When using graham crackers, you most likely use only the ordinary flavor. But when you are making this dessert, you should consider exactly how much of an impression your decadent pumpkin- flavored dessert is going to be and consider adding one of the many other flavors of graham crackers. Graham crackers are available in vanilla, honey, chocolate, and low-fat varieties. Using any of these flavors will add another layer of flavor to a dessert already bursting with it.
Is There a Way to Make It Slightly Less Decadent?
This is a dessert that is meant to be served only at special occasions. Placing it next to your grandmother's green bean casserole and sweet potato pie is the best way to enjoy this sugary treat.
But there are some substitutions you can make if you want to cut back on the sugar and fat content of the dish.
The sugar of the dish can certainly be replaced with a lower-calorie sweetener. Stevia, Splenda or coconut sugar would all provide sweetness without as many calories as table sugar.
While cream cheese gives this dessert its rich cheesecake-like decadence, you can substitute a low-fat cream cheese instead. You could also use either low-fat milk or a plant-based milk in order to further reduce the fat.
If sugar is a concern for you, make sure that the "whipped cream" is whipped cream and not whipped topping. The latter comes in small round tubs, while the former can be found in ready-to-squeeze containers.
If you like this recipe, try these!
Print
Pumpkin Cream Cheese Dessert
---
Description
½ cup butter
⅓ cup white sugar
18 whole graham crackers (2 packages), crushed
2 eggs
¾ cup white sugar
1 (8 ounce) package cream cheese, softened
1 envelope (1 Tablespoon) unflavored gelatine
¼ cup water
1 (15 ounce) can pumpkin
3 eggs, separated
½ cup milk
½ cup white sugar
½ teaspoon salt
2 teaspoons ground cinnamon
½ pint whipped cream
---
Preheat oven to 350°F (175°C). Lightly grease a 9×13 inch baking dish.
In a medium saucepan over medium heat, melt butter. Stir in the sugar and mix well. Stir in graham cracker crumbs. Pat the mixture into baking dish.
In a medium mixing bowl, beat together the egg yolks, sugar and cream cheese. Pour the mixture over crust.
Bake

20

minutes in the preheated oven. Remove from heat and allow the mixture to cool. In a small bowl, dissolve the gelatine in water.
In a medium saucepan over medium heat, mix the pumpkin, eggs, milk, sugar, salt and cinnamon. Reserve the egg whites.
Stirring constantly, cook until thick, about 4 minutes. Remove from heat and mix in the gelatine. Allow the mixture to cool for approximately 20 minutes.
In a small bowl, beat the 3 egg whites until stiff. Gently fold the egg whites into the cooled pumpkin mixture.
Pour the pumpkin mixture over the cream cheese mixture. Top with whipped cream. Cover and refrigerate approximately 2 hours.
---