Fruits seem to do just fine without a dip as they provide their own distinct sweetness and flavor. However, this can be said for so many other food combinations as well. This is what makes us want to add more to things that don't necessarily need it, but we enjoy it!
The dips that are listed below can be whipped together for any occasion. Just remember, there might not be any leftover by the end of the night.
A fruit tray with dip fits perfectly with a holiday buffet of snacks like these!
Caramel Apple Dip with Raw Salt
Not only is this dip raw but it is absolutely delicious. Not only does it look and taste delicious, but you can also put any leftover fruits to good use that may be hanging around in your fridge.
Cream Cheese Nutella with Fruit
This cream cheese Nutella fruit dip recipe combines a chocolate decadence and the creaminess of cream cheese. With many fruit dips being a light color, this dip is sure to please any crowd let alone put a smile on your guests' faces.
Brown Sugar Dip
This brown sugar dip is comprised of only 3 simple ingredients. These are brown sugar, vanilla, and cream cheese. The unique part is that it has a caramel taste. This is what makes it great for all of your fall happenings.
Pina Colada Dip
A Pina colada fruit dip recipe would create an instant hit as it introduces tropical fruit flavors that both adults and kids will love. Simply cut up a few tropical fruits including starfruit, mango, kiwi, and of course pineapple for an incredible dipping experience.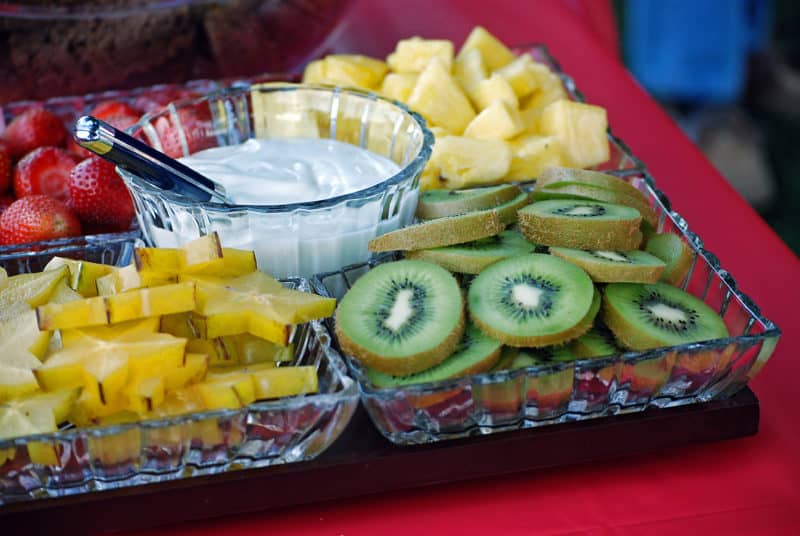 Citrus Whip Dip
This 4-ingredient fruit dip recipe will surely bring back some childhood memories. To begin, mix together cream cheese, vanilla, marshmallow fluff, and citrus fruit zest until it becomes smooth.
Strawberry Fluff Dip
This berry fluff dip is both easy and creamy. The best part is that you can swap out any kind of berry to go with the cream cheese that you want or even combine some too.
An Oreo Dip
An Oreo dip is not exactly healthy, but it sure is decadent, to say the least. Any type of berry or fruit is perfect and will provide a great number of antioxidants. Plus, you get a good power up for your body thanks to the Oreo.
A Cannoli Dip
A cannoli dip will give a great contrast to the sweetness of berries. So if you have never made a cannoli dip then now is the time. You can also enjoy waffle cone cookies that will make them taste amazing. As you dip the cookies, you then just load it up with a multitude of berries.
Caramel Fruit with Rum
This fruit dip gives an extra punch to the caramel flavor. Because of the rum, nuts, and caramel, the overall flavor is explosive. Not only can it pass for a dip, but it can also be used as topping for ice cream or just by itself if you decide on a lazy night in as you dig into the bowl.
Dreamy Marshmallow Dip
This dip is loaded with marshmallow fluff and is the go-to standard and for good reason. If you were lucky enough to experience this as a child then you know how it can turn any fruit into a delicious treat.
A Pumpkin Pie Dip
Just in time for the holidays! Having a pumpkin pie dip without having to bake it is perfect for pie lovers. Easily dip your favorite fruit or layer it to make trifles for any other type of fall occasion.
Maple Fruit with Yogurt
Although this delicious maple fruit dip doesn't have many ingredients, it makes up that difference by being sugar-free. This is great for all of you diabetics out there.
Print
Fruit Dip
---
Author:

Total Time:

5 minutes
8 ounces

cream cheese

½ cup

marshmallow crème

2 cups

frozen whipped topping, thawed

¼ cup

unsweetened pineapple juice
---
Instructions
Blend together the cream cheese, marshmallow cream and thawed topping.
Add enough pineapple juice to make it dipping consistency.
Chill for 1 hour.