Grab your FREE copy of one of our most popular and engaging activity packets!
Whether you're in the classroom or keeping your little ones busy at home these days, we have fun, engaging, and FREE printable activity for your kiddos to enjoy. To snag and instantly download you copy,
just CLICK HERE
!
When it comes to salad, the more color, the better. A good dinner salad should be loaded with fresh greens, plump cherry tomatoes and zesty red onions. But what about a dessert salad? Yes, you read that right. A salad that doesn't have a single vegetable. This pink salad with cherry pie filling is so easy to make that it only has one step. Can you believe it? If you've ever had a hankering for something sweet and crunchy, this is the perfect easy dessert for you.
What Is Pink Salad?
A salad is generally a mix of vegetables, but there are also fruit salads we enjoy now and again. We actually offer plenty of healthy salad recipes that you can whip up in minutes. If you're interested in something healthy and perfect for every dinner table, check out our classic Caesar salad recipe and crunchy cucumber salad with a garlic recipe.
Now that we've gotten the healthy options out of the way, we can indulge in our pink salad 100-percent guilt-free. This sugary concoction may seem like something you whip up by combining various canned goods from your pantry, but we've found dozens of great dishes that way!
This pink salad recipe has a vintage flair, its simplicity and texture reminiscent of the gelatin recipes that were all the rage during the 50s and 60s. There's no Jell-O involved here. We won't speak for the cherries in the pie filling, though. They may be deliciously gooey and have you slurping up every last one just like a bowl full of your favorite Jell-O.
Pink Salad Recipe Dessert Tips
Our pink salad with cherry pie filling is meant to taste exotic; we want you to enjoy the candy-like sweetness of a cherry pie filling along with the tropical sweetness of pineapples. The pecans add a glorious crunch, while the Cool Whip and condensed milk create an irresistible, ultra-sweet fluff.
If you would like to make your pink salad recipe healthy, consider using cream cheese as a base. Blend until smooth, then add in some fresh, unsweetened cherries and low-fat Cool Whip. You can also rinse your canned pineapples if they came in syrup to remove some of the added sugar.
This dish is meant to be served chilled, so you should prepare it just before dinner, giving it plenty of time to settle into all its pink goodness while you eat. This vintage-inspired recipe will be a blast from the past for many; consider bringing it up to your parents or grandparents. They may just ask you to whip up a bowl for them!
If you like this recipe, try these!
Print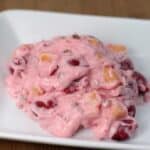 Pink Salad
---
Author:

Prep Time:

3

Total Time:

3
1

can of cherry pie filling

1

can (drained) of pineapple chunks

1

large bag of pecans (chopped)

1

large container of Cool-Whip

1

can of sweetened condensed milk
---
Instructions
Mix all ingredients together (in large bowl) and serve chilled as a dessert. Enjoy!!