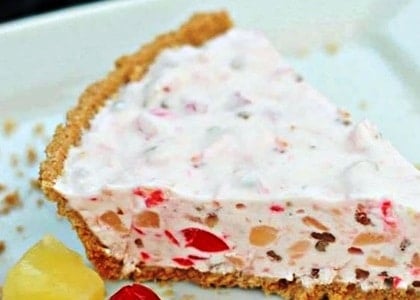 Millionaire Pie Recipe
Let's Get Ready for Baby!
Sign up for our monthly pregnancy email series, and you'll get regular updates on your baby's development, helpful timelines to get ready for their arrival, must-have baby needs and so much more! PLUS, you'll get instant access to the MomsWhoThink "Ultimate Guide to Baby Naming in 2022."
CLICK HERE
to get started!
Who wouldn't want to eat a treat called Millionaire Pie?
Legend has it that this delicious pie originated in Myrtle Beach, SC. It was so rich and delicious it was soon nicknamed Millionaire Pie.
Word of the delicious pie spread throughout the country and many variations were created. For instance, you can choose to add cherries with the pie or not. Adding cherries will really make the pie stand out.
It can also be made into cupcakes and served individually to guests.
But when you really think about it, Millionaire Pie can be different things for different people. Some may choose to feature different fruits and chocolate variations have even been created.
When we think of traditional ingredients, these often include its signature graham cracker pie shell, pineapple, coconut, pecans, sugar, cream cheese or condensed milk and cool whip or whipped cream.
The pie is very easy to make. You basically just blend the ingredients and put them into the pie shell. It is served cold which eliminates any complications that could arise if the dessert is baked. It also makes it a great treat for a summer day although it is often served during the winter holidays as well.
The recipe we are offering is an old fashioned millionaire pie recipe, passed around through many a southern family. It is a rich, creamy treat that makes a terrific dessert for any occasion. Whip some up for your family and find out how millionaire pie can make you feel like a million bucks!
Millionaire Pie
Ingredients:
1 cup sweetened, flaked coconut
1 cup crushed pineapple, well drained
1/2 cup maraschino cherries, drained and finely chopped
1/2 cup chopped pecans
1 (14 oz.) can Eagle Brand sweetened condensed milk
2 Tablespoons lemon juice
1 cup frozen whipped topping, thawed
1 graham cracker pie crust
Directions:
1. In a large bowl, combine coconut, pineapple, cherries, pecans, condensed milk and lemon juice; mix well.
2. Fold in whipped topping, thoroughly combining all ingredients.
3. Pour into prepared crust. Cover and chill 3 hours or overnight. Garnish with Sliced maraschino cherries if desired.