Desserts are arguably the best part of any meal, and many people prepare a different dessert every day. That's easy when the dessert recipe is simple and doesn't contain a lot of ingredients. This Cherry Fluff recipe is one of those desserts that you can whip up in no time. You can make it a couple of days ahead of time or just a few hours before you serve it. If a few guests pop in unexpectedly or you suddenly remember it was your turn to bring a dessert to the office lunch party, this is a recipe that you can make quickly.
Ingredient Substitutions
If you love cherries, then you will love this recipe the way it is. If you prefer a different fruit flavor, you can make substitutions. This recipe works well with oranges, grapes, and peaches. You can also mix a combination of different fruits to make a fluffy fruit salad that will make everyone happy.
What Foods Go Well With Cherry Fluff?
You can eat this fluffy dessert on its own or with other dishes. It makes a great dessert that can follow pretty much any entrée and sides. It can be used as a dip for other fruits, cakes, and cookies. I can also be eaten as a topper for fruit and ice cream. You can mix it with yogurt and even add nuts, mini marshmallows, or granola to give it a crunchy texture and add more flavor.
When Is The Best Time To Serve This Cherry Fluff Recipe?
This recipe can be served anytime. It's the perfect summer dish that will cool you down on a hot summer day. It's great for picnics and summer parties too. It also makes a nice fall treat that can be packed in school and lunch offices. If you like to host holiday parties and dinners, this is a nice change from other heavy baked goods and desserts. It goes well with other desserts too. It also travels well. As long as you chill it before you leave, you can easily make it to the office or a dinner party with this dish in tow, which no problems.
How To Plate Cherry Fluff
This cherry fluff is pretty and something you want to show off. It's easy to plate it in a number of different ways. You can scoop it into a decorated serving bowl and add a few toppings before you place it on your table. You can also separate it into separate small bowls or dishes and make individual servings that guests can just take and enjoy. No matter how you decide to serve it, your guests will love it.
If you like this cherry recipe, try these!
Print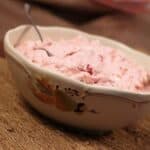 Cherry Fluff
---
1

(21 ounce) can cherry pie filling


1 (14 ounce) can sweetened condensed milk




1 (20 ounce) can crushed pineapple, drained




1 (8 ounce) container frozen whipped topping, thawed
---
Instructions
In a large bowl, mix the cherry pie filling, sweetened condensed milk, crushed pineapple and whipped topping.
Chill in the refrigerator at least 2 hours before serving.