If you are looking for a fun appetizer or snack to serve to your family or dinner guests, this cheese fondue recipe is one to try. It's easy to make, and the flavors are unbelievably satisfying. The sweet and salty cheese becomes a soft and melty dip that is perfect for parties, get-togethers, holiday meals, or as a snack in front of the television.
Cheese fondue has long been a popular dish, and there's something elegant about it, even though it can be a little messy. It pairs well with various wines and other types of foods. You can also choose which foods you use for dipping. Since this dish is so versatile, it's perfect if you have a lot of picky eaters or need to please a crowd.
What Kind of Food Can Be Dipped In Fondue?
When it comes to choosing the food you want to dip in the fondue, you have many options. It really comes down to a matter of personal preference. Most people choose to dip various types of bread, meats, fruits, and even vegetables into the fondue. Some people like to use foods that don't need to be cooked, and others prepare the food ahead of time, so it's ready to dip. You have complete freedom to choose which foods you server with your fondue.
Cheese Fondue Ingredient Substitutions
This cheese fondue recipe is pretty and straightforward, but that doesn't mean you can't change it up a bit. If you don't like the Swiss or Gruyere cheeses in this recipe, choose any other soft, melting cheese to use in its place. You don't have to mix the cheeses either. If you have more than one fondue pot, you can put each different cheese in its own pot. You can also combine more than two. The possibilities are endless, and you will have a lot of fun making and eating this recipe.
Plating Your Fondue Dippers
If you are planning to serve this cheese fondue recipe at a party or special occasion, you may want to plate the dippers nicely. You can do this in several different ways. The easiest and most casual is to arrange them on a platter. You can also place them in baskets or even small buckets. If you have an elevated or stacked tray, you can arrange the dippers on the plate for a fancy display. You can even make cute labels for the cheese fondue and dippers to let guests know what they are dipping or which type of choose they are eating.
Print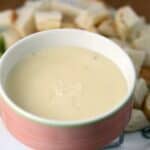 Cheese Fondue
---
Author:

Total Time:

13 minutes
1 cup

dry white wine

½

pound shredded Swiss cheese

½

pound shredded Gruyere cheese

2 Tablespoons

all-purpose flour

¼ teaspoon

salt

¼ teaspoon

ground nutmeg

1

(1 pound) loaf French bread, cut into

1

inch cubes
---
Instructions
Simmer wine in fondue pot.
Add Swiss cheese, Gruyere cheese, ¼ pound at a time.
Stir after each addition of cheese until melted.
Stir in flour.
When all the cheese has melted, stir in salt and nutmeg.
Serve with cut-up French bread