Heating up a fondue pot and providing skewers and items to dip is a perfect way to end your busy Thanksgiving Day. It also makes a great gathering point to share your Black Friday bargains. If you are new to fondue let me explain the idea.
Fondue is a melted cheese dish. It can be plain or it can have various veggies or even meats incorporated. A variety of items can be provided to dip into the pot with skewers. This is a small plate meal that brings everyone together to talk and enjoy great company.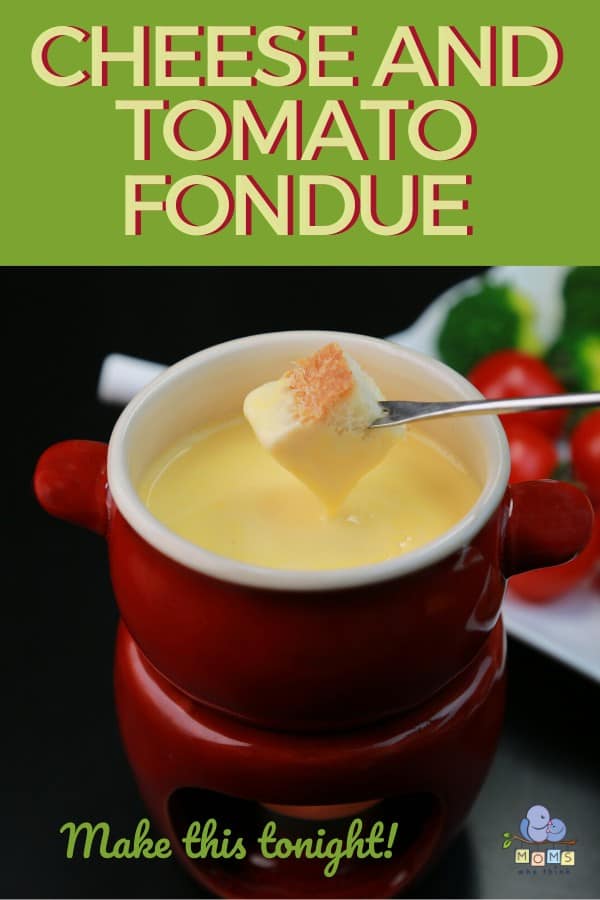 Cheese and tomato fondue is a little bit different from the usual dish of melted cheese, or melted chocolate. Cut wedges or sticks of crusty bread to dip into the melted Gruyere and Swiss combination. You may also dip veggies and enjoy them. Try large strips of bell pepper or other types of pepper. Broccoli and cauliflower would be delicious coated in hot cheese as well.
It's Fun to Fondue!
The cheese and tomato fondue recipe uses dry white wine as the liquid melting medium. Since the cheese pot is kept warm the alcohol will evaporate, leaving only the flavor of the wine. Substitutions that people use for alcoholic beverages include milk, water, or stock. With your Thanksgiving turkey you have the great, meaty drippings you can add. Vegetable stock would be a great replacement as well.
This cheese and tomato fondue recipe calls for three small tomatoes. Italian plum tomatoes would be excellent in this case. Plum tomatoes, such as Roma, have fewer seeds and less juice to dilute the sauce. They hold up well when diced and served in a hot dish.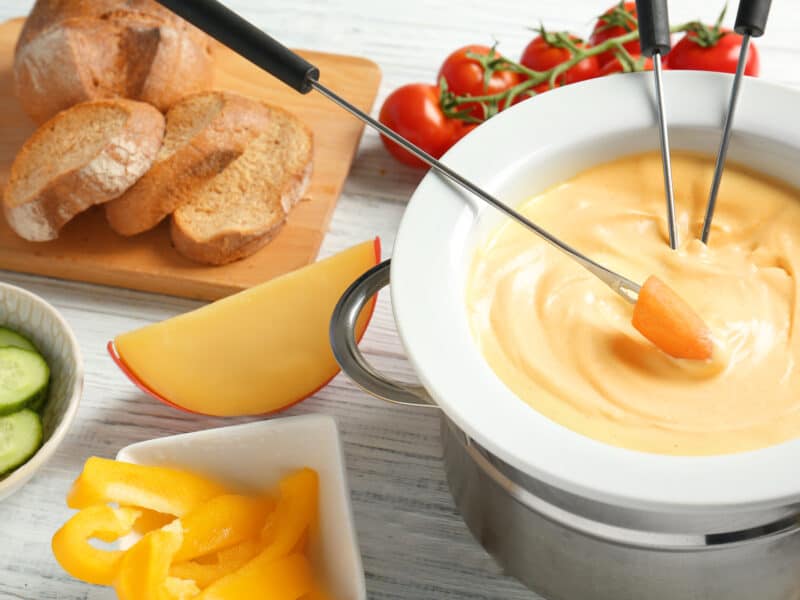 You do not have to have special equipment to host a fondue party. This recipe can be made on your stove using a double boiler. It is really fun, however, to gather around a fondue pot, either electric or powered by sterno fuel. Sterno fuel is the fuel containers often used under chafing dishes to keep food warm at a buffet. You can find it in places that sell cooking supplies and also in camping supplies.
Are you at a loss for dipping utensils? You can use extra long bamboo skewers, or metal barbecue skewers, or even forks to dip your items in the cheese and tomato fondue. It is true that a fondue set often comes with color coded small forks so each person can keep track while they eat. A fondue set is not a requirement for fondue fun.
If you are trying to make a full meal with your fondue experience add some meats to dip as well. Use cubes of turkey, ham or cooked cubes of beef for dippers. Look into precooked cocktail sausages or tiny meatballs as well.
Fondue is such a versatile way to relax and dine; you will want to do it on a regular basis. At the table you may also have extra toppings for more great taste. Sprinkle on a favorite herb or spice for color. Nutmeg is traditional, but parsley or pepper flakes would be tasty as well. For pizza lovers, basil, oregano and grated Parmesan would be flavors to choose.
Bring a tasty and relaxed conclusion to your holiday occasion by gathering around a fondue.
If you like this recipe, try these!
Print
Cheese and Tomato Fondue
---
2 Tablespoons

butter

2

cloves garlic, pressed

½ teaspoon

minced onion

3

small tomatoes, seeded and chopped

1½ cups

dry white wine

1

pound Gruyere cheese, shredded

½

pound Swiss cheese, shredded
---
Instructions
In a fondue pot or double broiler over medium heat, melt the butter.
Stir in the garlic and onion. Slowly cook and stir until the vegetables are soft.
Mix in the tomatoes and cook another 3 minutes.
Pour in the wine.
Continue stirring until the wine reaches a near boil.
Remove from the heat and stir in Gruyere and Swiss cheeses until melted.