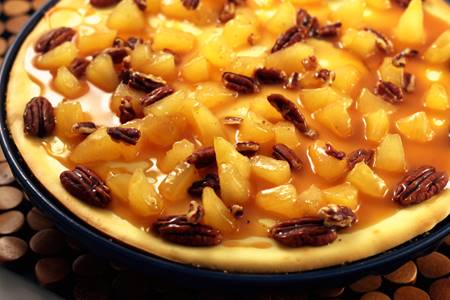 Caramel Apple Cheesecake Recipe
Fall favorites combine with cheesecake for the ultimate sweet treat in this caramel apple cheesecake complete with a buttery cinnamon graham cracker crust.
Caramel Apple Cheesecake
Ingredients:
⅓ cup butter, melted
1 ½ cup cinnamon graham cracker crumbs
1 (21 ounce) can apple pie filling, divided
16 ounces cream cheese, softened
½ cup granulated sugar
1 teaspoon vanilla extract
2 eggs
½ cup caramel topping
12 pecan halves plus 2 tablespoons chopped pecans
Directions:
1. Heat oven to 350 degrees F. Combine graham cracker crumbs and butter; press evenly on bottom of 9 inch pie pan.
2. Reserve ½ cup apple filling. Spoon remaining filling into crust.
3. Beat the cream cheese until fluffy, then slowly add the sugar and vanilla extract, beating continuously until smooth.
4. Add eggs, one at a time, mixing well after each addition.
5. Pour mixture over apple filling. Bake 35 minutes or until center is set. Cool.
6. Chop remaining apple slices into bite-sized pieces and scatter on cooled cheesecake.
7. Spoon the caramel sauce onto the cheesecake.
8. Place pecan halves around the top cheesecake edge, then sprinkle top with chopped pecans. Refrigerate at least 6 hours until firm.