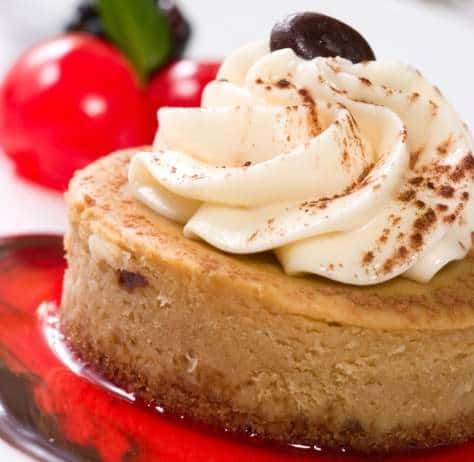 Cappuccino Cheesecake Recipe
Let's Get Ready for Baby!
Sign up for our monthly pregnancy email series, and you'll get regular updates on your baby's development, helpful timelines to get ready for their arrival, must-have baby needs and so much more! PLUS, you'll get instant access to the MomsWhoThink "Ultimate Guide to Baby Naming in 2022."
CLICK HERE
to get started!
Cheesecake and coffee flavor blend luxuriously in this cheesecake favorite.
Cappuccino Cheesecake
Cappuccino Cheesecake Ingredients:
Crust Ingredients:
1 1/2 cups finely chopped nuts
2 Tablespoons sugar
3 Tablespoons butter, melted
Filling Ingredients:
32 oz cream cheese, softened
1 cup sugar
3 Tablespoons all-purpose flour
4 large eggs
1 cup sour cream
1 Tablespoon instant coffee granules
1/4 teaspoons cinnamon
1/4 cup boiling water
Cappuccino Cheesecake Directions:
1. Combine nuts, 2 tablespoons sugar and butter; press onto bottom of 9-inch springform pan. Bake at 325 degrees F., 10 minutes.
2. Combine cream cheese, sugar, and flour, mixing at medium speed on electric mixer until well blended.
3. Add eggs, one at a time, mixing well after each addition. Blend in sour cream.
4. Dissolve coffee granules and cinnamon in water. Cool; gradually add to cream cheese mixture, mixing until well blended. Pour over crust.
5. Bake at 450 degrees F., 10 minutes., then reduce oven temperature to 250 degrees F; continue baking 1 hour.
6. Loosen cake from rim of pan; cool before removing rim of pan. Chill.