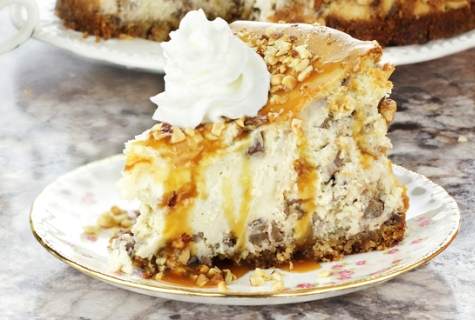 Pecan Pie Cheesecake Recipe
When we think about the best thing about cheesecake, any number of things may come to mind. It could be its rich, creamy taste or wonderful smooth texture. But one thing that stands out is the ability chefs have to work with this recipe to make variations that are sure to please just about any palette.
So many ingredients can be added to cheesecake to give it a unique flavor. Chocolate, fruits, sauces and candies are just a few that come to mind.  But one that is sure to stand out is the pecan. Pecans have a rich, buttery flavor that make them the perfect complement to any cheesecake.
And, although we might not be thinking of health benefits when we bite into a rich, delectable cheesecake, pecans provide several properties that can boost wellbeing. They can improve cardiovascular health, digestive health, aid in weight loss, reduce the risk of certain diseases, improve skin, stimulate hair growth, support bone health and work as an anti-inflammatory.
And while the addition of pecans can elevate the taste of plain old cheesecake for some, ingredients like caramel and cinnamon can be added to your pecan cheesecake to make it even more interesting. Some may add chocolate or fruit to the top or make pecan cheesecake bars or other variations on the recipe.
Our recipe is pretty basic, but delicious nonetheless. Simple to make, it requires combining ingredients, pouring them into a pie crust and heating. But when you get ready to taste this dessert, your taste buds are sure to be satisfied.
If you thought pecan pie couldn't get any richer, you need to try this cheesecake recipe. Smoothly blending a simple pie shell with a rich creamy filling is what makes this cheesecake the dessert everyone will want to skip dinner for.
Pecan Pie Cheesecake
Pecan Pie Cheesecake Ingredients:
8 oz package of cream cheese, softened
1 egg
1/3 cup sugar
2 Tablespoons heavy whipping cream
1 teaspoon vanilla
1 unbaked 9 inch pie shell
1 1/2 cup pecan halves
2 slightly beaten eggs
1/4 cup sugar
2/3 cup light corn syrup
1/2 teaspoon vanilla
Pecan Pie Cheesecake Directions:
1. Combine cream cheese, egg, heavy whipping cream, 1/3 cup sugar, and 1 teaspoon vanilla. Beat until light and fluffy.
2. Spread over bottom of pie shell. Arrange pecans on the cream cheese mixture.
3. Mix remaining eggs, sugar, corn syrup, and vanilla, stirring well.
4. Carefully pour over the pecans. Bake at 375 degrees F for 40 to 45 minutes or until done.