This delicious cheesecake is perfect for any occasion. Combing pralines with silky caramel take this cheesecake from good to out of this world. It is one of many popular cheesecake recipes that everyone will enjoy.
Caramel Praline Cheesecake
Ingredients:
66 vanilla wafers, divided
1-1/4 cups sugar, divided
1/4 cup (1/2 stick) butter, melted
3 pkg. (8 oz. each) Philadelphia cream cheese, softened
1/2 cup sour cream
1 teaspoon vanilla
3 eggs
25 caramels
3 Tablespoons milk
1/2 cup pecan pieces, toasted
Directions:
1. Preheat oven to 325 degrees F.
2. Finely crush 50 wafers; mix with 1/4 cup sugar and butter. Press onto bottom of 9-inch springform pan. Stand remaining wafers around edge, pressing gently into crust to secure.
3. Beat cream cheese and remaining sugar in large bowl with mixer until well blended. Add sour cream and vanilla; mix well.
4. Add eggs, 1 at a time, beating on low speed after each just until blended. Pour over crust.
5. Bale 45 to 50 min. or until center is almost set. Run small knife around rim of pan to loosen cake; cool before removing rim. Refrigerate 6 hours.
6. Microwave caramels and milk on HIGH 1 min. or until caramels are completely melted, stirring every 30 seconds. Cool slightly.
7. Pour caramel sauce over cheesecake; top with pecans.
History of Cheesecake
The earliest known cheesecake was created on the Greek island of Samos in the fifth century BCE. Ancient Greeks would take patties of fresh cheese and pound them smooth with flour and honey. It was considered a great source for energy, and there is evidence that athletes ate cheesecake at the first Olympic games in 776 BCE.
The cheesecake emerged in the medieval ages in a tart form with a pastry base. In 1390, the first English cookbook included a couple of variations of the cheesecake. This dessert made its way to the American Colonies where it transformed into what we know as cheesecake today.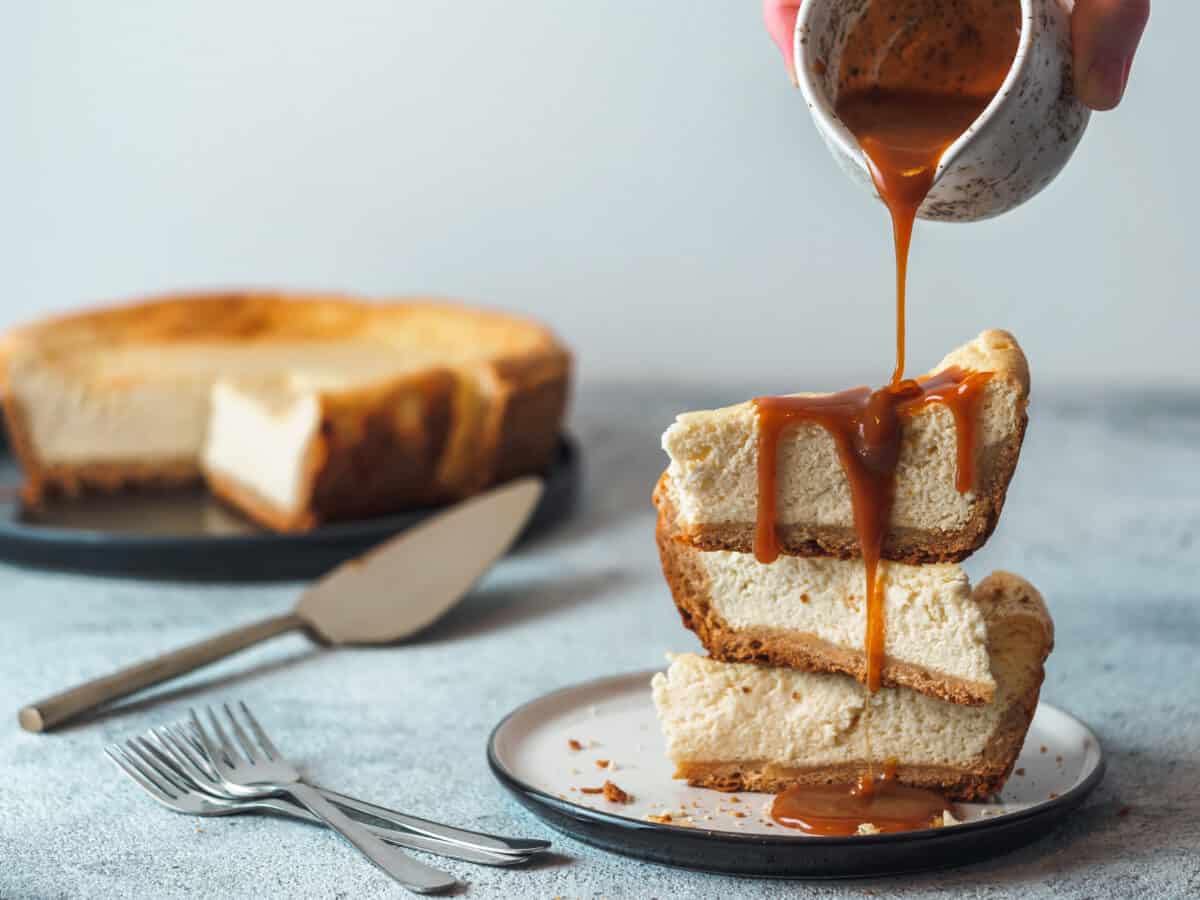 The image featured at the top of this post is ©Charles Brutlag/Shutterstock.com.