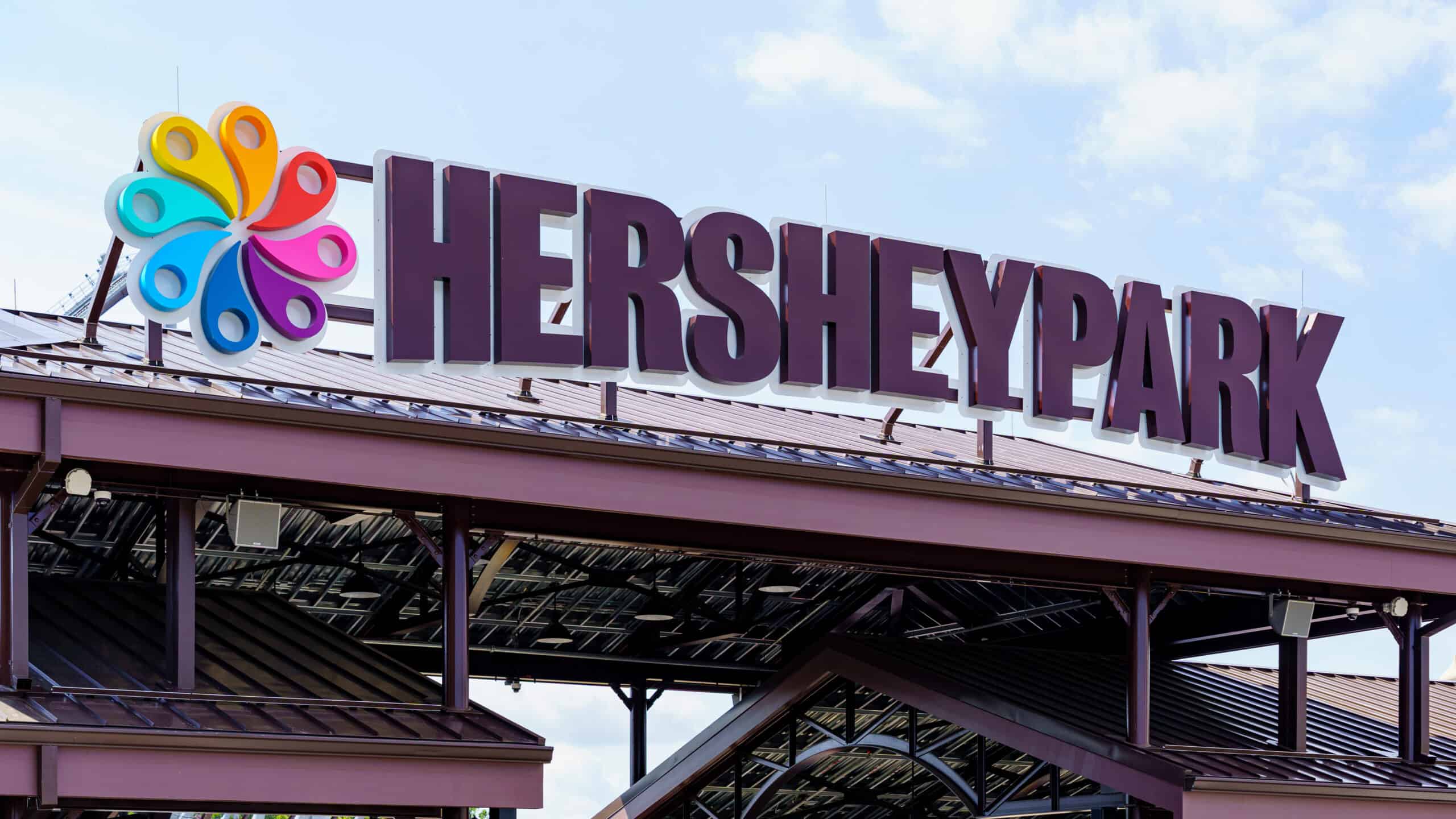 Maybe your family didn't get enough fun time over the summer. Or maybe you're a month into the school year, and you're ready for a break. Either way, Hersheypark in Hershey, Pennsylvania is a fun escape over any weekend in the fall. This candy theme park not only has a ton of family-friendly rides, it includes a wildlife park, gardens, and, of course, a chocolate museum. Hersheypark also has three nearby resorts that offer a range of accommodations. Your whole family is bound to have a great time and a much-welcomed break at Hersheypark, known as "The Sweetest Place on Earth®." Here's your planning guide to fall break at Hersheypark.
Why Hersheypark?
Hershey's chocolate is as American as apple pie, and what kid doesn't love the classic candy bar? They're also likely fans of Hershey's other brands, like Twizzlers, Reese's, and Jolly Rancher. So when their favorite treats are combined with 76 rides–including 15 roller coasters–spread over 121 acres, they will be in kids' heaven. Hersheypark is the largest American theme park outside California and Florida, and most of its attractions remain open in the fall. Hersheypark has been a family-oriented park since its inception in 1906, and seems to become more popular every year. In 2022, the park added its tallest and highest roller coaster, the "Candymonium," and two, smaller Jolly Rancher-themed rides. Younger kids and toddlers can have plenty of fun on more than 20 rides designed just for them. Visit the Hersheypark website for more information and tickets.
There's more to Hersheypark than fun rides, however. When it's time for a break from all the twirling and plunging, the family can head to ZooAmerica, Hersheypark's 11-acre wildlife park featuring over 200 animals. Next to Hersheypark is Hershey's Chocolate World, where you can see how chocolate is made and design and make your own candy bar. And if you still haven't had enough chocolate, check out the Hershey Story Museum in downtown Hershey. It has interactive exhibits that teach how Milton S. Hershey mastered the modern process of making milk chocolate. It also gives everyone age 5 and up a chance to make their own chocolatey confections in the Chocolate Lab. With so many things to do in the land of Hershey, you and your family will want to come back in the summer for a longer stay!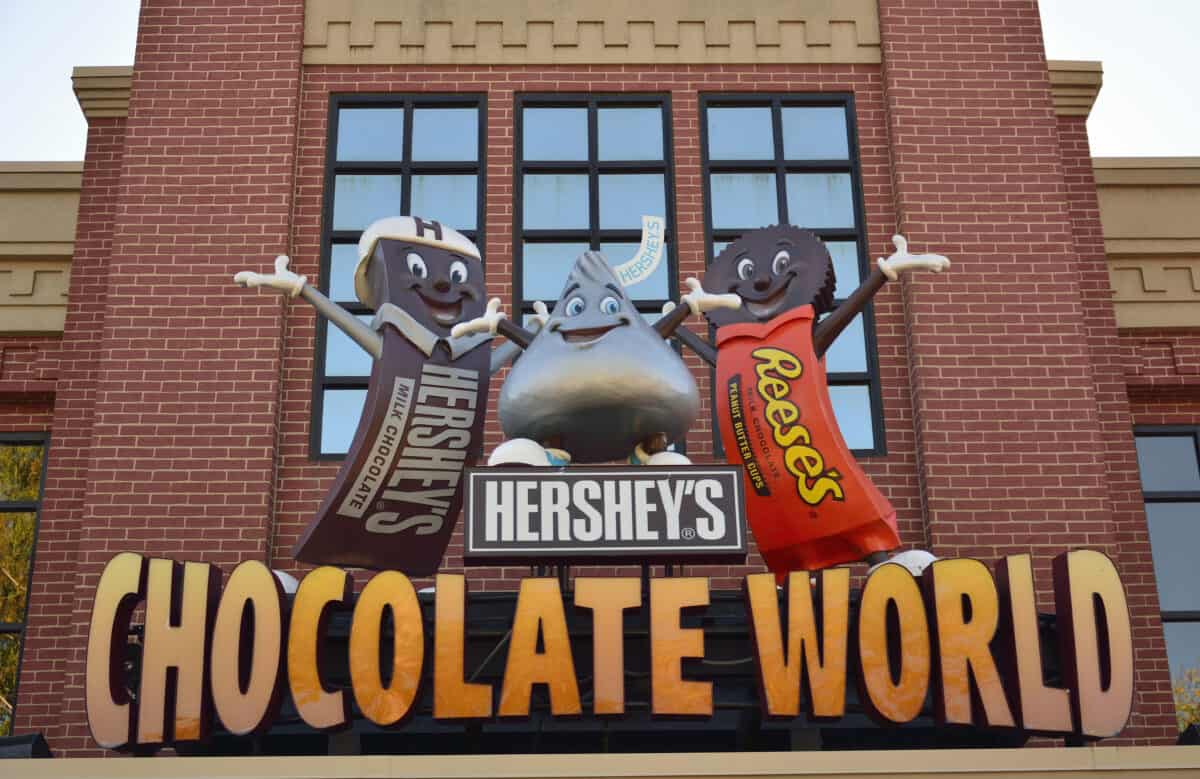 When To Go
Hersheypark ends its daily operations and closes its water park and boardwalk after Labor Day, but the rest of the park remains open every Saturday and Sunday through Jan. 1. It's also open for long weekends around Halloween and Thanksgiving. You can get tickets at this link. To get you ready for Halloween, Hersheypark opens four haunted houses on weekends from Sept. 17 to Oct. 30; they call these weekend evenings their "Dark Nights." Fall weather in southeastern Pennsylvania tends to remain mild, but be prepared for chilly days and cold nights in November and December. 
Getting There
Hersheypark is located within a three-hour drive of many major northeastern cities, including Pittsburgh, New York, Philadelphia, Baltimore, and Washington, DC. It's easily accessible from Interstates 76, 78, 81, and 83. If you're coming from farther away and want to fly, the closest airport is Harrisburg International Airport (MDT) in Middletown, which is about a 15-minute drive to Hersheypark. You'll most likely have to connect through an airline hub to get to Harrisburg, however. 
Where To Stay
The first places to consider for your stay are the three "official" Hersheypark resorts: Hershey Lodge, The Hotel Hershey, and the Hersheypark Camping Resort, which is open weekends through October. The advantage with these Hershey-owned properties is that by booking here, you get discounts on park tickets, a free shuttle ride to and from the park, special activities at the park, and extra hours at the park. The lodge and hotel are expensive, but there are cheaper options about 10 minutes away in Harrisburg if you're driving or renting a car. Let's take a look at your best fall options:
The Hotel Hershey
For a luxurious experience in Hershey, this is your place. This elegant and historic hotel has been hosting families since 1933. It features an indoor swimming pool with splash pad for little kids, the Chocolate Spa with chocolate-themed spa treatments, a large sports and fitness complex, access to the Hershey Country Club and its two top-ranked 18-hole golf courses, and five on-site restaurants open in fall. The casual Harvest restaurant serves seasonal dishes inspired by fall. Accommodations include guest rooms, suites, and the more spacious woodside cottages. To book your stay at this unforgettable hotel, visit the hotel website.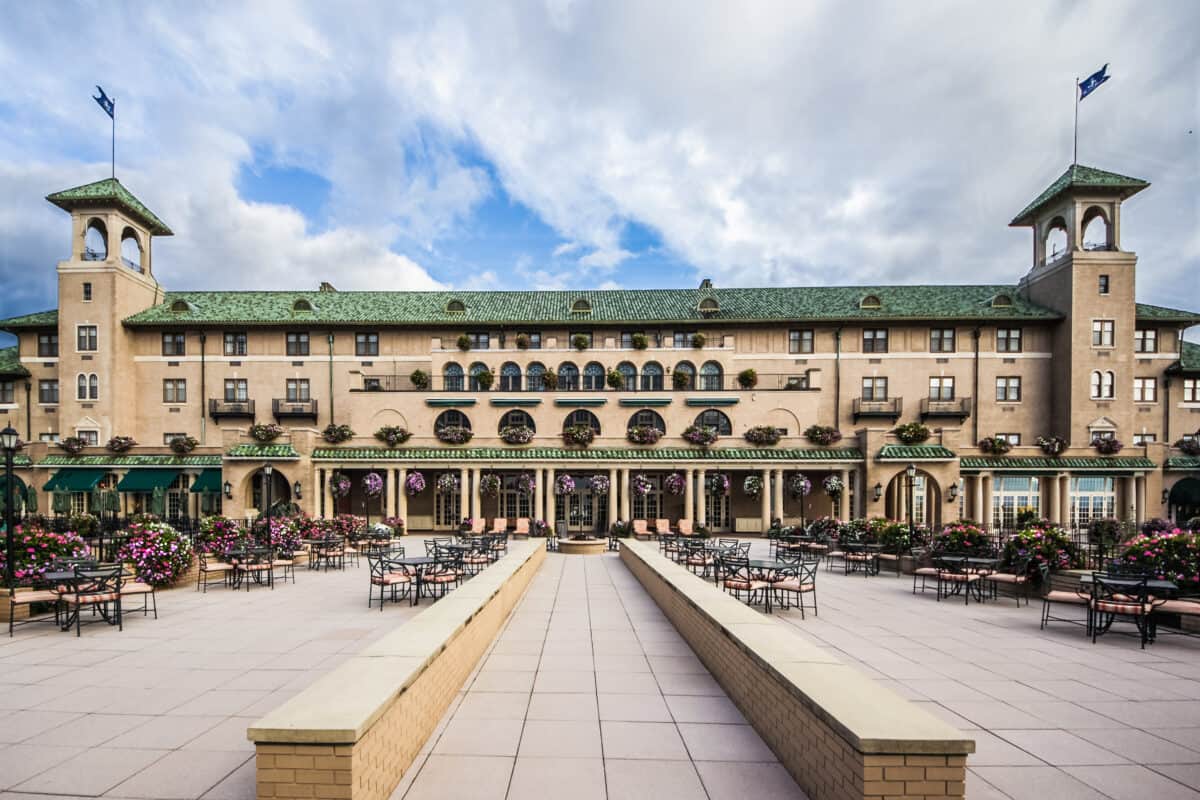 Hershey Lodge
This accommodation option is larger and a little less expensive than the Hotel Hershey. Families visiting during the fall will love its 30,000-square-foot indoor water park that features a host of candy-themed water slides and other playful water features. There's also a new fitness center onsite and parents have access to the MeltSpa in downtown Hershey. Everyone in the family will find something they love to eat at the five on-site restaurants serving a wide range of family favorites in the fall. To make a reservation at Hershey Lodge, visit their website.
Residence Inn by Marriott
A more affordable lodging option for families is this all-suite hotel in Harrisburg about a 10-minute drive from Hersheypark. You won't get the Hersheypark resort benefits here, but you will save considerably on the recently updated one- and two-bedroom suites that feature full kitchens. There's also a free hot breakfast to get your day of activity started. To book this fine hotel, visit its Marriott webpage here. 
Where To Eat
You'll find no shortage of family-friendly places to eat both inside Hersheypark and outside. Hersheypark itself has dozens of places to get snacks, ice cream, donuts, hot dogs, and sandwiches. For more substantial meals, try Moe's Southwest Grill, which serves great burritos, or the Chocolatier Restaurant & Bar, which has salads, burgers, and flatbreads. Be sure to save room for Chocolatier's signature desserts made from — what else? — Hershey's chocolate. If you're looking for something different from the theme park and resort restaurants, try one of these excellent dining options in Hershey:
Piazza Sorrento
If you love authentic Italian cuisine, then you can't miss this top-rated restaurant just outside Hersheypark. For starters, try their garlic shrimp crostini or homemade meatballs in marinara sauce. For a main entree, you can't go wrong with the steak and blue cheese alfredo or homemade fettuccine. Kids will certainly love the top-notch pizzas at Piazza Sorrento!
Devon Seafood + Steak
For the best surf and turf meal in downtown Hershey, look no further than this chic local favorite. The incredibly fresh seafood and high-quality meats, paired with excellent wines, produce unforgettable meals. The char-crusted Hawaiian ahi tuna or for the truly hungry, the 18-ounce bone-in ribeye, are some of the best entrees. The 12-and-under menu has kid-pleasers like chicken tenders, grilled chicken, and mini lobster-rolls. Visit their website to learn more.
The Hershey Pantry
If your family loves breakfast and brunch, then you've got to visit this popular all-day breakfast spot. The Hershey Pantry is known for its over-the-top stuffed French toast and Tracy's Chicken and Waffle served with honey butter and a touch of cayenne. Kids of all ages will go for the buttermilk pancakes. And perfect for fall, kids will get warmed up with the s'mores baked cocoa oatmeal coupled with a toasted marshmallow hot cocoa. After the Pantry, your whole clan will be ready to take on Hersheypark!
Find more fantastic family-friendly travel destinations in our "Travel" section here.