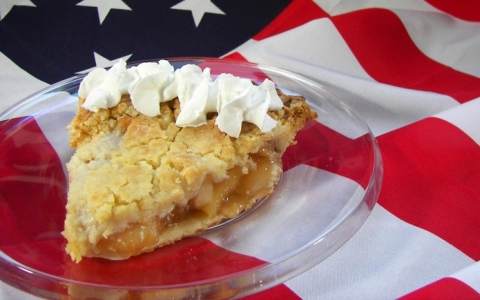 All-American Apple Pie
Ingredients:
2 cups white flour
1 teaspoon salt
2/3 cup shortening
5 Tablespoons ice-cold water
8 apples, pared and cored
2 Tablespoons white flour
1 cup sugar
1 teaspoon cinnamon
2 Tablespoons butter
Directions:
Preheat oven to 400 degrees F.
Mix together the flour, salt, and shortening until crumbly. Add the water and mix well.
Thinly slice the apples.
In a medium-sized bowl, combine the flour, sugar, and cinnamon; add the apple slices and mix well.
Take 1/2 of the pastry and roll flat; place pastry in a 9″ pie plate. Fill with the apple mixture and dot with butter.
Take the remaining pastry dough and roll flat. Place pastry on top of pie; crimp along the edges to seal.
Take a knife and cut slits into top of pastry to allow steam to escape.
Bake for about 50 minutes or until crust is golden.
Let cool and serve pie with whipped cream or ice cream.