LEGOLAND is a great amusement park with a popular location near Tampa, FL. Whether you're a Florida resident or planning a trip to Florida, a day spent at LEGOLAND will be a memorable one for your whole family. But Florida tourism shifts throughout the year, and even if you plan on visiting during one of the busiest times, you'll want to plan ahead. Here are the busiest times of year to visit LEGOLAND so you can decide what's best for your family.
March-April
Like most theme parks, LEGOLAND Florida is busiest when kids are out of school. Since Spring Break falls during March or April for most schools, this is a popular time to visit. If you're looking to visit during these months but want to avoid the busiest times, check the crowd calendar to predict which weeks will be the busiest. Be sure to also check the calendar for local schools to find out if their Spring Break falls during your trip. When local students are out of school, the park will be the busiest.
Although March in Florida isn't as hot as the summer, it is still relatively warm in a typical year. The weather can be unpredictable, so plan on the weather being between 70 and 80 degrees.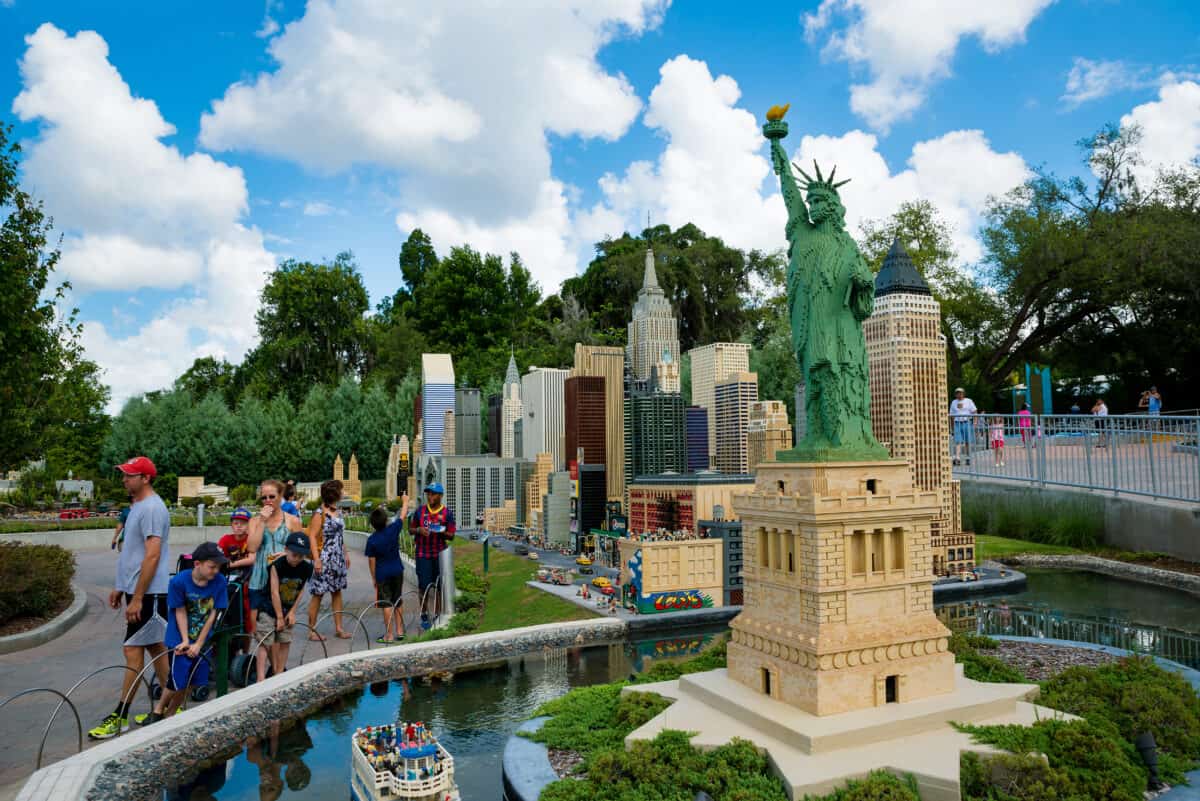 June-July
Theme parks are always going to be a popular destination during the summer months while kids are out of school. Since many schools are in session until June, July is the most popular month for visiting LEGOLAND Florida. If you are visiting during July, not only can you expect larger crowds, but you can also expect extremely high temperatures with the average temperature most days being in the 90s.
If summer is the best time for your family to visit, you can anticipate large crowds and long lines. It's also best to bring an umbrella, since hurricane season in Florida begins in June. You can expect thunderstorms periodically throughout the summer months.
Breaks during November-December
According to most crowd calendars, the crowd levels during November and December vary from medium to high, depending on the time of month. Thanksgiving Break and Winter Break are incredibly popular times to visit LEGOLAND Florida, while the other weeks in these two months are relatively slow. Aside from summer break, the holiday breaks in November and December are the busiest times of year to visit.
However, the fall and winter months are a great time to visit Florida since the weather has cooled down from the summer temperatures. Also, there are special events at LEGOLAND during this time such as the Christmas celebration, when you can enjoy the holiday characters and attractions even if you visit in the weeks before winter break.
Tips for Visiting During the Busiest Time of Year
When you're planning a time to visit LEGOLAND, a trip during summer, spring, or winter break might work best for your family. With some extra planning, you can have a great vacation even during the busiest time of year. Here are some tips for visiting LEGOLAND Florida during these times:
Plan for Florida weather — No matter what season it is, Florida is typically going to be warmer than other states. Even during the cooler months, the weather can often be unpredictable and the temperature can vary greatly from day to day. Once you pick a time to visit, check the average temperatures and see if your visit falls during hurricane season.
Know the rainy day policy — Speaking of weather, if you visit LEGOLAND Florida between June and November, it's not unlikely that a thunderstorm might affect your trip. Thankfully, LEGOLAND has a great rainy day policy that states if the rides are affected for more than 120 minutes during your visit, you can receive a coupon to return to the park another day. These guest coupons can be used within a year of your original visit.
Visit the water park — If you're visiting during the warmer months, even one day in the theme park can be exhausting. Take a break from the heat in the LEGOLAND Resort Water Park. When purchasing daily tickets, you can choose a package that includes admission to the water park. Even if you are visiting during November or December, your family might enjoy a trip to the water park to swim in the seasonally heated pools.
Choose preferred parking — If you've visited any theme park with your family before, you know that parking can be one of the biggest hassles. For an increased fee, you can pay for preferred parking. This allows you and your family to park closer to the LEGOLAND entrance. Especially if you have little ones to navigate the park with, you'll appreciate this at the beginning and end of your trip.
Crowds are inevitable at LEGOLAND Florida, especially during the busiest times of year. But if you do choose to visit during these times, a little extra planning can make your trip fun and stress-free.
MORE ARTICLES YOU'LL LOVE:
The image featured at the top of this post is ©Rob Hainer/Shutterstock.com.