Are you headed to London this year with your children? It's important to research before traveling anywhere with your children, especially to a different country. Traveling with kids can feel difficult, especially when traveling to a city that is challenging to navigate. So, remember there are many important things to plan for before traveling to London with kids. Read these tips before you grab your suitcase and head out those doors. So, let's get started!
Plan When You Are Traveling to London With Kids
Be sure to know when you are traveling to London. Knowing your itinerary will make your trip easier to plan, especially with kids in tow. Are you planning on going during the summer? Summer is a great time to visit because the weather is comfortable. However, summer is when tourists flock to the city. If you prefer to go when it's less touristy, avoid summer and winter break and opt to go during the off-season instead.
Where are the Best Places to Stay
Look for kid-friendly hotels and places to stay while in London. Take your time and write down what you want in a hotel while staying with your kids. Some basic conveniences to consider when with kids are:
Big enough rooms to accommodate a family.
Kid-friendly activities and spaces.
The hotel offers plenty of flexibility.
Accommodations such as extra cots, pillows, and a crib are available.
Close to the attractions you are going to see.
The hotel has a family-rate price.
London offers many excellent hotels. The top-rated ones are:
Whether you stay at one of the above or a different kid-friendly one, the right hotel can make your stay in London easier with your children. Regardless of where you stay, booking a family-friendly hotel near attractions can help you navigate London with ease.
Book Your Plane and Hotel Early
Many airlines and hotels give discounts to those who book early. The closer you get to your stay, especially during peak tourist season, the more expensive the trip will be. You may also save money by using a travel agent who can find you the best hotel deals, car rentals, airfare, and more.
What To Consider While In London
Before you jet off to London with your family, consider what the weather will be like. It is important to prepare for any weather. During the summer, the days can feel cool and comfortable. However, London is known to be rainy often throughout the year. So be sure to pack those rainboots, coats, and hats!
Where to Find the Best Places to Eat
Research the best places to eat for kids in London. Many restaurants are kid-friendly!
Check out the fantastic restaurants you and your family will enjoy below:
These are just a few of the best restaurants in London to eat with kids. There are so many to choose from. Whatever you are in the mood for, Italian, Indian, or Mexican, you will be able to find a fabulous kid-friendly restaurant for your family.
How To Take the Tube
If you are not used to taking the tube, it is important to take a few minutes to learn before you go, especially if you are toting children along. You want to avoid trying to learn while keeping up with your kids.
Tips for getting started riding the tube:
Figure out where you are going beforehand by looking at the map.
Order an oyster card to make your life easier and avoid paper tickets.
Pay attention to the zones and lines.
Prepare ahead of time and don't ignore the etiquette, like stepping aside for passengers to get off and moving further down when you get on the tube.
It doesn't have to be stressful to ride the tube while with your children. Take the time to talk to your child about proper etiquette if they are older. You can also make riding the tube easier by knowing where you are headed, finding the correct zones, and keeping your oyster card out.
How Busy is London?
London is a beautiful city filled with bustling life. The rich culture and beauty mean tourist season can get very busy! A busy street can feel overwhelming for parents traveling to London with kids. Research how busy London will be during the time you will be there. Consider safety measures for young babies and children, such as strollers, baby carriers, or backpacks with a strap. Teach your children to always stay with you and hold your hand. Plan out your days to avoid chaos and confusion for your children. Also, talk about safety with your child and what to do if you become lost from one another. Then figure out where the nearest police stations, hospitals, and fire stations are. These are excellent practices no matter where you travel with your children. Finally, make sure your child has your phone number memorized, or place it somewhere on your child if they are still young. Prepare while in a busy city with children. Doing so can give you peace of mind!
What Attractions Are You Going to See?
When planning your trip to London with children, consider what attractions you will see. Are they within walking distance from your hotel? You will only be able to see some things you want to see in London, especially on a short trip or in a day or two. If you have small children, space your visits out. Consider what you want to see the most and plan them. Take frequent breaks because there is a lot of walking while in London. Only some places you visit will have a bathroom, too. Plan bathroom breaks for your kids and ask if they have restrooms available when you go somewhere. It can get quite hot when traveling during the summer. Pack water to keep your child hydrated, and consider renting a wagon for their tiny legs.
Some of the best attractions to see in London with kids are:
Science Museum
Regent's Park and visit the oldest zoo in the world
Natural History Museum
Cambridge Theater
London Eye
There are so many more attractions that your kids will enjoy! But, remember, it can be hard to navigate London with kids especially. So planning ahead of time can make your day go more smoothly.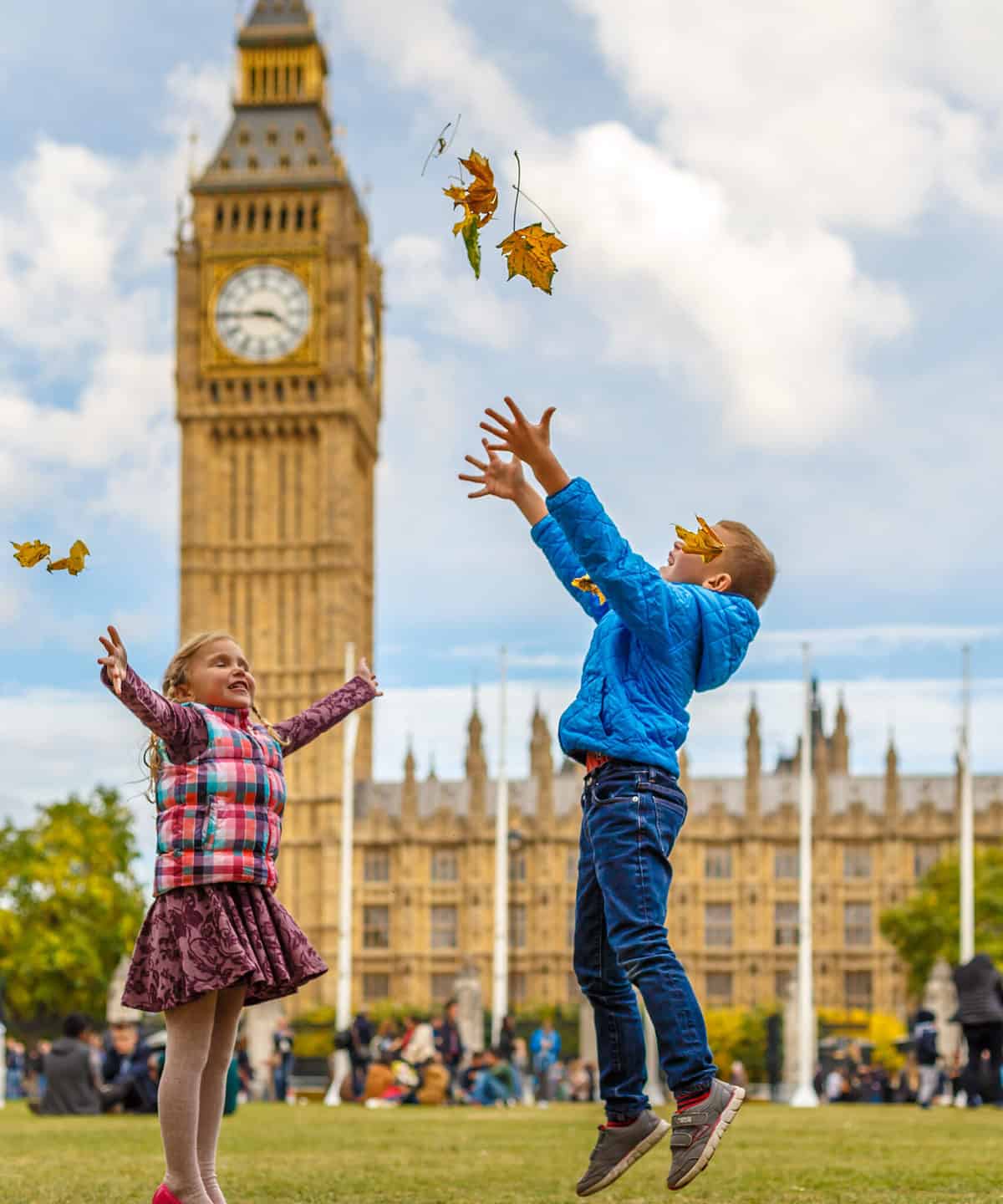 Free Checklist
Know when you are going.
Research kid-friendly hotels.
Book your plane and hotels early.
Be prepared for all kinds of weather.
Find the best places to eat with kids.
Learn to take the tube.
Figure out how busy London will be when you visit.
Plan the attractions you will see.
In Conclusion
London is a wonderful city to visit! This city is filled with beautiful sites, rich history, and incredible culture for your family to enjoy. To fully make the most of your trip, be sure to do your research before traveling to London with kids. Then, learn how to ride a tube, plan out your attractions, and book your stay at a kid-friendly hotel. Your family vacation to London will be one for the books!
The image featured at the top of this post is ©Ground Picture/Shutterstock.com.