The history of Fort Worth, TX, is vast and deep. First settled by Native Americans and then followed by foreign settlers, it quickly became a loved place to create a life. Now, it is a fun place to visit and, in response, has excellent accommodations. These include some of the most expensive hotels in Fort Worth.
Fort Worth is a considerable city of around 956,709 people, making it the fifth most populous city in Texas. Additionally, it was initially a military outpost in 1849. 
When you are looking for a place to stay during a vacation or a trip, most of the time, searching for the cheapest hotel is the first step. However, sometimes going cheaper isn't the best idea. Even though the expensive hotels in Fort Worth may make your head spin at first glance, they offer top-notch luxury that can elevate your stay to a new level.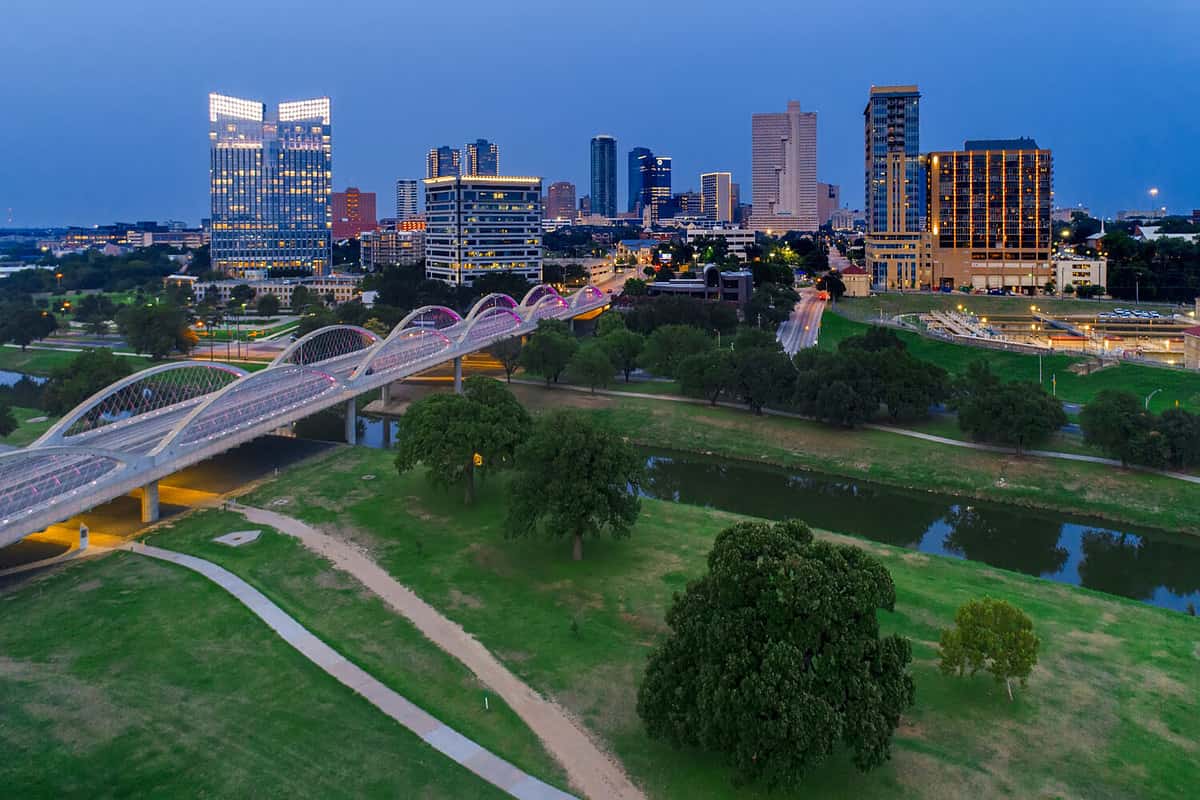 Fun Tourist Attractions to Visit in Forth Worth
When staying in Fort Worth, you may wonder what are the best attractions to visit! Below are some of the more popular activities to do as a family, with a group of friends, or even by yourself.
Fort Worth Zoo
Fort Worth Water Garden
Amon Carter Museum of American Art
Kimbell Art Museum
Fort Worth Museum of Science and History
Texas Motor Speedway
Sid Richardson Museum
Bass Performance Hall
National Cowgirl Museum Hall of Fame
These fun activities are a great way to spend your day in Fort Worth, TX.
Most Expensive Hotels in Fort Worth
While looking for accommodations for a trip, it may seem outrageous to check out expensive hotels. However, spending the extra money may be worth it with the extra amenities and unique experiences. Check out the expensive hotels in Fort Worth below.
Hotel Drover, Autograph Collection
200 Mule Alley, Fort Worth, TX 76164
Price: $847 per night
Hotel Drover Autograph Collection gives guests the feel of luxury as soon as they walk through the doors. Additionally, while staying at this hotel, you will feel pampered with restaurants, bars, activities, and more. 
What Makes Hotel Drover, Autograph Collection Unique
Hotel Drover allows guests to feel relaxed and renewed after spending just a few days at this hotel. You can take a dip in the gorgeous swimming pool or relax in the whirlpool. Also, if you are on a fitness routine, you won't have to disrupt it while on vacation. The Hotel Drover has an excellent fitness center with free weights, pelotons, and treadmills. 
If your taste buds are in the mood for delicious cuisine, check out the different restaurant and bar options and enjoy a variety of tastes and textures.
Hotel Drover also allows guests to host a wedding or a big meeting in style, with eight event rooms and 14,628 square feet of event space. Plenty of room exists to spread out and enjoy a luxurious wedding or meeting.
What are the Attractions Near Hotel Drover, Autograph Collection
While staying at the Hotel Drover, Fort Worth has plenty of sightseeing. If you enjoy walking tours, start by checking out the Wrangler Tour. Furthermore, those who enjoy playing golf can participate at the Rockwood Park Golf Course. 
Check out Texas Rodeo Cowboy Hall of Fame, John, Wayne: An American Experience, or the Cowtown Cattle Pen Maze. There is so much fun to be had in Fort Worth!
Omni Fort Worth Hotel
1300 Houston St, Fort Worth, TX 76102
Price: $916
The Omni Forth Worth Hotel is a luxury hotel that gives guests an experience that will make them always want to stay. There are options for weddings, meetings, relaxing amenities, and more. 
What Makes Omni Fort Worth Hotel Unique
While staying at the Omni Fort Worth, Hotel, you can visit the relaxing Mokara spa. While there, enjoy indulging in facial treatments, body wraps, massages, and more. Then enjoy a delicious steak at Bob's Steak and Chop House, sip on one of the finest wine selections, or a hot cappuccino at Starbucks. Guests can also enjoy dining in their room if they don't feel like venturing out!
Additionally, Omni Fort Worth Hotel has a relaxing pool and fitness center to continue your wellness journey. 
What are the Attractions Near Omni Fort Worth Hotel
While staying at this hotel, there are plenty of attractions to explore outside in Fort Worth. Check out the St. Patrick Cathedral, go on a Cowtown Segway tour, or take in the JFK tribute. Also, if spooky is your thing, check out Fort Worth's Ghost Bus Tour! 
Don't stop there, though. Peruse the Thompson's Book Store or enjoy a lively night at Pete's Dueling Piano Bar. 
Stockyards Hotel
109 E Exchange Ave, Fort Worth, TX 76164
Price: $467 per night
Stockyards Hotel is an historic sight that brings the Old West to the guests. The history goes back a ways, considering it got its start in 1907. The hotel initially housed a restaurant, a hotel, a bar, and even physician offices. The building was restored in 1982, and it became the Stockyards Hotel. 
The goal of the Stockyards Hotel is to allow guests to experience life in the old west, including the rodeo series.
What Makes Stockyards Hotel Unique
The Stockyards Hotel has many unique qualities, including being a place where celebrities have stayed. A few of these well-known celebrities include Randy Travis, Pam Tillis, Trisha Yearwood, Tim McGraw, and Garth Brooks!
Furthermore, while staying at the Stockyards Hotel, you can access several amenities, including Wi-Fi, valet parking for a fee, horseback riding, and more. 
What are the Attractions Near Stockyards Hotel
While dwelling at the Stockyards Hotel, you will be in the center of Fort Worth Stockyards. This area has excellent restaurants, shopping, saloons, and shops to explore. Also, while here, be sure to check out the following attractions for the full experience of the Old West:
Stockyards Museum
Grapevine Vintage Railroad
Stockyards Livery Stables & Arena
Stockyards Historic Walking Tours
Texas Rodeo Cowboy Hall of Fame
19th Century Tarantula Steam Train
If you enjoy the Old West, you will love staying at the Stockyards Hotel!
Hotel Dryce
3621 Byers Ave, Fort Worth, TX 76107
Price: $334 per night
Hotel Dryce is a boutique hotel located in Fort Worth. It was originally a warehouse that was renovated into a hotel.
What Makes Hotel Dryce Unique
The Hotel Dryce has a unique history of being a historic Warehouse. In addition, the decor and architecture do a great job of combining history with convenience and modern luxury. 
Hotel Dryce also has a lobby bar that is a relaxing place to unwind, sip on delicious cocktails, and listen to fantastic music.
What are the Attractions Near Hotel Dryce
While staying at The Hotel Dryce, there are plenty of choices to explore. First, visit one of the many museums in the area, including the National Cowgirl Museum and Hall of Fame, Kimbell Art Museum, or the Modern Art Museum. 
Next, venture outdoors and explore the many nature attractions like the Fort Worth Batonic Garden or the Botanical Research Institute of Texas. There are plenty of options available for a memorable outing with your family! 
One Last Note
While in Fort Worth, there are abundant activities to explore and history. If you love historical sites and learning more, stay in the Stockyards Hotel. You will get an authentic feel of what the Old West was truly like. Also, if luxury is your thing, there are many benefits to staying in these expensive hotels in Fort Worth. Even though the price may feel outrageous initially, it is well worth it in the end! 
Fort Worth Posts
The image featured at the top of this post is ©817-Drone-Services/Shutterstock.com.