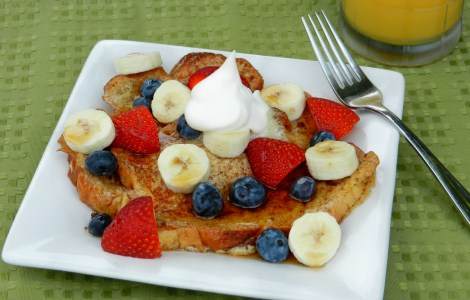 French Toast Recipe
Do you wonder where French toast comes from? Do you wonder if it's even French?
We're not exactly sure where French toast originated, but before it was ever called 'French toast' similar recipes were being whipped up all over the world with one of the earliest recipes being traced back to the Roman Empire.
The recipe was first called French Toast in early 17th century England. It was later brought to America by settlers.
In France, the recipe was known as 'pain perdu' or 'lost bread'. This was due to the fact that it was often made with stale bread that people would have otherwise thrown away.
Over the years, many variations on the French Toast recipe have emerged. Different types of breads can be used, and different toppings can be added to give your recipe the flavor you are looking for.
Stuffed French bread is another option. French toast can also be rolled into a stick form and dipped into syrup to make a fun, snacky treat.
But whatever variation you choose, one thing is clear; French toast has evolved from the basic egg dipped bread it originally was.
This French toast recipe has spices and fruit topped with whipped cream. This is an easy French toast recipe that you prepare the night before. Dip the bread in the mixture and leave it in the fridge overnight to let it really soak up the flavors of cinnamon and vanilla. In the morning, it will be ready to go.
Once you wake up, you can just heat it up in a skillet and top with bananas and whipped cream or any topping you choose.
This isn't any more difficult to make than regular French Toast, but it makes breakfast a special occasion every time. So, try whipping some up for your next morning meal. It is a heavenly way to start off your day!
Cinnamon Vanilla French Toast
Ingredients:
1 cup milk
6 large eggs
2 teaspoons cinnamon
2 teaspoons vanilla extract
butter
12 slices challah bread or french bread (1/4 – 1″ thick)
6 large bananas, or sliced fresh strawberries and fresh blueberries
whipped cream (canned)
Directions:
1. Whisk together milk, eggs, cinnamon and vanilla until light and frothy.
2. Dip slices of bread in egg mixture and place on greased baking pan. Pour the mixture that is left after dipping the bread, over the slices on the pan.
3. Cover and refrigerate overnight.
4. In the morning, place butter in skillet. Place slices of bread in skillet and brown on each side until crispy.
5. Slice the bananas (or other fruit) and place on top of each slice of french toast, then garnish with whipped cream.
Easy Recipes Main Page