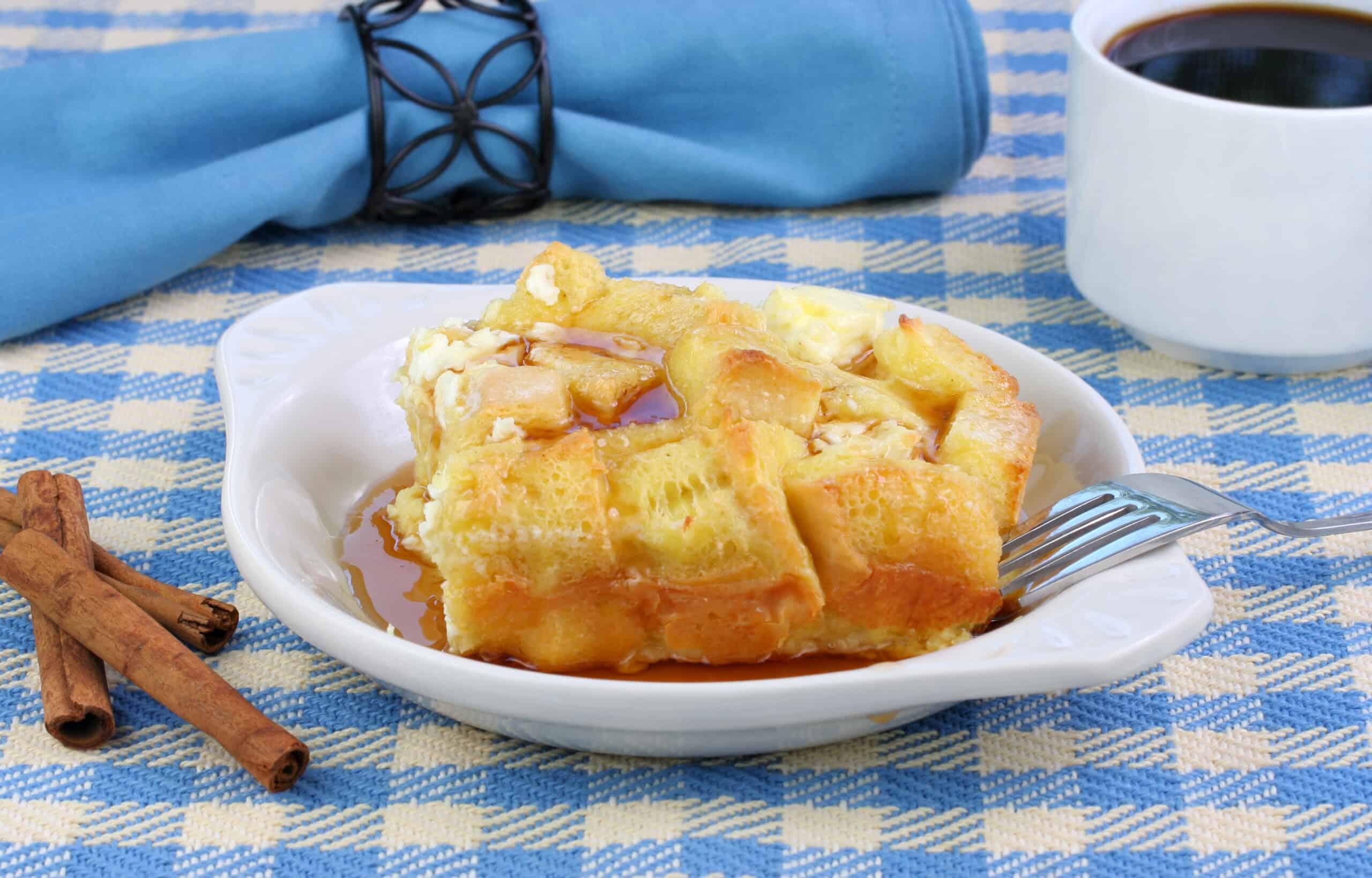 Let's Get Ready for Baby!
Sign up for our monthly pregnancy email series, and you'll get regular updates on your baby's development, helpful timelines to get ready for their arrival, must-have baby needs and so much more! PLUS, you'll get instant access to the MomsWhoThink "Ultimate Guide to Baby Naming in 2022."
CLICK HERE
to get started!
[addtoany]

If you love French toast, there is nothing you won't love about French toast casserole. The recipe involves taking as much as a loaf of bread and covering with an egg mixture. A topping of your choice is added. Typically this is made of walnuts, butter, and brown sugar, but any kind of nuts can be used and fruit and whipped topping can be added as well.
The whole thing is then put in a casserole dish to bake in the oven.
Once it comes out of the oven, it can be cut into squares for a pastry-like treat which is great for breakfast or it can also be served midday with tea or coffee.
How to Make French Toast
French toast is an ancient recipe that can be dated back to the 4th or 5th century when it was published in a collection of Roman recipes called Apicius. The basic recipe has not varied much since then.
Basically, making French toast involves taking a piece of bread and dipping it in an egg mixture which often has milk or cream added and can sometimes also be seasoned with vanilla, sugar, cinnamon, and nutmeg.
The bread is then fried in olive oil or butter until it's browned and cooked through. The recipe often uses day-old bread because its tougher texture will allow it to soak up the eggs without falling apart.
After the French toast is prepared, it can be served with fruit, whipped cream, syrup and other preferred toppings.
There are several variations on the traditional French bread recipe. Some choose to soak it in wine, rose water or orange juice as an alternative to the egg mixture. Others dip it in milk first and add the egg mixture afterward.
The dish may also vary depending on the culture it is being served in.
In Spain, torrijas are served. These are made by soaking stale bread in wine or milk with honey and spices. The bread is then dipped in beaten egg and fried with olive oil. This technique breaks down the fibers of the bread making for a crispy outside and smooth inside.
In Hong Kong, they start by making a sandwich, typically with peanut butter and jelly filling although meats can also be used. The entire sandwich is then dipped in egg and fried and served with a topping of syrup or honey.
In New Orleans, French toast is referred to as pan perdu. This is a common breakfast dish that starts with New Orleans style French bread that is dipped in an egg custard mixture that includes various spirits. It is then topped by fruit syrups, powdered sugar or honey.
In France, French toast is also referred to as pan perdu and it can be prepared in a number of ways.
The preparation for French toast casserole varies slightly from the preparation of French toast in that the many slices used are covered by the egg mixture. The topping is then added and the whole recipe is left to bake in the casserole dish. There is no frying of the individual slices of bread.
French Toast Breakfast
A French toast breakfast can be a real treat. The thick slices will do well when served on their own with a cup of coffee, but those who have big appetites for a morning meal will want to add eggs, sausages, bacon and other early morning items.
If you are going for something a bit fancier and want to make French toast casserole using the recipe we provided, a bit of planning will be involved. In addition to the time spent preparing the dish, the whole thing takes four hours to bake and an additional 20 minutes to cool. Therefore, you will have to get up pretty early in the morning to have it ready by breakfast time.
However, because it can be made in a slow cooker, you don't need to spend a lot of time tending to it. One idea may be to start the slow cooker some time in the middle of the night to have it ready by the time you wake up.
Some cooks may prefer to make the whole meal the night before.
French toast casserole makes an ideal breakfast for just about any morning, but it can also be a special treat for the holidays.
So, if you want to make a morning treat for your family, think about the kind of French toast casserole you want to create and how you will distribute the time so you can make a great meal, and get some sleep too! The dish can take a bit of forethought to prepare, but it will be well worth it in the end!
If you enjoyed this recipe, make sure to check out our Baked Peaches 'n' Cream Breakfast Recipe and our Baked Breakfast Scrambled Egg Casserole.
Print
French Toast Casserole
---
Author:

Total Time:

50 minutes
Description
The recipe involves taking as much as a loaf of bread and covering with an egg mixture. A topping of your choice is added. Typically this is made of walnuts, butter and brown sugar, but any kind of nuts can be used and fruit and whipped topping can be added as well.
---
Vegetable oil spray

1

loaf supermarket French or Italian bread (

16 ounces

), cut into 1-inch pieces (

16 cups

)

2½ cups

whole milk

7

large eggs

1 cup

heavy cream

⅓ cup

granulated sugar

2 teaspoons

vanilla extract

1 teaspoon

ground cinnamon

¼ teaspoon

ground nutmeg

½ cup

packed light brown sugar

4 tablespoons

(

½

stick) unsalted butter, softened

2 cups

candied walnuts or pecans, chopped coarse
---
Instructions
Line slow cooker with aluminum foil collar, then line with foil sling and coat with vegetable oil spray. Adjust the oven rack to middle position and heat oven to 225°F. Spread bread over rimmed baking sheet and bake, shaking pan occasionally, until dry and crisp, about 40 minutes.

Spread bread into prepared slow cooker. Whisk milk, eggs, cream, granulated sugar, vanilla, cinnamon, and nutmeg together in bowl, then pour mixture evenly over bread. Press gently on bread to submerge.

Mix brown sugar and butter in medium bowl until smooth, then stir in walnuts. Sprinkle walnut mixture over casserole. Cover and cook until center of casserole is set, about 4 hours on low.

Let casserole cool for 20 minutes. To serve, either spoon casserole onto individual plates or transfer casserole to serving platter using sling.
Prep Time:

10 Minutes

Cook Time:

40 Minutes

Category:

Breakfast

Method:

Fried

Cuisine:

British
Keywords: how to make french toast, french toast breakfast