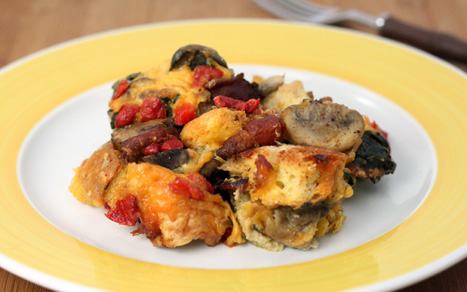 Breakfast Bake
Ingredients:
3 to 4 cups diced crusty bread (¾– to 1-inch pieces)
½ pound bacon, cut into ½-inch pieces
2 cups sliced mushrooms
2 cups torn fresh spinach
8 eggs
½ cup milk
¾ cup roasted red peppers, drained and chopped
1 cup shredded cheese, such as Cheddar or Monterey Jack
Salt and pepper to taste
Directions:
1. Grease the inside of slow cooker with nonstick cooking spray. Pour bread into bottom of slow cooker.
2. Heat skillet on medium heat. Cook bacon until crispy. Remove all but 1 tablespoon of drippings. Add mushrooms and spinach and toss to coat. Cook for 1 to 2 minutes or until spinach wilts. Add to slow cooker.
3. Beat eggs and milk in medium bowl. Stir in red peppers, cheese, salt and pepper. Pour into slow cooker.
4. Cover and cook on low for 3 to 3½ hours or on high for 2 to 2½ hours, until eggs are firm but still moist. Adjust seasonings.
 
Try one of our favorite Crock Pot Meals: