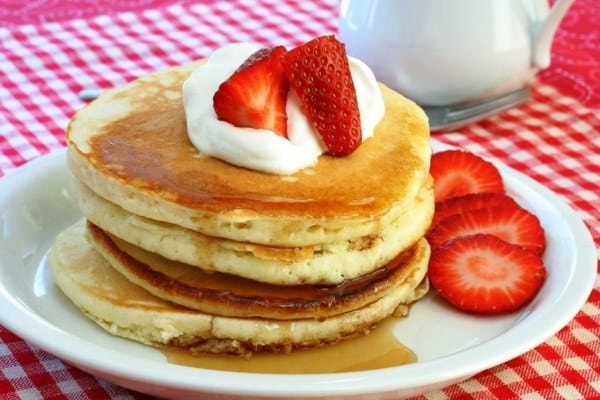 Perfectly Fluffy Buttermilk Pancake Recipe
This is such an easy recipe to make and truly makes prepackaged pancake mixes weep-worthy. The dry ingredients make up the homemade pancake mix, adding the buttermilk, vanilla, eggs, and butter transforms it into the perfect pancakes.
Even if you're not a fan of pancakes the fluffy, vanilla infused buttermilk pancakes this recipe creates will convert you. We have these for dinner quite often as our "breakfast for dinner" main course.
Add a side of bacon or sausage and seasonal fruit and you've got an iHop superstar presentation that tastes infinitely better.
For the celebratory folks, February 28th is National Pancake Day! Celebrate with the pancake lovers all over the nation and enjoy these divine, golden-hued circles of goodness with your favorite topping (we've suggested a few below).
Make sure you let the batter rest according to the instructions. Allowing yourself that extra 15 minutes to let the ingredients to their thing is what makes them fluffy. As a personal preference, we use a silicone spatula for easier, quick, flick-of-the-wrist pancake flipping. It's also easier to clean batter off of.
Fluffy Buttermilk Pancakes
Makes 6 – 8 servings
Ingredients:
3 cups buttermilk
2 teaspoons vanilla extract
4 cups all-purpose flour
1/2 cup white sugar
1 Tablespoon plus 1 teaspoon baking powder
2 teaspoons baking soda
1 1/2 teaspoons salt
4 eggs
1/2 cup butter, melted
Directions:
1. Add vanilla extract to the buttermilk in a medium bowl and set aside.
2. Combine flour, sugar, baking powder, baking soda, and salt in a large mixing bowl.
3. Whisk egg and butter into the vanilla buttermilk.
4. Pour the flour mixture into the wet ingredients and whisk until lumps are gone. Mix just enough to incorporate all the ingredients. Do not over-mix, it will make the pancakes tougher and much less fluffy.
5. Let this mixture rest for 15 minutes (see the Tip below for why). Do NOT stir as it rests, or after it is done resting. The batter will be thick. Trust us on this, by following this rule we've had consistently fluffy, delicious pancakes every time!
6. Heat a large skillet over medium heat, and coat well with cooking spray.
7. Pour 1/4 cupfuls of batter onto the skillet, and cook until bubbles appear on the surface.
8. Flip with a spatula, and cook until browned on the other side.
You can add blueberries or chocolate chips to the batter, add to the dry ingredients before combining with the buttermilk mixture.
Serve topped with any of these for added deliciousness:
Maple Syrup
Sliced Bananas drizzled with caramel sundae topping and whipped cream
Sliced strawberries and whipped cream
Chocolate syrup
Sprinkled with cinnamon and confectioners sugar
Tip from BakingMad.com, our favorite UK baking site – 
* Before frying your pancake batter, give it a rest. When it's mixed it activates the gluten and resting the batter allows it to relax, improving the texture. It also allows the starch molecules in the flour to absorb the liquid in the batter, giving it a thicker, more bouncy consistency.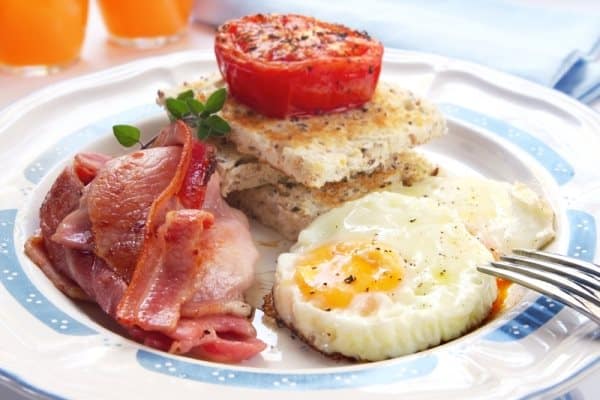 More Breakfast Recipes
---
---