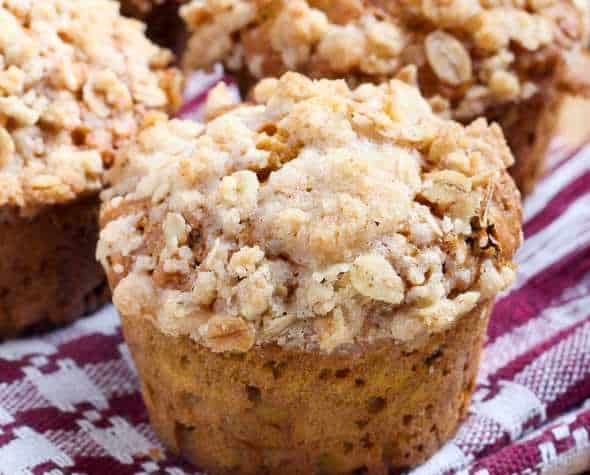 Banana Oatmeal Crumb Cake
Let's Get Ready for Baby!
Sign up for our monthly pregnancy email series, and you'll get regular updates on your baby's development, helpful timelines to get ready for their arrival, must-have baby needs and so much more! PLUS, you'll get instant access to the MomsWhoThink "Ultimate Guide to Baby Naming in 2022."
CLICK HERE
to get started!
This is a great tasting breakfast or afternoon coffee cake. Without the extra sweetness of sugary frosting it doesn't have the sugar crash that comes with heavier cakes. We made this as muffins (pictured) and as a cake, it's a versatile recipe and super easy to make. If you're making muffins, check for doneness after 30 minutes. 
Banana Oatmeal Crumb Cake or Muffins
Oatmeal Crumb Cake Ingredients :
3/4 cup all-purpose flour
1 1/3 cups rolled oats
1/4 teaspoon salt
1 teaspoon baking soda
1/2 cup butter, softened
2/3 cup packed brown sugar
2 eggs
1 cup mashed bananas
1 teaspoon vanilla extract
3/4 cup rolled oats
1/3 cup packed brown sugar
2 Tablespoons butter, melted
2 Tablespoons chopped walnuts
1/2 teaspoon ground cinnamon
Directions:
1. Stir together flour, 1 1/3 cups rolled oats, salt, and baking soda.
2. In a large bowl, cream 1/2 cup butter with 2/3 cup brown sugar.
3. Beat in the eggs, then the bananas and vanilla.
4. Beat the flour mixture into the banana mixture. Turn the batter into a greased and floured 8 inch square pan.
5. Mix 3/4 cup oats, 1/3 cup brown sugar, melted butter, walnuts, and cinnamon together until crumbly. Sprinkle on top of batter in pan.
6. Bake in preheated oven at 350 degrees F (175 degrees C) for 35 to 40 minutes, or until it tests done. Transfer to a rack to cool.