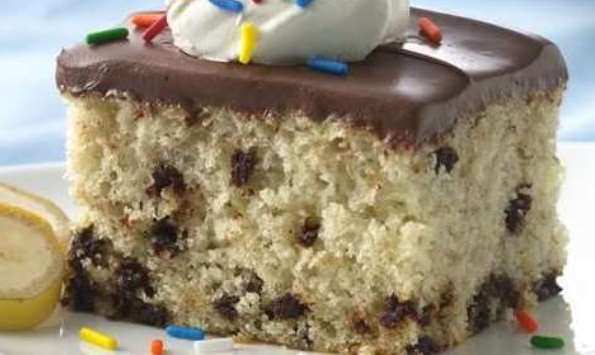 Banana Chocolate Chunk Cake
Chocolate and banana, the perfect blend! This cake recipe will be the hit of any gathering and gives even Ben & Jerry's Chunky Monkey ice cream a run for it's money for favorite dessert!
Banana Chocolate Chunk Cake Recipe
Ingredients:
Cake Ingredients:
1/2 cup (1 stick) butter, softened
1/2 cup sugar
2 eggs
1 teaspoon vanilla extract
1/4 cup sour cream
1-1/2 cups all-purpose flour
3/4 teaspoon baking soda
3 squares semi-sweet chocolate, chopped
1 cup mashed, very ripe bananas
Frosting Ingredients:
1/2 cup (1 stick) butter, softened
1-1/2 cups confectioners sugar
3 squares semi-sweet chocolate, melted
Directions:
Cake Directions:
1. Preheat oven to 350 degrees F. Grease an 8-inch square pan.
2. At medium speed of an electric mixer, cream together the butter and sugar until light and fluffy.
3. Add the eggs, one at a time, beating well after each addition. Beat in the vanilla and sour cream.
4. Combine the flour, baking soda and chocolate. Add to butter mixture alternately with the mashed banana, stirring just until dry ingredients are incorporated.
5. Pour into prepared pan, and bake for about 30 minutes or until top springs back when lightly touched. Cool in pan on rack.
Frosting Directions:
1. Beat the softened butter until fluffy.
2. Gradually add the confectioners sugar and melted chocolate, beating until smooth.
3. Spread evenly over cooled cake.