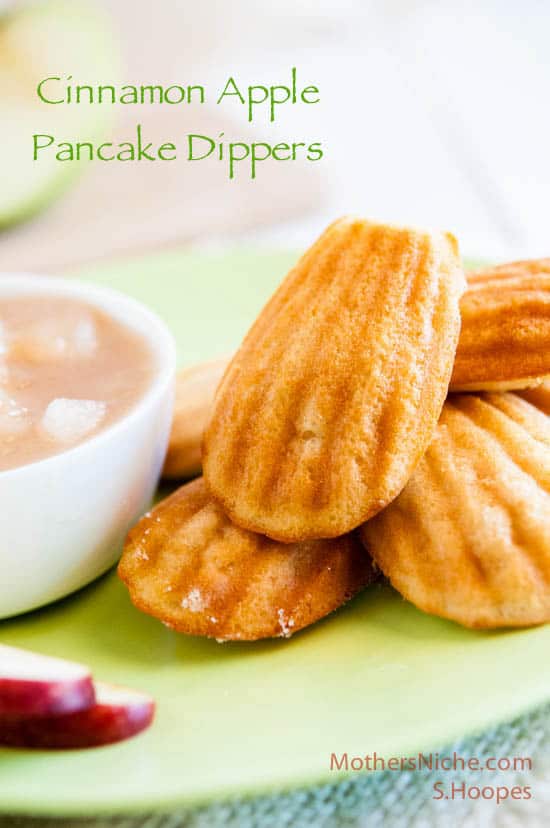 Let's Get Ready for Baby!
Sign up for our monthly pregnancy email series, and you'll get regular updates on your baby's development, helpful timelines to get ready for their arrival, must-have baby needs and so much more! PLUS, you'll get instant access to the MomsWhoThink "Ultimate Guide to Baby Naming in 2022."
CLICK HERE
to get started!
I can't believe that back to school season is just around the corner!  Is it just me, or is summertime getting shorter every year?  Don't worry though, this easy recipe for my Cinnamon Apple Pancake Dippers will get you and your family out the door and on your way in no time.
I don't know about you but, every year I seem to set the same goal for the school year–healthy breakfast, on the table, in plenty of time for peaceful, fun conversation before everyone heads their separate ways for the day.  Well, that never lasts very long.  Every year, shortly after the school bell rings, I wind up throwing a packet of pop tarts or a bowl of cold cereal on the table while I am frantically hunting for my car keys or the missing sock to the baseball uniform. Every year until I wised up, that is.  Instead of fighting my nature, I decided to embrace the chaos and own it.  I am not going to change the morning madness, it's just part of me.  I learned to work around it and plan for it, even schedule it.  Making breakfast ahead of time is one of the ways to get a head start before the alarm clock ever goes off.
Cinnamon Apple Pancake Dippers are perfect for "make ahead" breakfast.  They are mini-pancakesthat you bake in a madeleine pan or muffin tin.  I came up with the idea years ago when I was trying to think of a"breakfast in bed" menu for Mother's Day that was "kid finger friendly" BUT—without all the crumbs in your sheets and sticky maple syrup on your fingers.  You can pick the pancake dippers up with your fingers and dip in the syrup if you wish or just dust them with a little powdered sugar while they are hot and skip the syrup all together. My first batch was such a hit that I make them in several different varieties now.  These Cinnamon Apple Pancake Dippers' flavor is perfect for back to school time.  Make them ahead of time and toast them in the toaster oven.  Then, throw them in little lunch sacks to eat while walking to school or running to catch the bus. You can even double the batch of pancake dippers and freeze some for days that are even crazier than usual!
Be sure to make extras, my sons can't resist sneaking a few every time they walk by the kitchen!
I hope you love this recipe as much as my family does but, if you are not ready to face the school year just yet, be sure to save the recipe or pin it on Pinterest for later.
If you have any questions or comment, be sure to get in touch with us by leaving a comment on this post or on Facebook. Don't forget to follow Kristina on Facebook for more Back to School tips!
—See you soon!  Sandy
Cinnamon Apple Pancake Dippers Recipe
Author:
Prep time: 15 mins
Cook time: 10 mins
Total time: 25 mins
Pancake Dippers are a great breakfast for families on the go! Fill a lunch sack with mini pancakes that can be eaten with your fingers while walking to school or running to catch the bus. Dust them with powdered sugar just for fun.
Ingredients
1 large Granny Smith apple
2 tablespoons butter
1/4 teaspoon ground cinnamon
1 tablespoon brown sugar
1 cup all-purpose flour
1 tablespoon granulated sugar
1 1/2 teaspoons baking powder
1/2 teaspoon baking soda
1/4 teaspoon salt
1 large egg
1 cup buttermilk
Powdered sugar for garnish, optional
Instructions
Pre-heat oven to 400 degrees.
Peel and core the apple, then dice it into small, 1/4 inch chunks. Melt the butter in a small sauté pan and add the apple. Saute the apple until it softens. Stir in the cinnamon and brown sugar. Continue cooking until the brown sugar thickens into caramel and the apples begin to breakdown. Set aside to cool.
Whisk the flour, granulated sugar, baking powder, baking soda and salt together in a large mixing bowl.
Lightly beat the milk and egg together and pour into the well of the flour mixture. Gradually, mix the flour into the milk mixture until just blended.
Fold the apples into the batter.
Prepare a madeleine pan or mini-muffin tin with cooking spray or softened butter. Spoon batter into the molds and bake until the edges of the pancakes are golden brown, about 8 minutes.
3.2.1311