If you're a fan of breakfast food, then there's a good chance that you have a clear stance when it comes to the battle of pancake vs. waffle batter, but what's the biggest difference between the two? In addition to being unique foods, the biggest difference is that waffle batter has more sugar and a higher fat content, and it also has a thicker consistency than pancake batter. Let's dive deeper into this important breakfast debate.
Pancake vs. Waffle Batter: What are the Differences?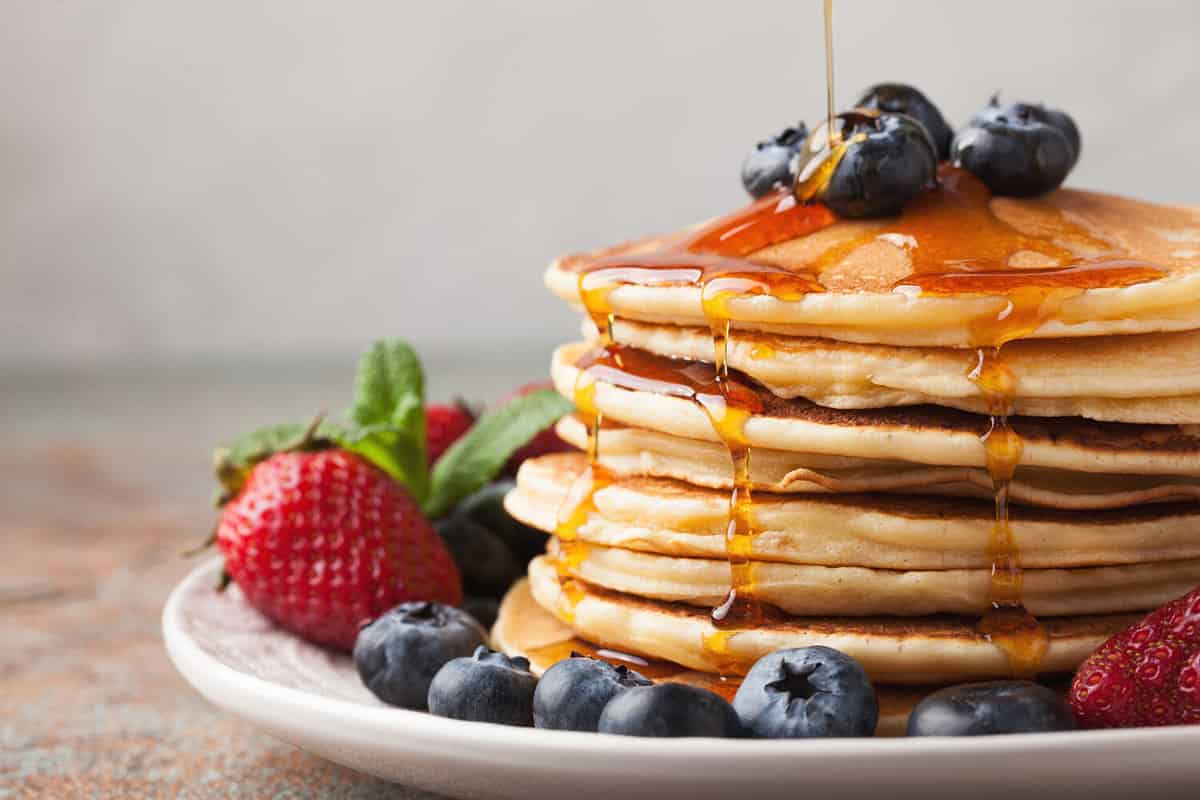 Since both of these products can seem so similar, a good first step is to define each, so we can better understand the differences.
What is Pancake Batter?
Some say that pancakes have been around since 500 BC, and not a lot has changed since then. A pancake is made out of sugar, flour, milk, and baking powder. The pancake batter contains all of those components in one simple package. Of course, you can add more to your pancakes, like blueberries and chocolate chips, or you can add eggs and vanilla.
The process of using pancake batter is simple. You just pour the mix into a frying pan or a hot griddle and make it into a circle, so the final pancake will also be circular. If you want to make other shapes with the batter, then you can do that too. Continue to cook the pancake and flip it over after a short while so that both sides are brown and cooked. Then, serve it up with some syrup.
What is Waffle Batter?
Waffle batter is similar in that it's a mixture of the dry and wet ingredients of the waffle, which will include a mixture of eggs, flour, milk, sugar, butter, and baking soda or baking powder to make it rise. That's one of the differences between pancake vs. waffle batter. The batter for waffles includes that leavening agent to make it rise, while pancakes remain mostly flat.
Making waffles is also very simple. You pour the batter into the waffle iron to cook it into either the standard square shape or a shape of your choosing. The machine takes care of all the work. After that, you can serve the waffle with chocolate syrup, maple syrup, whipped cream, butter, ice cream, and more. The beauty of eating a waffle is that the pockets in the waffle keep the syrup in place.
The Differences Between Waffle and Pancake Batters
Waffle and pancake batter are similar because they are both a pre-mixed system that makes preparing each dish a snap. They're also both breakfast foods. With that said, they do have their differences.
Texture
Waffles typically have more texture than pancakes. A good waffle is fluffy on the inside, but the exterior caramelized and creates a golden brown exterior. Yes, waffles are slightly more unhealthy, but that's because of the fat content that's necessary to provide the crisp exterior without sticking to the inside of the waffle maker. When made properly, pancakes are more soft and floppy because there's less sugar and more milk in the batter. People like their pancakes soft and fluffy.
Ratios
Pancake batter contains more milk than waffle batter does, and waffle batter has more sugar and eggs, which makes it a richer batter.
Thickness
Waffle batter will be thicker than pancake batter because you need the waffle batter to pour into the maker without overflowing over the sides. Since pancake batter is loose, it can be easily modified into that familiar round shape.
Leavening
Place a waffle and a pancake side by side, and you'll see that the waffle is usually taller, and that's because of the leavening agent that makes it rise. There are differences between pancakes in different parts of the world. Pancakes in the U.S. often have some form of leavening agent that makes them a bit fluffier than those in the U.K., for instance.
Pancake vs. Waffle Batter: Nutritional Value
As we mentioned, in a side-by-side comparison of pancake vs. waffle batter, waffles are more unhealthy than pancakes, and that's because they need to have the texture we all know and love. When you compare a ⅓ cup of pancake vs. ⅓ cup of waffle batter, you'll find that the waffle batter has more calories, fat content, and saturated fat. They're the same when it comes to carbs. They don't really have a lot of healthy elements, such as minerals and vitamins, and that's why you should eat either in moderation.
There is a side-by-side comparison: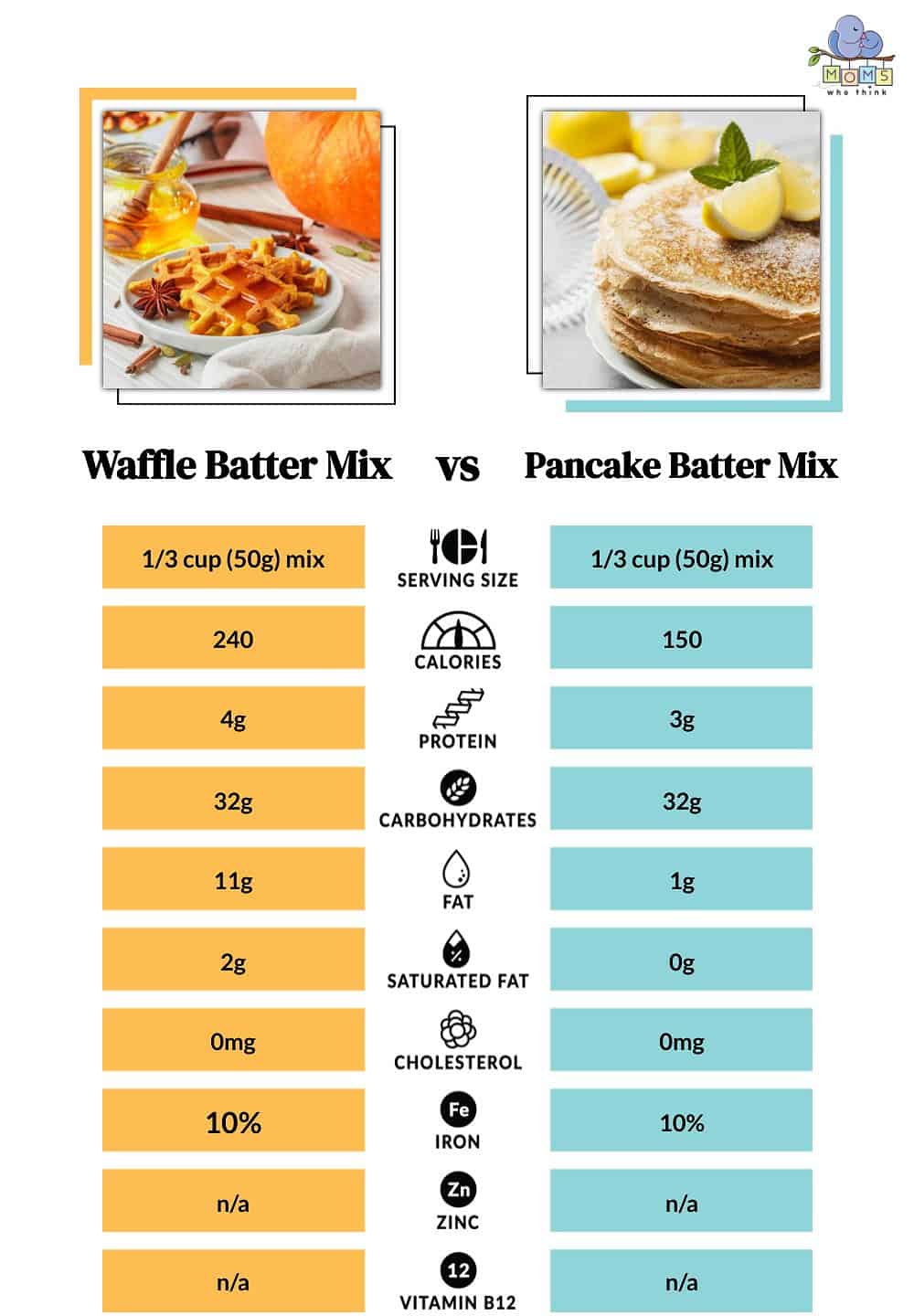 Pancake Recipes
There are several different ways that you can make pancakes to add a little extra flavor. Here is our favorite fluffy pancake recipe for you to consider, along with a few extra:
Print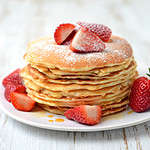 Fluffy Buttermilk Pancakes
---
3 cups

buttermilk

2 teaspoons

vanilla extract

4 cups

all-purpose flour

1/2 cup

white sugar

1 Tablespoon

plus 1 teaspoon baking powder

2 teaspoons

baking soda

1 1/2 teaspoons

salt

4

eggs

1/2 cup

butter, melted
---
Instructions
1. Add vanilla extract to the buttermilk in a medium bowl and set aside.
2. Combine flour, sugar, baking powder, baking soda, and salt in a large mixing bowl.
3. Whisk egg and butter into the vanilla buttermilk.
4. Pour the flour mixture into the wet ingredients and whisk until lumps are gone. Mix just enough to incorporate all the ingredients. Do not over-mix, it will make the pancakes tougher and much less fluffy.
5. Let this mixture rest for 15 minutes (see the Tip below for why). Do NOT stir as it rests, or after it is done resting. The batter will be thick. Trust us on this, by following this rule we've had consistently fluffy, delicious pancakes every time!
6. Heat a large skillet over medium heat, and coat well with cooking spray.
7. Pour 1/4 cupfuls of batter onto the skillet, and cook until bubbles appear on the surface.
8. Flip with a spatula, and cook until browned on the other side.
You can add blueberries or chocolate chips to the batter; add to the dry ingredients before combining with the buttermilk mixture.
Magic Pancakes – Pancakes with a cup of cheese for extra flavor. We know, it sounds weird. Trust us, you'll love these.
Conclusion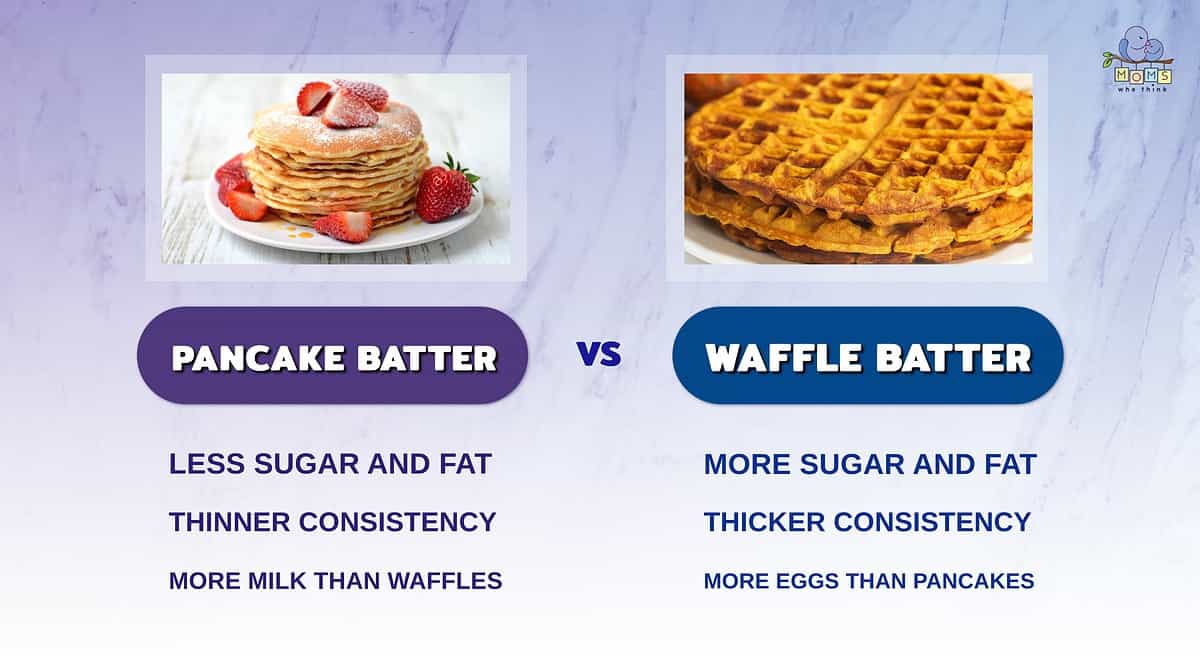 Pancake batter has less sugar and fat than waffle batter. While neither pancakes nor waffles are great choices for those on a diet, between the two pancakes are a better option.
Waffles have a thicker consistency, allowing them to cook in a waffle iron. If you were to put pancake batter in a waffle iron, it would more than likely spill out over the sides.
Pancake batter has more milk than waffles, while waffle batter has more eggs than pancake batter.
Though they are simple, there are some differences between pancake vs. waffle batter that give each its defining characteristics. Still, either makes for a delicious breakfast food, and you and your family likely aren't strangers to the fluffy goodness of each of them.