If you love celebrating the holidays any time of year, Holiday World and Splashin' Safari is the park for you. However, there are special times of the year — like Halloween at Holiday World that add an extra layer of fun. Here's what to expect from the Happy Halloween weekends at this Santa Claus, Indiana amusement park!
When is the Halloween event at Holiday World?
The Happy Halloween weekends at Holiday World run from late September through late October. During this time, the park is open on Saturdays from 11 a.m. to 8 p.m. and on Sundays from 11 a.m. to 5 p.m. Tickets for the event are only available for purchase through the Holiday World website, and bonus! Children under 3 years old are admitted for free!
Holiday World Rides and Attractions
If you're already a fan of Holiday World or you've always wanted to visit, the Halloween weekends are a great time to have fun in the park. During this time, you'll get to enjoy all of the rides and attractions you normally love at Holiday World. But in addition to this, there are also Halloween events and shows going on that will be fun for the whole family. Here are some of the best parts you won't want to miss. 
Festive Halloween Food
Holiday World already has some pretty festive and exciting food year-round. From their fudge to their blue ice cream to their full Thanksgiving dinner, there is no shortage of exciting dining opportunities. But there are even more exciting and festive options during the Happy Halloween weekends. Food and desserts like Pumpkin Funnel Cakes and Caramel Apples can be expected throughout the park.
SCAREbnb
SCAREbnb is a family-friendly Halloween fun house that kids love! It's spooky enough to give your family a thrill, but it's not so scary that your little ones can't participate. As you enter the home, you'll enjoy meeting fun and slightly spooky characters like Dracula and Frankenstein. It's one experience you won't soon forgert!
Holidog's 3D Adventure
Head to the Holiday Theater for a Halloween show. After popping on your 3D glasses, you can participate in this fun house where Holidog needs help finding his Halloween candy.
Corn Mazes and Hayrides
Nothing says fall quite like corn mazes and hayrides. At Holiday World, this is no exception. With over 12 acres of corn mazes, this attraction will have your family twisting and turning as you trek through the maze, trying to find your way out. The corn maze is included in the price of admission and is always a family favorite each year. 
"The Monster Mash"
"The Monster Mash" is a show your family will enjoy. With monsters dressed up and lots of fun music, this show will get your family excited and ready for Halloween. And you'll likely recognize some of the popular songs performed during "The Monster Mash."
Carnival Chaos
Carnival Chaos is an abandoned carnival that you and your family can explore if you're ready for some thrills. This event is for adults and older children since it does include some scarier moments and strobe lights.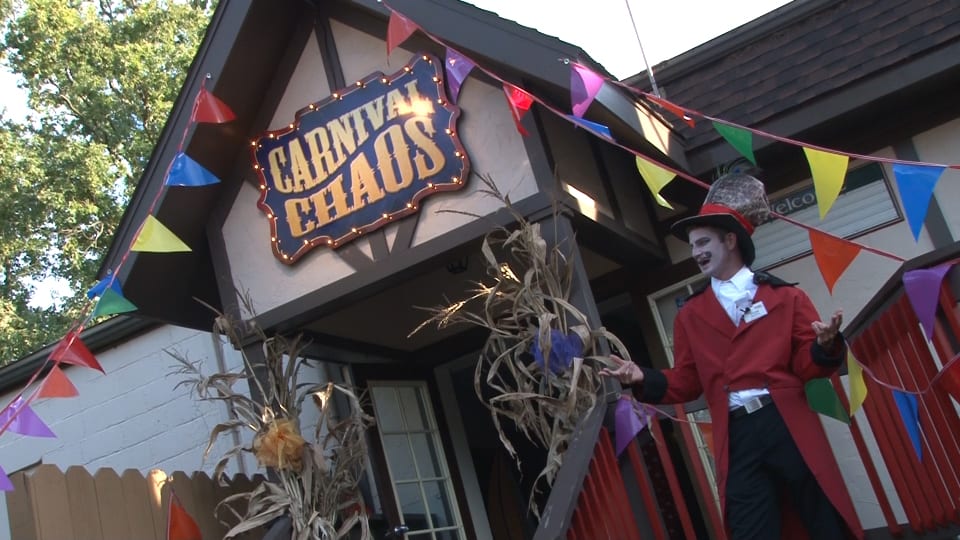 Trick-or-Treating
No Halloween event would be complete without trick-or-treating. Children 12 and under are welcome to trick-or-treat in the park during the Halloween event. Halloween costumes are welcome in the park! But there are a few rules. Since Holiday World is family friendly, costumes need to be free of blood, guts, and gore. Costumes that cover the entire face are also prohibited.
The best part of Holiday World is you can celebrate your favorite holidays year-round. But there's something special about coming during some of the most festive times of year. If you're looking for a family-friendly Halloween event, check out the Happy Halloween Weekends.
The image featured at the top of this post is ©Holiday World PR.