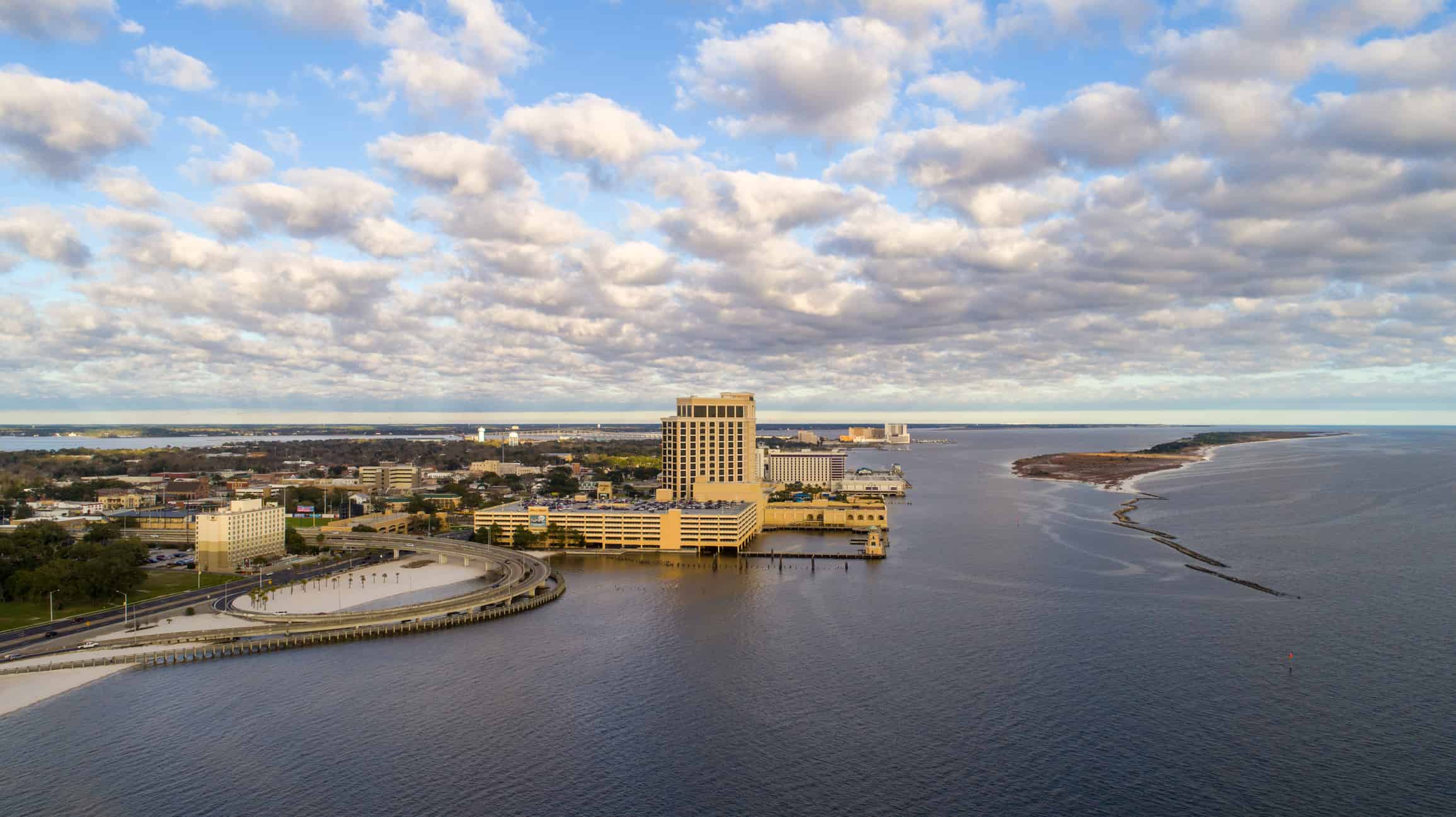 Looking for some of the best things for kids to do in Biloxi, Mississippi? You've come to the right place. Biloxi is a happening place with around 26 miles of ever-stretching, white-sand beaches. Once referred to as the "Seafood Capital of the World" and thus the modern city boasts lots of Maritime history centers and opportunities to get out on the water. From educational centers to recreational opportunities, there's something for everyone in Biloxi, Mississippi. Make your family's trip one to truly remember by taking advantage of the best things for kids to do in Biloxi.
What Is Exciting About Biloxi, Mississippi?
Biloxi has always been a port in the maritime trade routes between New Orleans, and Louisiana. Around 1902 is when the coastal city rose to fame as the "Seafood Capital of the World" due to its oyster and shrimp production through local canneries (via MS History). Biloxi is proud of its heritage, and the city reflects this with its tourism industry of boating, fishing, and shrimping tours. There are lots of amazing museums, fun centers, and local sights to go see. Keep on reading to learn about the best things for kids to do in Biloxi, Mississippi.
Educational Activities
Ohr-O'Keefe Museum of Art
The Ohr-O'Keefe Museum of Art is a unique Biloxi experience. Home to the works of George Edgar Ohr, who was known as the "Mad Potter of Biloxi," this museum features ceramic works that are now culturally celebrated. Alive from 1879-1910, it wasn't until after he passed away that Ohr was recognized as an artist. The museum also features sculptural work from more contemporary artists and galleries of all kinds of multimedia and mixed media modes. For any young artists, the museum is a wonderful place to draw inspiration, and children under the age of 6 get in free of charge! Check out their website for more.
The Walter Anderson Art Museum
The Walter Anderson Art Museum emphasizes the coastal culture and local landscapes of the South through its featured artists. Named for New Orleans painter, Walter Inglis Anderson, this museum features nearly 1000 permanent pieces on display, with numerous traveling and seasonal exhibits as well. The museum has lots of Anderson's work including early sketches, watercolors, carvings, and other forms of mixed media. Spend a day with your family immersed in the beauty of the South through the eyes of local artists! Check out their website for more details on ticketing and current exhibitions.
Mississippi Aquarium
Check out the Mississippi Aquarium. An outreach and conservation center, this aquarium works with local sea animals in the region. It has 12 fresh and saltwater-specific habitats that support some 200 species. These include bottlenose dolphins, sharks, and North American river otters, just to name a few. An afternoon spent here is sure to be a blast. Get your tickets today!
The Lynn Meadows Discovery Museum
For an even more hands-on experience, try out the Lynn Meadows Discovery Center. This center combines learning with fun, for an immersive and exploration-filled excursion. There are outdoor exhibits and indoor exhibits, all of which are kid-friendly and safety approved. Try out the super colossal climbing structure, or work in the children's veterinary center for a day! Outside there are all kinds of environmental and STEM-focused activities that will excite and educate your little ones. This has to be one of the best things for kids to do in Biloxi, Mississippi.
The Infinity Science Center
Keep the learning going at the Infinity Science Center. At this center, your family will experience a blend of space science and Earth science, as well as engineering and technology programming and demonstrations. Through hands-on learning, this center focuses on getting children excited about the unknown and the beauty of exploratory science. This center is also home to the NASA Stennis Visitor Center. For young astronauts or science lovers, this is the place to go in Biloxi, Mississippi.
Maritime Museum
As we've mentioned Biloxi's ties to maritime culture, a visit to Biloxi isn't complete without a stop at the Maritime Museum. They have over 300 years of fishing history and maritime culture to show you. This museum walks all its visitors through the significance of this coastal region in the worldwide production of seafood. With all kinds of exhibits focused on environmentalism, commercial fishing history, boatmaking, and more, after your day at the museum, your whole family will fall in love with Biloxi.
Mississippi Children's Museum
And last, but not least, take a trip to the Mississippi Children's Museum. This museum is geared towards young minds looking to explore. With exhibits geared toward science, creativity, and general learning, this is a fantastic stop on your Biloxi bucket list. Check out the Literacy Garden, or Pollinator's Playground. There are rooms for building, galleries for drawing, and lots of space for free exploration.
Outdoor Excursions
Ship Island
Right off the coast of Biloxi, lies Ship Island, the perfect day excursion. Take a boat from shore to shore and explore the historic Fort Massachusetts. Pack a picnic to enjoy at the pavilion areas, or buy some treats at the concession store. There is a dedicated children's swimming area and two beautiful beaches. Take in the coastal views from the shores of Ship Island.
Biloxi Shrimping
Take part in a Biloxi local pastime, take your family on a Biloxi shrimping trip! With tours offered daily, this 70-minute excursion will give your family the experience of a lifetime. You'll learn all about the process of catching shrimp and spend an afternoon sailing around the Mississippi coastline. Check out their website for booking availability and any questions you may have.
The Biloxi Lighthouse
Take a visit to the Biloxi Lighthouse! This lighthouse has been around since 1848. It is one of the first entirely cast-iron lighthouses and famously withstood the winds and waters of Hurricane Katrina. As a symbol of resilience, this landmark was tended by civilians between 1848-1939 before being taken over by the U.S. Coast Guard. Public tours opened in 1968 and after its restoration post-Katrina, the lighthouse is once again a popular spot to visit while in Biloxi, Mississippi.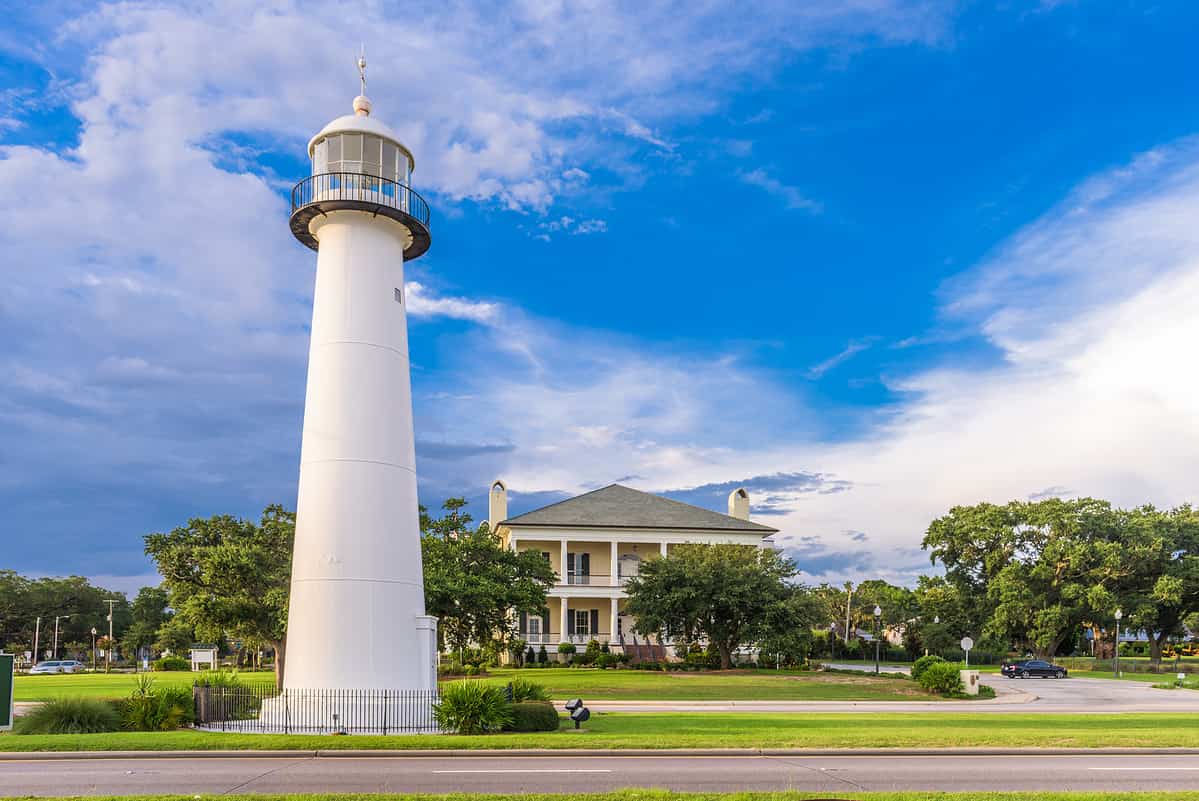 Support The Biloxi Shuckers
Why not support some local sports while you're visiting? The minor league baseball team, The Biloxi Shuckers, play at MGM Park right in the city limits. Catch a game with the family, eat your ball game treats, and sing your favorite baseball songs. This is an outing well worth a place on this list and one of the best things for kids to do in Biloxi, Mississippi. Check their calendar for upcoming home games!
Go To The Beach
That 26 miles of white-sand beaches mean that Biloxi has a lot of recreational beach sites! While Biloxi Beach is a family favorite, there's also Parking Beach and the Beach Pavilion. While you're at it, take a stroll down the Biloxi West Beach Boardwalk, for shops and food spots galore!
Fun Opportunities
Altitude Trampoline Park
A trip to the Altitude Trampoline Park is always a great idea and one of the best things for kids to do in Biloxi! This indoor park features a huge room of built-in trampolines, all of which are great for getting energy out. There is staff standing by to oversee and help, and adults can get in on the jumping too! Check out their website and secure your tickets!
Gulf Island Water Park
For some fun in the sun, without the sand, check out the Gulf Island Water Park. Located right outside Biloxi in Gulfport, Mississippi, this water park has attractions for children (and adults) of all ages! Try out the Riptide Racer or Cat Island Catapult. There's the Waveland Tide Pool and Lil' Pelicans Bay for the younger folks. The park has plenty of space to sit, eat and relax on your off day near Biloxi.
Zip'N Fun Adventure Park
Take a trip to the Zip'N Fun Adventure Park for a unique and high-up experience. With nearly 50 tree-top games and obstacle courses, this adventure park also has sky bridges, ziplines, swinging logs, and a Tarzan jump! Also located right in Gulfport, Mississippi, this is well worth the extra drive.
Gulf Coast Gator Ranch Tour
A true Mississippi experience isn't complete without a Gator sighting! Right outside of Biloxi in Moss Point, Mississippi, you'll have the chance to take your family on a high-speed airboat to see Alligators in the wild! There's even the option to hand-feed the Alligators, under the guidance and supervision of specialists, of course. Check out the Gator Ranch and Tours website to learn more and book today!