Chicago is known for its incredible architecture, bustling city life, good food, and ties to American crime history. But what are the best things to do in Chicago for kids? For a period of 24 years (1974-1998), Chicago housed the tallest building in the world, known as the Willis Tower. A visit to the iconic Bean sculpture, also known as Cloud Gate, is sure to produce some hilarious and distorted family photos (via The Savvy Globe Trotter). Take a break from walking and try out Chicago's deep-dish pizza. Between Chicago's historical and modern attractions, Lake Michigan, and great dining spots to keep your energy up, there are so many things to keep your kids entertained. Make your trip to the beautiful and bustling city of Chicago, Illinois a memorable one. Keep on reading to learn what are the best things to do in Chicago for kids. 
Outdoors Attractions
Depending on the time of year that you visit, Chicago has some incredible outdoor parks and local scenery. Rent some bikes and make your way through the pedestrian-friendly greenways or get out on regal Lake Michigan with a kayak courtesy of Urban Kayaks. There is truly so much to do outdoors in the city of Chicago. And your kids are sure to have a blast.
The Maggie Daley Park
Maggie Daley Park is not only a beautiful greenway nestled into the landscape of Chicago. It also has some truly fantastic options for fun. With gardens and a seasonal ice rink, there is also mini golf, a climbing wall, picnic groves, tennis courts, and a play garden. In designing the park, the city of Chicago took inspiration from storybooks like Alice in Wonderland and Charlie and the Chocolate Factory to bring together creative and otherworldly outdoor adventures. This is for sure a sight to plan on seeing!
Chicago Botanic Gardens
For an immersive garden experience, check out the Chicago Botanic Gardens. This beautiful nature center features incredible plants with an array of blooming seasons. From an orchid show to art classes, a visit to the botanic garden will delight and amaze a wide range of ages.
Bike Chicago
Bike Chicago offers standard bike rentals as well as bike tours. They offer the use of road bicycles, cruiser bikes, kids' bikes, and even hybrid bicycles! Take your kids around the many bike paths and greenways of Chicago with the fresh air and some exercise to boot.
Urban Kayaks
Urban Kayaks offers the chance to get out onto Lake Michigan! They have two location options including a riverwalk tour and a lakefront location. They also offer guided tours and children's classes. If you'll be in Chicago during the summer this might be one of the best things to do for children in Chicago.
Educational Opportunities
Who says learning can't be fun? Take your kids to some of these learning centers or animal sanctuaries. Check out the local zoos, aquariums, or one of the numerous museums housed in the city of Chicago. From art lovers to history buffs, there's something for everyone. These places are for sure some of the best things to do in Chicago for kids. 
A Day at the Zoo
Looking for a memorable Chicago experience? Check out either of the Zoos located within the city of Chicago. The Lincoln Park Zoo has both unique animals to learn about as well as numerous gardens to explore. With a youth education program and guided tours, there are so many opportunities for learning at the Lincoln Park Zoo. Another zoo option is the Brookfield Zoo. This 235-acre zoological park houses everything from birds to big cats. Check out the Hamill Family Wild Encounter activity or go play on the zoo-themed playgrounds.
Chicago's Shedd Aquarium
If sea creatures are of more interest to your children, check out Chicago's Shedd Aquarium. This Chicago attraction has numerous tour options, Penguin, Shark, and Otter encounters as well as youth-specific events. Fit for an afternoon or a couple, this is a great activity for your trip to Chicago.
Art Institute of Chicago
The Art Institute of Chicago has a wide range of incredible exhibits in its galleries as well as virtual and onsite programs for learning. Check out their permanent exhibits as well as their seasonal ones. For children, the museum offers the use of the Ryan Learning Center. This hands-on learning center for creativity and experimental activities is sure to fill at least a couple of hours of fun.
Chicago's Children's Museum
And for a museum entirely dedicated to kids, take your little ones to the Chicago Children's Museum. This fantastic learning center is fully equipped with exhibits and hands-on activities for kids of all ages. Check out the water city, the art studio, the Dino exhibit, or the tinkering lab. There is truly something for everyone.
Entertainment Options and Tasty Treats
And of course, the wild and wacky things there are to do should not be overlooked on your trip to Chicago. From rides on the navy pier to a 390º view of the city, there are so many fun things to try. Don't forget the important food groups that Chicago is known for – deep dish pizza and some truly incredible hot chocolate, courtesy of Katherine Anne Confections. Check out some of the best things to do in Chicago for kids, with food and fun in mind.
Navy Pier
Navy Pier in Chicago is known for its public events, theme park rides, dining opportunities, and shopping galore. Be sure to check out their events calendar for updates on the numerous free fireworks shows, live music, theater shows, art exhibits, dance performances, and lots of kids' activities. There is even the option for gondola rentals!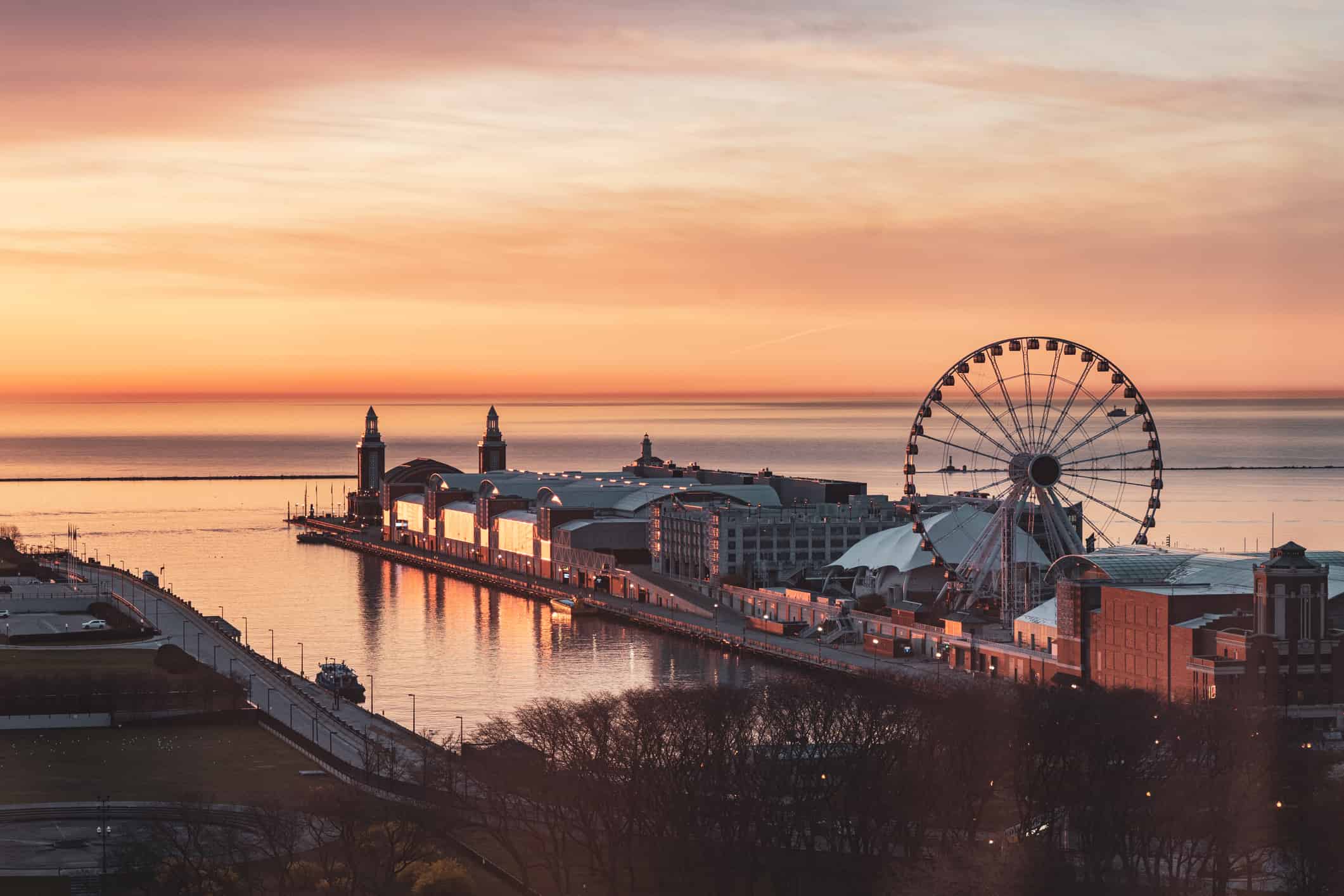 Chicago Shakespeare Theater
The Chicago Shakespeare Theater is a great option for where to spend some time in Chicago. If Shakespeare doesn't sound like something that your child will go for, know that this venue will often put on showcases that are geared specifically toward younger children. Located right on the Navy Pier, be sure to check out their seasonal shows as well as their poetry slam competitions.
Sloomoo Insititute
The Sloomoo Institute offers some of the wildest, wackiest hands-on activities that Chicago can provide. Bring your children to create their slime. Pick the colors, the smells, and the texture with over 4,320,000 unique combinations of slime! Create, connect, and enjoy in this hands-on creative studio.
Rainbow Cone
Looking for some treats to go along with your sweet Chicago adventures? Chicago just so happens to be home to the original Rainbow Cone! Take a trip to their Chicago shop to try the iconic five-flavored dessert. For 95 years, Chicago has been selling the orange sherbet, pistachio, Palmer House, strawberry, and chocolate combination. They also sell donuts and cake rolls/ classic rainbow cakes!
Roots Pizza
For that classic Chicago deep-dish pizza, check out Roots Pizza. Roots are unique in its offering of pizza kits. Try to throw your dough before you sink your teeth into their delicious and rather large pizza offerings. With four Chicago locations to pick from – this is well worth a stop on your trip.
Katherine Anne Confections
And finally, take a trip to Katherine Anne Confections for some top-rated hot chocolate. With all-natural ingredients, Katherine Anne Confections uses fair-trade cacao and seasonal ingredients. Anything sweet comes from natural honey. Even their marshmallows are made with local wildflower honey and a sprinkle of salt for contrast. If truffles are more your thing, try out flavors like lemon poppyseed, toasted coconut rum, peanut butter, and coconut curry. Take your children for an artisanal sweet treat on behalf of the city of Chicago.