The best things for kids to do in San Francisco feature the city's iconic landmarks along with a slew of other activities fit for children of all ages. And of course, there's something for everyone, it's San Francisco! This California city has inspired people from all over to live by the fog of the bay and commute up those very steep city hills. Visiting can be an absolute delight if you know the best places to bring your young ones. And it's great to do your research beforehand so that your little ones can see what's so magical about this city with someone who knows what and where to look for that magic.
Keep on reading to check out some of the classic, beautiful, and unique places that the city of San Francisco has to offer. Start planning your next visit and read on to learn about the best things for kids to do in San Francisco, California. 
Educational Opportunities
The Randall Museum
At the Randall Museum, your whole family will have the chance to explore and engage with exhibits that center on the arts, sciences, and the beauty of the natural world. This totally free hands-on museum was founded by Josephine D. Randall, who was San Francisco's first acting Superintendent of Recreation. The goal was to create a center that would inspire children to learn about their city and the natural world. It is located on a 16-acre park right on the bay and renovations done in 2016 to the inside have left the center a truly stunning place to spend an afternoon. There are live animal shows, ocean and model train exhibits, rotating art commissions, and a large collection of insect specimens. Not to mention the many workshops and classes that run at this museum, all year round – plan your visit here today!
California Academy of Sciences
The California Academy of Sciences houses so many fantastic excursions for education and hands-on learning. Located right in Golden Gate Park (keep reading to learn more about that later) this center houses not only the Steinhardt Aquarium, and Morrison Planetarium, but also the Osher Rainforest and Kimball Natural History Museum. Take a walk through the aquatic home of all kinds of fish, octopi, penguins, and more. The planetarium features a 75-foot dome screen that showcases the beauty of space and cutting-edge scientific discoveries. The Osher Rainforest features a humified dome structure. In this ecosystem live all kinds of tropical animals like birds, reptiles, and even gliding Amazonian fish! And finally, the natural history museum showcases the history of all these living things. With a vast collection of fossils, bones, and specimens, your whole family is sure to learn something new!
The San Francisco Zoo
What better place to visit than the San Francisco Zoo? Not only is this zoo home to many species of animals, but it is also a conservation zone that works to care for and protect endangered species. There are all kinds of creatures who call the zoo their home, from mammals to reptiles, amphibians, and everything in between. Be sure to take a stroll through their botanical gardens while you're visiting and check out the local pollinators and sculpture exhibits available for viewing. Their website has more information regarding ticket pricing and rotating or special exhibits.
Exploratorium
San Franciso's Exploratorium is the definition of a hands-on learning lab. The goal of this center is to have fun through science and the arts exploration and it features all kinds of rotating and permanent exhibits. A few iconic ones include a room of mirrors, shadow walls, and tornado and wave mimicry, just to name a few. You can create new colors, learn about the breakdown of light and even watch water freeze! Be sure to explore their website for an in-depth look at all the many possibilities. But, the best way to learn is to plan a visit for yourself. This is one of the best things for kids to do in San Francisco.
The Children's Creativity Museum
A day spent at the Children's Creativity Museum is a day well spent! This museum is a great space for creativity to flow freely. From an art lab to an animation studio, there are exhibits suited for kids of all ages and with all kinds of creative interests. Try your hand at music-making and design, there's even a storybook park for young authors or readers. And located right outside of this fantastic children's museum is the LeRoy King Carousel which features a classic design and beautiful creatures to snap some family photos on. Take a ride and spend a day at this great museum space in the city of San Francisco.
Outdoor Sightseeing
Cable Cars
Riding the cable cars is a classic San Francisco activity! First used some 150, San Francisco's cable cars achieved landmark status in 1964. The current iterations have been revamped for safety but are still a staple of the city's landscape. Take a ride up some of the steepest San Francisco hills and marvel at the views from these windowless and classic train cars. If you want to know more of the history or have a budding train buff in your midst, take a detour to the Cable Car Museum and see some of the old cars!
Golden Gate Park
Speaking of iconic places, Golden Gate Park is a big one for the true San Franciso experience. With some 1,000+ acres to explore, this park is designed to be entirely walkable from one rolling side to the other. There are ponds and picnic spots, outdoor music venues, museums, a flower conservatory and Japanese tea garden, and lots of places to grab a bite along your way. For more details on this park's many offerings, check out their website and get some great ideas for one of the best things for kids to do in San Francisco, California.
The Golden Gate Bridge
And of course, a huge draw of Golden Gate Park is its impeccable view of San Francisco's landmark bridge. The Golden Gate Bridge is a whopping 746 feet tall at the top of its towers. Construction on the bridge began in 1933 and wouldn't end until 1937, and boy was it a feat of construction and suspension work. Its particular orange paint job is a shade called "International Orange" which has previously been used in the Aerospace Industry for its striking vibrancy. The planners of Golden Gate wanted it to stand out yet blend into the beautiful California sunsets. They picked the right color for the job!
Pier 39
Another San Francisco landmark is Pier 39. This walkable pier features a great view of the rising city beyond as well as numerous attractions and dining opportunities. From shopping and eating to sailing, gaming, theme park rides, and carousels, there's something for everyone here. And while you're there, don't forget to check out the famous sea-lions who like to sleep on the lower decks of the pier. They don't seem to mind the foot traffic at all when they're getting their beauty sleep. There's even a live feed of these sea lions sleeping in the San Francisco sunshine. Go see them for yourself in person!
Fisherman's Wharf
San Francisco's Fisherman's Wharf offers another wonderful view of the bay, and you'll be right on the water! There are bay cruises, indoor and outdoor dining opportunities, museums, and more. This historic wharf has been around since before the California Gold Rush and has seen many generations of fishing boats and their captains out to try their hand at a catch for profit. Plan your visit to this historic adventure and one of the best things for kids to do in San Francisco, California.
Entertaining Activities
The Walt Disney Museum
For anyone who enjoys the work of Walter Disney, the Walt Disney Museum is the right place to head. You'll spend the afternoon learning about the animator's life and progressing art style. There are rotating exhibits and special permanent galleries that feature early work done by Walt Disney and his future company. Check out some of the featured artists whose work now hangs in the galleries as well as the exhibits that delve into some famous Disney films and the work it took to create these masterpieces. Come for the films, and stay for the fun at the Walt Disney Museum of San Franciso.
Butterfly Joint Workshop
For a unique family experience, check out the Butterfly Joint Workshop. Their weekend classes in woodworking offer groups the chance to learn new skills while creating beautiful things from this natural resource. The classes are open to children ages 2+ and taught by Danny Montoya, a credentialed early-childhood educator. After a day at this workshop, your child will have learned a new skill, practiced problem-solving and resource building, and hopefully created something you'll keep for a long, long time. The center supplies all the tools and materials needed for the projects and provides guidance and instruction throughout your time with them. Check out their website for booking information and take advantage of one of the best things for kids to do in San Francisco, California.
Urban Putt
If you need a break from sightseeing, spend a day at San Francisco's Urban Putt. This minigolf center features all kinds of fun courses for all ages of golfers. There are food and drinks and even virtual putting courses. Try your hand at a game everyone loves and enjoy some family game time in San Francisco!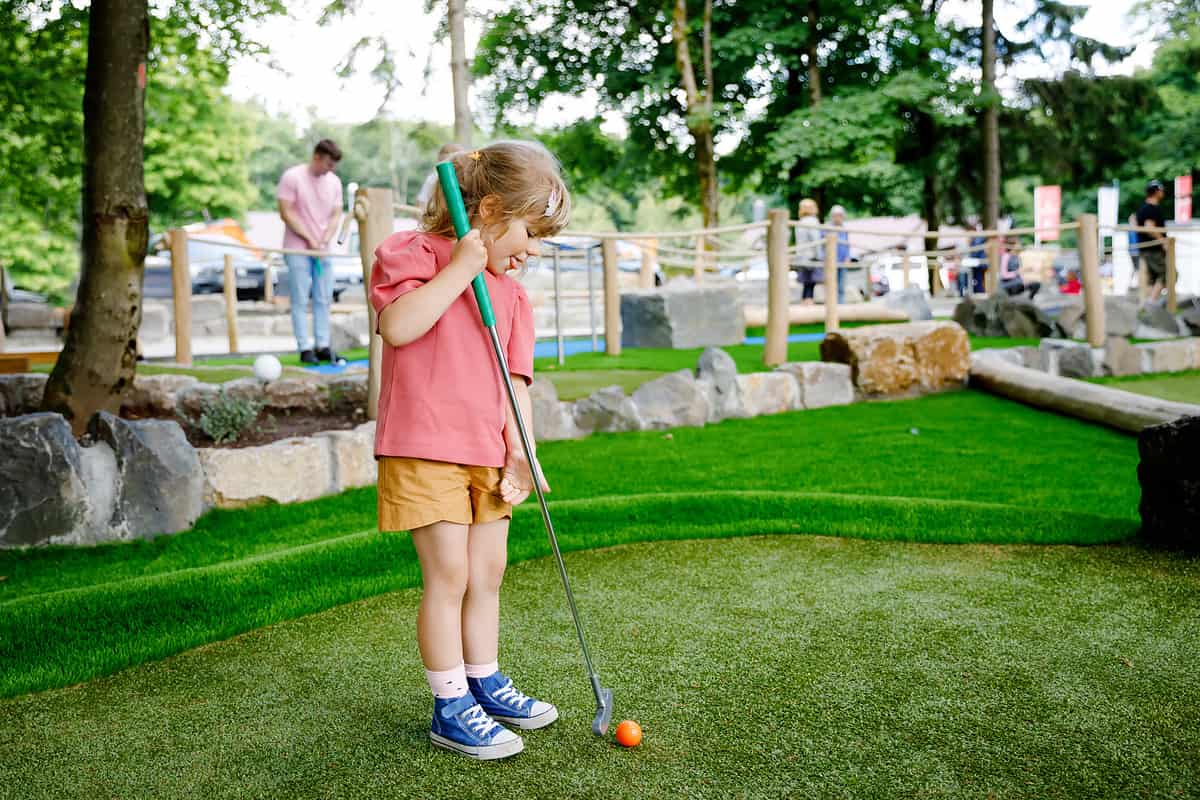 Letterman Digital Arts Center
Do we have any Star Wars fans in our midst? San Francisco's Letterman Digital Arts Center Campus features the iconic character of Yoda atop a water feature! Why, you may ask? This happens to be right in front of the San Francisco campus for Lucasfilm and part of the George Lucas Educational Foundation. Check out the Yoda feature and then take a stroll through the rest of the campus which has some 23 acres of beautiful landscaping and gardens.
Ghirardelli Chocolates, Humphry Slocombe, and Dandelion Chocolates
For a true treat experience, check out the iconic Ghirardelli Chocolates, Humphry Slocombe, or Dandelion Chocolates. Ghirardelli is housed in Ghirardelli Square, its namesake! And a trip to this iconic chocolatier will result in lots of samples and chocolatey goodness. Humphry Slocombe offers ice cream treats with all kinds of artisanal flavors like Vietnamese Coffee, Peanut Butter Fudge Ripple, Malted Milk, and Cornflake Crunch. Check out their website for a full list of flavor options, the flavors may differ by store. And finally, Dandelion Chocolates features hand-made chocolates, hot cocoa, and curated chocolate gift sets. Be sure to stop by for free samples and mementos of your time in San Francisco.
The image featured at the top of this post is ©iStock.com/bloodua.