Asheville is nestled right into the Blue Ridge Mountains of North Carolina. This city sits at the intersection of the French Broad and Swannanoa rivers. But what are the best things for kids to do in Asheville? This bustling arts community is filled with opportunities for creativity, hands-on learning, entertainment, exploration, and more. Known for its arts district, Asheville has a rich culture of restaurants, venues, and community. The arts scene supports its small city and adds to the beautiful landscape (via Explore Asheville). From within the city, you can look out at the Appalachian mountain range. This range will often look beautifully blue in the Northern Carolina air. There's truly something for everyone and your kids are sure to fall in love with this beautiful city. Keep on reading for some ideas on the best things for kids to do in Asheville, North Carolina.
Outdoors Adventures
Asheville has some truly incredible scenery. Around the city, you can make a stop at the Arboretum or take a drive along the Blue Ridge Parkway. You'll get a great look at the Blue Ridge Mountain range. Take a day trip to Hendersonville, NC and you can see the local farms. Pick apples or get a pumpkin depending on the season. Make your way out to some of the nearby parks. Try out the kid-friendly hikes and explore everything outdoors Asheville has to offer.
North Carolina Arboretum
The North Carolina Arboretum is a plant lover's paradise. With gardens, hiking, and biking trails, there is always something beautiful to look at and an activity to do with your children. Their youth programs offer a creative outlet in this curated natural space. Learn more about the local and more diverse plant life that is grown and cared for in this gem of a garden.
Craggy Mountain Train Line
The Craggy Mountain Train Line is a great way to enjoy the outdoors from the comfort of an open train car! The 7-mile round trip will take you past some incredible mountain views with a stop along Woodfin Riverside Park. You'll have time to enjoy a snack break or walk around the lush greenery before returning to the train and back to the bustling city of Asheville.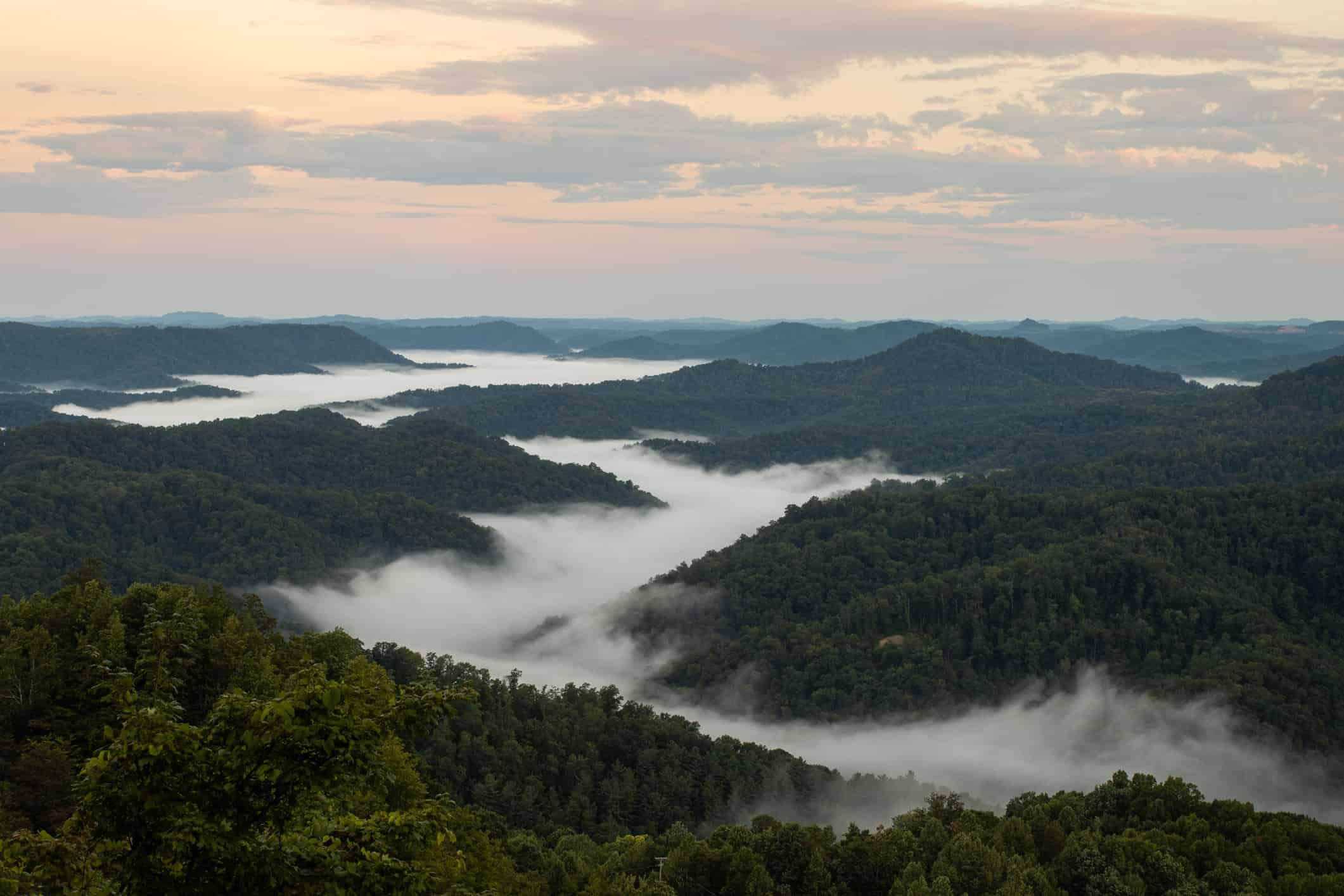 Blue Ridge Parkway
Take a drive down the iconic Blue Ridge Parkway to get the best view of those beautiful Blue Ridge Mountains. Whether you go in the morning to see the fog rolling out or in the evening to watch the sun setting over the tips, you really can't go wrong. Pack some blankets and some snacks and catch the views that make this area so famous for being surrounded by the Appalachians.
Stepps Hillcrest Orchard
For a more active outdoor activity, check out Stepps Hillcrest Orchard, located just outside of Asheville in Hendersonville, NC. Pick apples, try the fresh produce, and walk around the beautiful working farm scenery. This is a great place to explore and play while enjoying some tasty treats as a family.
Pisgah Forest
Ever slid down a waterfall? Head over to Pisgah Forest and pay the admission fee to get into the cold clear water and follow the waterfall down. For those hot days in Asheville, this is a great family excursion.
Asheville Hike Finder
For some hiking, be sure to check out Asheville Hike Finder where you can find local hikes based on if they are kid-friendly and their level of difficulty. A great one is the Black Balsam Hike on Art Loeb Trail. Depending on the season, you may be able to pick blueberries while enjoying the beautiful views.
Entertainment Options
Did someone say they were looking for some fun? Some of the best things for kids to do in Asheville include a trip to the Retrocade or a ride on the comedy bus tour. Take a walk or a bike ride around the river arts districts or visit the local adventure park. Whether you're looking to spend your day(s) in Asheville inside or outside, there is always something to do. Check out some of our favorite things.
Asheville Retrocade
The Asheville Retrocade offers gaming fun every weekday from noon onwards. Bring your kids to an afternoon of family arcade entertainment. Try out the multiplayer games or the more classic arcade options. There are drinks for the adults and snacks for the kids!
LaZoom Comedy Bus
The LaZoom Comedy Bus is a big purple bus that traverses the city of Asheville while making its passengers hoot and holler at the jokes and fun on board. Check out their "Lil Boogers" comedy tour that will combine the history of Asheville with hilarious jokes and kid-centered comedy. This is a unique and fun way for your kids to experience the city of Asheville. And to ride an enormous purple bus!
Asheville Tourists
For an afternoon of some sporting action, why not go to an Asheville Tourists game? We know what you're thinking, aren't you the Asheville tourist? This is the local minor league baseball team and a game night in Asheville with your kiddos and some classic ball game snacks are sure to be one of the best things for kids to do in Asheville. Get excited to watch some baseball with a community that loves it!
River Arts District
The River Arts District of Asheville is walkable and bikeable, much like the rest of downtown Asheville. This section is home to numerous open art galleries, breweries, restaurants, and music venues right along the waterfront. In the summertime, this is the place to be and in the winter, it's a bit slower but still worth a walk along the river to see the local shops and galleries.
Adventure Center of Asheville
And finally, check out the Adventure Center of Asheville. Located only five minutes from downtown Asheville, there are so many adventures to try including the Asheville Zipline Canopy, with incredible views of the surrounding mountain ranges, or even a mountain bike trail. There's a tree-top adventure park and an elevated obstacle course plus KidZip, a specially designed zipline that is safe for kids under 10 years old. Everyone is sure to have a wonderful and memorable time.
Educational Fun
Sometimes trips are made to be both fun and educational. Asheville is steeped in history and as such is a great place to learn while you're on the go. A trip to America's Largest Home, the Biltmore Estate, or check out some of the local Asheville museums of art and the sciences. Hop over to Hendersonville, NC to check out the Children's Museum. You can also stay within city limits for a trip to the local nature center, the antique car museum, or a day at the pinball museum. Let your child explore all that Asheville has to offer, past, present, and future, through the power of learning.
The Biltmore Estate
The Biltmore Estate is America's Largest Home, and well worth a visit. Standing since 1895, a self-guided tour of the estate includes three floors and the basement to see the beautiful and preserved rooms, belongings, and artwork of the Vanderbilt family. The museum aspect of the estate is very kid friendly. According to Asheville Uncorked, there is a children's audio tour option is narrated, in a fun twist, by the Vanderbilt family's Saint Bernard dog, Cedric. Learn about secret passageways, explore the grounds where there's plenty of space to run wild, visit the animals that call the Biltmore grounds their home, and check on the playground on the edge of the estate.
Hands-on Children Museum
Located just over in Hendersonville, NC, the Hands-on Children Museum has so many opportunities for fun and creativity. This center is dedicated to learning in all forms and features seasonal and permanent exhibits that can help education and fun go hand-in-hand and is one of the best things for kids to do in Asheville
Asheville Art Museum
The Asheville Art Museum is a great way to spend a day with your little ones. Enjoy the curated temporary and permanent art exhibits and make use of the Wells Fargo Art Play-ce where kids can create and be inspired by the art they saw in the museum.
Estes-Winn Antique Car Museum
For any car enthusiasts, pay a visit to the Estes-Winn Antique Car Museum. Check out the collection of iconic car dealer Harry D. Blomberg, which includes a rare 1957 Cadillac Eldorado Brougham and a 1922 American LaFrance fire truck. Or you can head over to the Asheville Pinball Museum to check out the brightly blinking games that were once so popular in all their historical glory.
Asheville Museum of Science
The Asheville Museum of Science offers so many activities for young children and their parents. They have numerous interactive and hands-on exhibits that will surely get your little ones interested in the beauty of science. Check out their gem and mineral collection, STEAM lab, and maker space. Or head to the astronomy and climate displays and don't forget the dinosaur skeletons!
Western North Carolina Nature Center
The Western North Carolina Nature Center has some 42 acres of animal habitats and care centers. They care for 60 species of local wildlife. There is also an endangered species Special Survival Plan that the WNC Center is a part of. Developed by the Association of Zoos and Aquariums, these organizations work together to sustain animals that faced endangerment in the safety of the zoo. Plan your trip today!
The image featured at the top of this post is ©iStock.com/Kruck20.