If you've been to Oahu, you'll notice Kauai's beaches tend to be shorter and crescent-shaped, and often at one end of a sheltered cove. The coves and offshore reefs help to keep the waves smaller and the surf less rough than what you'd find on Oahu's North Shore, for instance. Kauai's beaches also tend to be close to the foot of mountains that rise suddenly from the sea. This is not to say that they are any less beautiful. In fact, the mountains and coves enhance the beauty of Kauai's beaches, which are still filled with white sand lapped by crystal-clear waters. And you'll find the best beaches on Kauai on the North Shore, South Shore and East side of the island. The West Side is dominated by the rugged Na Pali Coast and the one long beach there is fairly inaccessible. The North Shore is at the receiving end of the trade winds, which bring clouds and frequent showers, and in winter, heavier waves. The South Shore beaches are usually sunnier and drier, which naturally makes them more popular most of the year. Regardless of the location, there's an excellent beach on Kauai for every type of beachgoer.
Anini Beach
This North Shore gem is one of the best beaches on Kauai for leisurely family activities. It's also one of the rare Hawaii beaches with rusty-colored sand instead of the usual gleaming white. Anini Beach is protected by a reef offshore, so the waves are usually gentle to non-existent. This, combined with a shallow, sandy bottom, make the bay here perfect for swimming, even for the littlest ones. As you go farther out, you'll reach the reef that often attracts brightly colored tropical fish, so be sure to bring some snorkeling gear. This is also a good spot to try or practice stand-up paddle boarding (SUP) if you haven't already.
The slender beach stretches for about two miles from the Westin Princeville Ocean Resort on the west to past Kalihikai Park on the east. The park has a campground, picnic tables, restroom facilities, outdoor showers, and a shop for renting snorkel gear and paddle boats. In short, Anini Beach is the perfect place to spend a relaxing afternoon with the whole clan.
Poipu Beach
You might say the white, sandy Poipu Beach is Kauai's answer to Oahu's Waikiki Beach, but Waikiki it is not. A lot of hotels and villas have sprung up near Poipu in recent years, but a building code says structures can't be taller than a mature coconut palm, or three stories. This ensures the area retains its small scale and delightful charm. Even so, being at the heart of Kauai's warm and sunny South Shore means Poipu has become quite popular, even famous.
It's easy to see why Poipu is such a crowd-pleaser. The wide, white sands are lined by palm trees reaching toward crystal-clear blue waters. The surf is usually gentle, which makes this spot great for surfing, boogie-boarding, and body surfing. In fact, several outfitters nearby offer surfing lessons by world-renowned surfers. Poipu is also a good place for snorkeling; it's even possible to see green sea turtles in the water and climbing onto the beach. Because Poipu is a managed park, it has all the restroom, shower, and picnic facilities you'll need. A nearby playground, too, will entertain young kids who want a break from the water. If you prefer a sit-down meal, there are plenty of eating options one block inland on Poipu Road. You could spend your whole Kauai vacation here if you wanted to!
Secret Beach
Officially known as Kauapea Beach, this stretch of sand on the North Shore is not exactly a "secret," but because it is harder to get to, you'll never find a crowd here. To get there, you follow a 1,000-foot long trail that includes a steep trek down a cliff side to the beach. [After it rains, the steps can be very slippery and shoes with good treads are a must!] After reaching the beach, it's necessary to cross a small stream that can be knee-deep. Once you arrive at the main stretch of Secret Beach, you'll be glad you made the journey. You'll marvel at sweeping views of surrounding cliff sides and Kilauea Point topped by its striking, white lighthouse. And, like we said, you'll find very few people here.
The beach itself is about a mile long and covered with soft, rusty-colored sand. There are also some rock outcroppings in places on the beach. The beautiful aquamarine waters are best admired from shore, however, because the surf can be rough and the currents strong. Also because of the beach's seclusion, there are no services to be found here, so bring only what you need. Not too much, though–the hike back up the cliff can be difficult with a lot of gear. If you're really looking to get away from the crowds, Secret Beach is the place.
Lydgate Beach
Located on Kauai's East Side, also known as the Coconut Coast, this inviting beach is one of Kauai's most popular and most family-friendly. An offshore wall made of lava rock keeps the waves at bay and creates a nice lagoon ideal for swimming and snorkeling. The lava-rock wall attracts many colorful tropical fish, too, which will delight even seasoned snorkelers. Windsurfers also come here when steady winds from the south help keep them upright in the waters outside the lagoon.
At the northern end of the beach are the Lydgate Pools, which offer the safest way for little swimmers to enjoy the ocean. The pools are connected to the ocean but almost entirely enclosed by lava rocks, so waves are virtually non-existent. There's a small, shallow pool designed for the littlest ones and a large, deeper pool for older kids. There's also a lifeguard on duty when Lydgate Beach Park is open.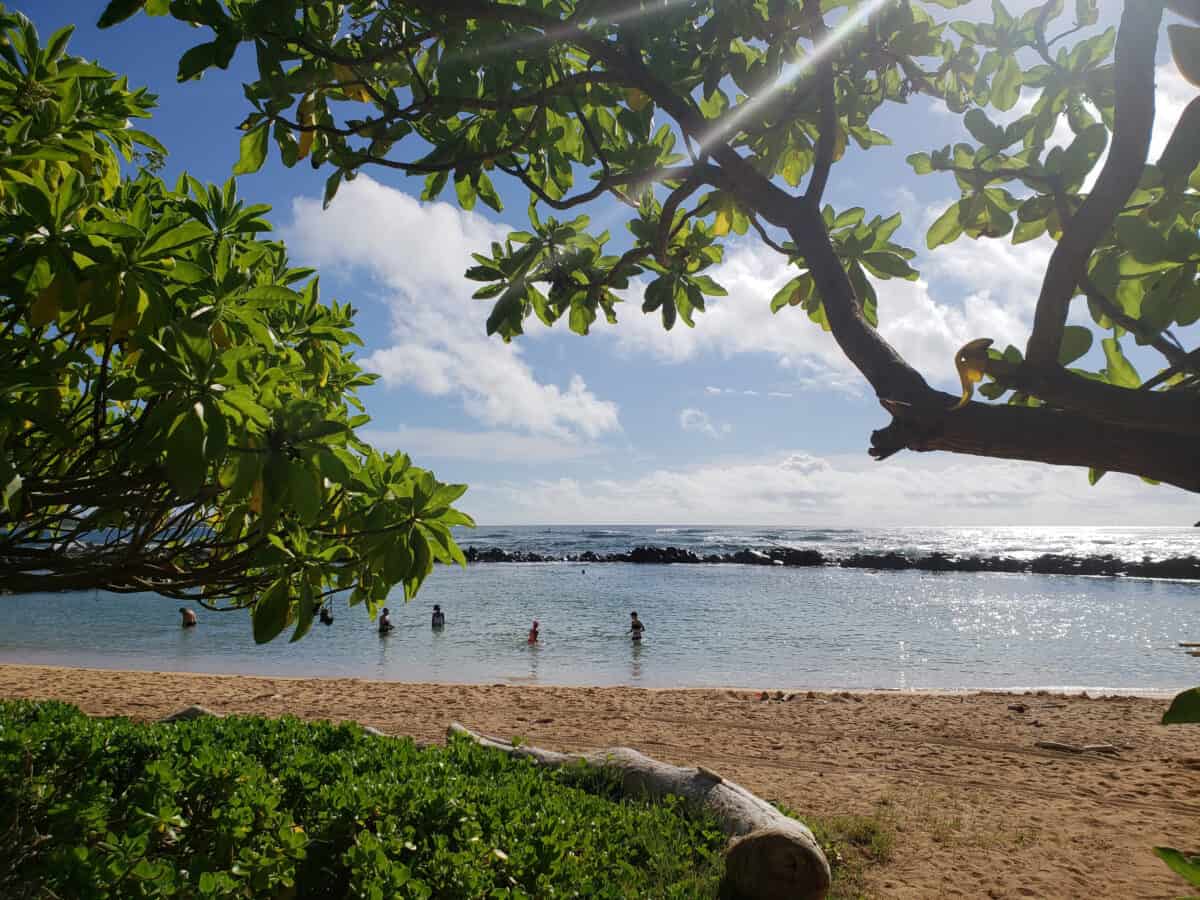 Lydgate Beach is wide and full of beautiful, white sand. Adjacent to the beach are several parks with lawns, which are great for picnics. There are also restroom and outdoor shower facilities, as well several camping sites. There's even a playground with unique wooden structures that young kids will love. Lydgate Beach is the perfect place for a family beach outing on Kauai.
Tunnels Beach
Named for the lava tubes offshore, this stunning beach is best known as a snorkeling and scuba-diving haven. The empty lava tubes and coral reef offshore create a magical underwater world rich in diverse sea life that includes tropical fish, green sea turtles, and sometimes seals. The reef also helps keep the surf in check, which improves the snorkeling and makes swimming more inviting in the summer months (winter can still see heavy surf). Tunnels Beach, also known as Makua Beach, is marked by golden sand backing up to a jungle and mountains covered with ironwood trees. Stick around for the sunset, too, because the one here is spectacular, even by Hawaiian standards. The beach has a lifeguard and picnic tables. Parking is more easily found at Haena Beach Park about 1,500 feet west on the Kuhio Highway. If you're a water and sea life enthusiast, Tunnels Beach is not to be missed.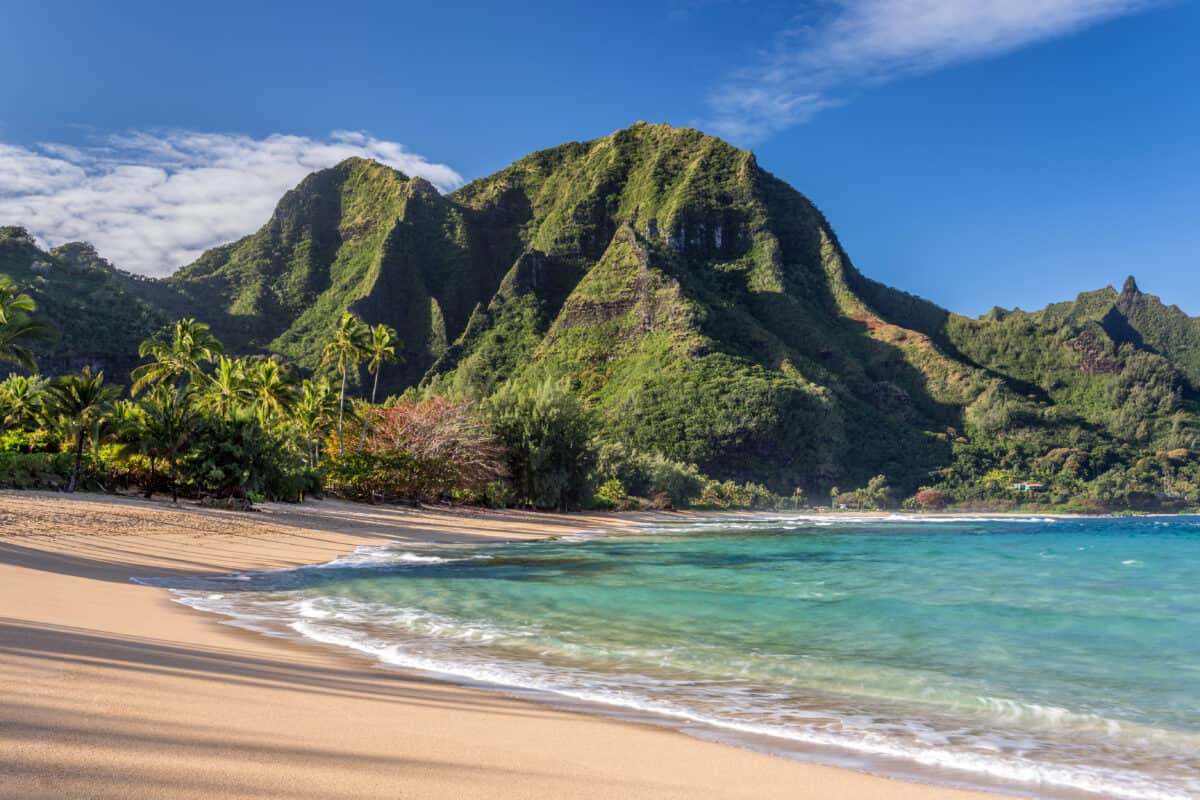 RELATED LINKS:
The image featured at the top of this post is ©Pierre Leclerc/Shutterstock.com.