If tropical gardens, stunning waterfalls, and fewer crowds sound romantic, then the Garden Isle is the place for you and your sweetheart. You can still stroll hand-in-hand along some of the most beautiful beaches in Hawaii, but Kauai has many other resplendent attractions that will have you falling in love with your other half all over again. Here are five things to do as a couple on Kauai!
Visit Stunning Waterfalls
In a tropical paradise known for its towering cascades, Wailua Falls is perhaps the most picturesque and easily accessible on Kauai. Located in Wailua River State Park only a few miles north of the town of Lihue, the 100-foot Wailua Falls spills into a giant pool surrounded by tree-covered cliff sides. Just before plunging over the cliff, the Wailua River splits into two streams, effectively creating two waterfalls when water levels are low. The river then continues its journey at the far end of the pool, where you and your partner can capture some amazing selfies. And if you arrive in the morning, you can often add a full rainbow to your pictures. Interestingly, Wailua Falls was featured in the opening credits of the popular TV show Fantasy Island. The falls are located at the end of Highway 583, so you don't even have to hike to this unforgettable spot.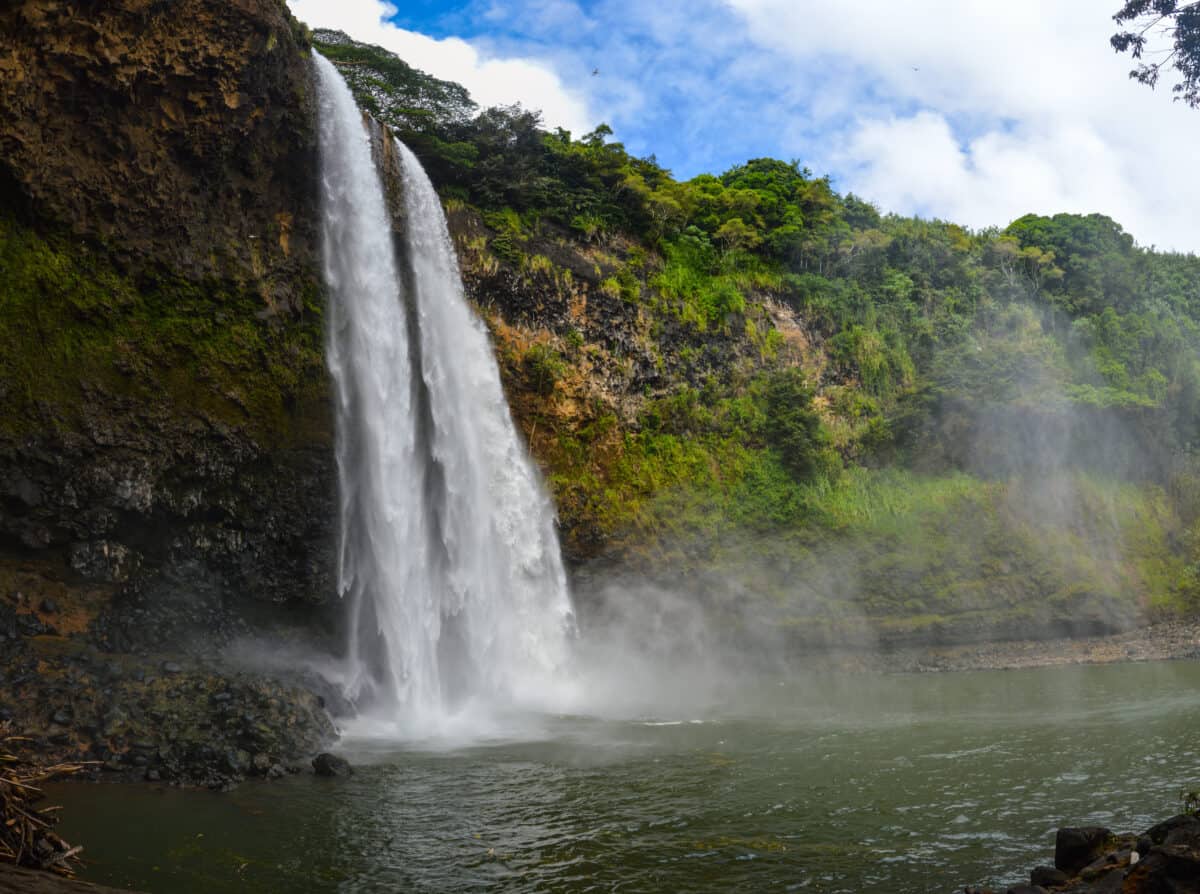 Another stunning waterfall on Kauai – and one of the island's tallest – is the 300-foot Hanakapiai Falls about a mile inland from the North Shore. This feathery cascade flows down the side of an immense cliff into a small pool that's perfect for swimming with your significant other. These falls are a little harder to get to, but entirely worth the four-mile round-trip hike from the Kalalau Trail trailhead at the end of Highway 560. Along the way you'll encounter the small but inviting Hanakapiai Beach. Just be sure to bring good hiking boots and rain gear because showers are frequent and the ground quite slippery on the trail. Visit this webpage for more information.     
Attend the Luau Kalamaku
One of the most unforgettable experiences in Hawaii is attending a luau and hula performance, and probably the most romantic one on Kauai is the Luau Kalamaku on the eastern side of the island. Your evening starts with a traditional fresh flower lei greeting. Then you'll witness the unearthing of the roasted pig from the imu (underground oven). Next, you'll be treated to a buffet dinner of traditional Hawaiian favorites like teriyaki chicken, fresh pineapple, poi (fermented taro root paste), lomi lomi (marinated raw salmon and fresh tomato salad), and, of course, Kalua pork from the freshly roasted pig. Save room for a dessert of pineapple upside-down cake or haupia (coconut pudding). Then sit back and enjoy the show that celebrates Kalamaku ("child of the new land"), the legend of the first Polynesians to arrive on Kauai. The show features the mesmerizing twirling of fire poi balls and traditional fire knife dancing. It's a performance you won't soon forget! To book your experience, visit this webpage.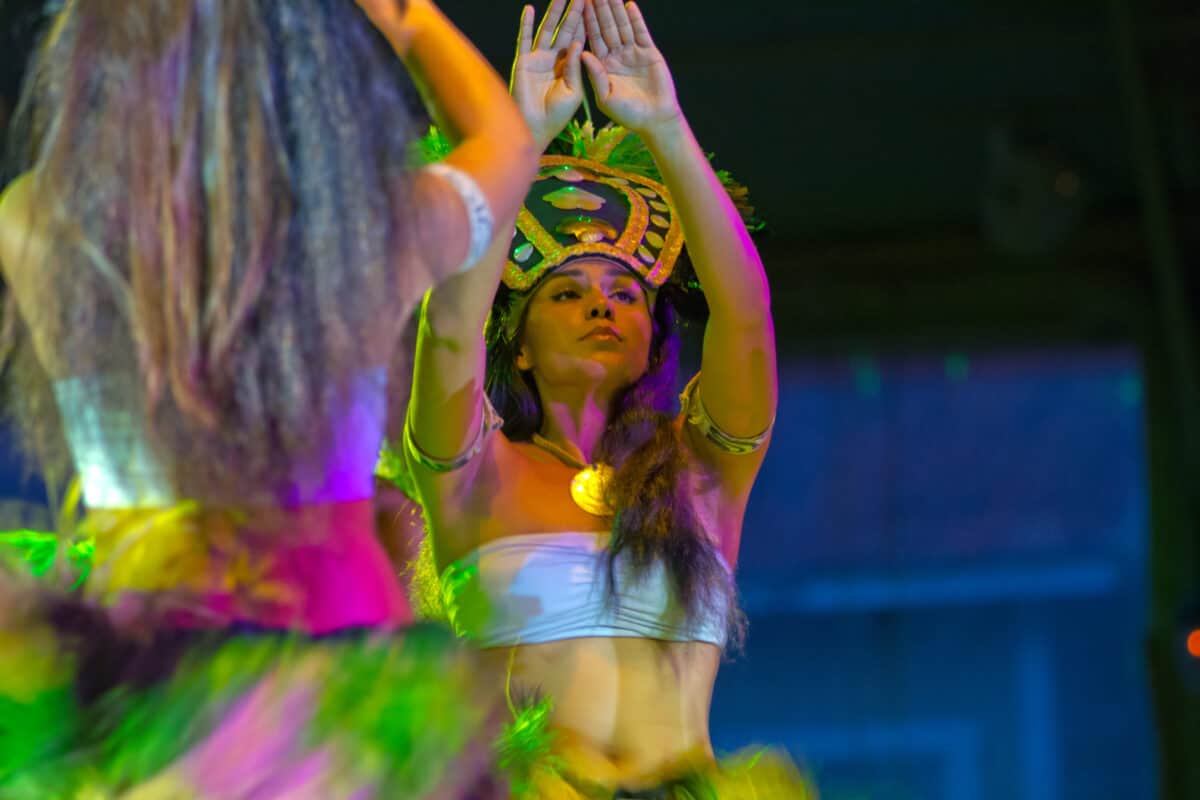 If you'd rather have a more private experience with your partner, there's the (pricier) option of having a four-course dinner for two at the nearby Plantation House by Gaylord's restaurant. There, you'll feast on a traditional Hawaiian dinner in the middle of the Kilohana Plantation's orchard. You'll then enjoy a torch-lit stroll to premier seating at the same Luau Kalamaku described above.
Take a Tour of Allerton Garden & Estate
If strolling through lush tropical gardens hand-in-hand with your sweetheart sounds romantic, then look no further than the Allerton Garden & Estate on Kauai's South Shore. You and your partner can take a tour of this verdant 80-acre estate, where a knowledgeable guide will escort you through winding pathways past colorful tropical flowers, expertly maintained blooming garden rooms, and the trees with giant, meandering roots made famous in the movie Jurassic Park. 
After a tour of the garden, your guide will take you to the historic house on the Allerton Estate, where you'll hear stories about how the Allertons entertained notables like Jackie Kennedy. You'll also get to see the collection of the Allertons' personal photos and keepsakes. Next to the house is the restored cottage of Queen Emma, who was queen of Hawaii in the 19th century. Finally, you'll get a chance to rest over a delicious dinner on the grounds of the estate at sunset. This beautiful botanical garden and estate makes for a relaxing afternoon and evening for any couple looking to appreciate Kauai's history and natural beauty. Check out this website to book a tour.  
Learn How To Surf on Poipu Beach
Fear not if you or your partner have never surfed. The expert instructors at Poipu Beach will ensure that you have a great time learning Hawaii's iconic sport. And there's no better place than at this gorgeous, double crescent stretch of sand on Kauai's South Shore. The gentle waves and clear waters are perfect for both the beginner and the surfer looking to up their game. World renowned pro surfer Rochelle Ballard will give you and your significant other personalized lessons on how to stand on the surfboard, read incoming swells and waves, and avoid hazardous reefs. With the knowledge and skill you gain over 90 minutes, you'll have more confidence to tackle higher surf on other parts of the island. You'll also come away with a great shared experience that the two of you will be talking about for a long time!
Take a Sunset Dinner Tour to the Na'pali Coast
This coastline on Kauai's North Shore is perhaps the island's most famous–and most beautiful. And the most romantic way for a couple to enjoy it is on a sunset dinner tour by Holo Holo Charters, the top-rated boat tour company on Kauai. They will take you and your honey aboard their 65-foot, super-stable catamaran at the South Shore's Port Allen and head up the west side of Kauai to the Na'pali Coast. Along the way, you'll get to sip sparkling wine or a Mai Tai made with local rum and sup on appetizers. You might also get to see humpback whales if you go during whale season here from December to April.
As you approach the Na'pali Coast near sunset, you'll marvel at how the sun bathes the steep canyons and waterfalls on the shore in a beautiful golden light. You might even see rainbows shimmering on the falls as the sun goes down. Holo Holo's sunset toast with Champagne only adds to the magic. On the way back to Port Allen, you'll sit down to a three-course meal prepared with the freshest ingredients by a local chef. There's really no better way to share the magic of Kauai with your other half! Visit this website for more information and to book your sunset dinner tour.
Find more great family travel destinations in our travel section.
The image featured at the top of this post is ©A. Michael Brown/Shutterstock.com.