The lush, dramatic environment of Kauai — also known as the "Garden Island" and the fourth-largest island in Hawaii, is characterized by emerald valleys, pointed mountains, and crooked cliffs. Swim in crystal-clear waters, take a helicopter ride along the Na Pali Coast, zipline above lush forests, and jump into waterfalls outside. Indeed, there is no shortage of things to do on Kauai, but a visit will quickly reveal that there are also a lot of fantastic dining options for families. A fantastic family meal can be one of the fondest memories of your trip. Here are eight of the best restaurants for families on Kauai!
1. Brennecke's
2100 Hoone Rd, Koloa, HI 96756
Brennecke's is ideal if you want to be close to the Villas at Poipu Kai or Poipu in general. Brennecke Beach is across the street from the restaurant, so you can spend a busy day playing in the water and then dinner is just a hop, skip and jump away.
In addition to their fantastic regular menu, Brennecke's now offers children a special "keiki" menu. It offers family-friendly fare like hamburgers, pizza, grilled cheese sandwiches, and chicken tenders. Check out their menu at brenneckes.com.
2. Duke's Kauai
3610 Rice St, Lihue, HI 96766
This beachfront restaurant in Lihue, Hawaii, is tucked close to the Marriott and is a visitor favorite. It is a family-friendly restaurant where children are welcome. Themed days add to the fun — Taco Tuesdays, Surf & Turf Sundays, etc. Parents can grab a drink from the Barefoot Bar and dine on a variety of meat and fish options. Kids can enjoy pint-sized menu standards like chicken nuggets, burgers, and mac and cheese. The Hulu Pie is a must before leaving this establishment. Look at their tasty menu at dukeskauai.com.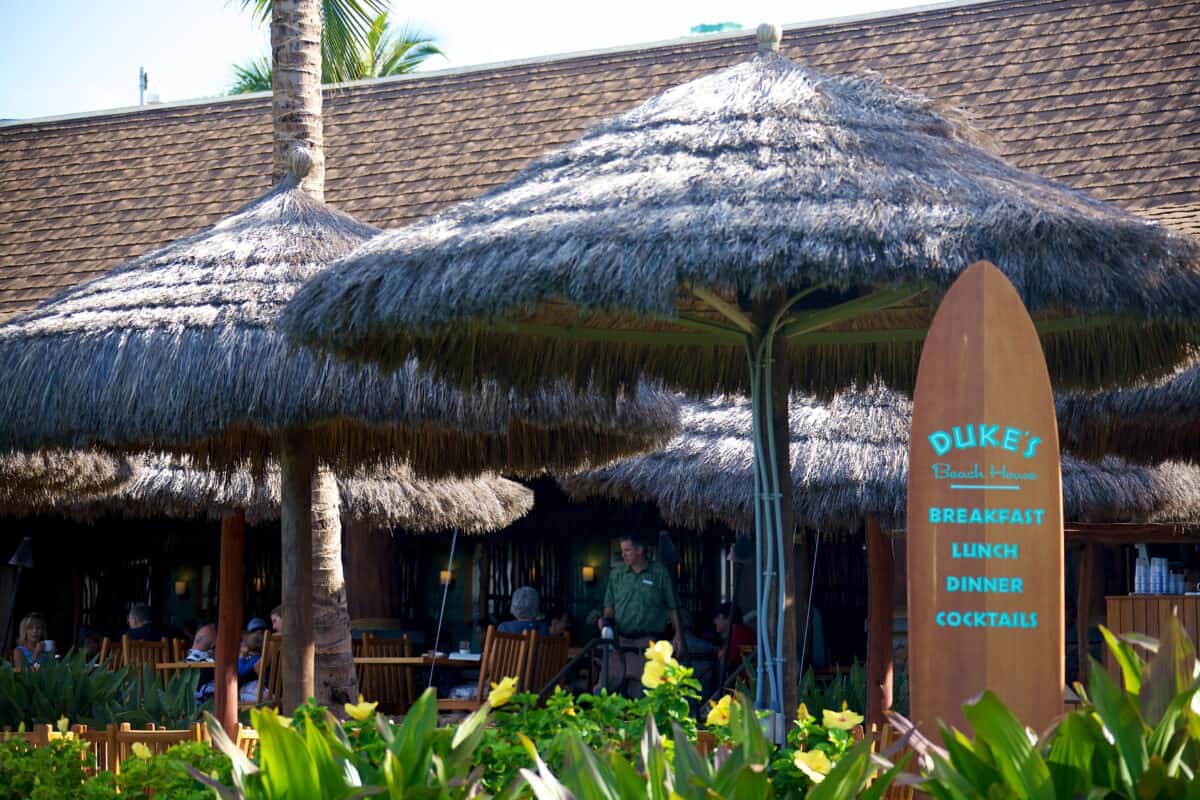 3. Passion Bakery
4-356 Kuhio Hwy #121, Kapa'a, HI 96746
This place is well-known on the island for its breakfasts, lunches, and abundance of baked goods. The charming little bakeshop, which is situated in the Kinipopo Shopping Village, offers a selection of freshly produced cookies, pastries, artisan bread, and pizzas. Your family will quickly feel warm and welcomed thanks to the kind staff, just like their cream cheese muffins and macadamia nut cookies! Have a look at all of the delicious options at passionbakeries.com.
4. Pink's Creamery – Hanalei
4489 Aku Rd, Hanalei, HI 96714
You can't go wrong taking your kids to Pink's Creamery with their selection of unique grilled cheese sandwiches, ice cream, smoothies, and tropical ice. Hawaiian grilled cheese with pineapple and pork is a favorite of both adults and children.
You can either try Pink's renowned date shakes or one of the many ice cream varieties available, such as Kona mud pie, Hanalei sunrise, or aloha cherry truffle, to round out your dinner. For people with dietary limitations, Pink's Creamery also provides dairy-free gelato. See all of their options at pinkscreamerykauai.com.
5. Porky's – Waimea
9899 Waimea Rd, Waimea, HI 96796
When visiting Kauai, stop at Porky's for some tasty pulled pork or fresh sausage. In Waimea, this walk-up food truck is located off the main drag. While the youngsters enjoy a hot dog, the adults in your family can have pineapple pork sausage topped with pulled pork, fried onions, and Porky's sweet barbecue sauce. Then, on one of the picnic benches beneath a canopy, take pleasure in your lunch. The deliciousness can be explored at porkyskauai.com.
6. Street Burger – Kapaa
4-369 Kuhio Hwy, Kapa'a, HI 96746
Visit Street Burger to satisfy your burger needs. Here, grass-fed beef that is locally sourced is used to make the burgers, which are then topped with a variety of delectable ingredients.
While children stick to the tried-and-true options of a hamburger or cheeseburger and fries, adventurous eaters adore the Wailua, which is topped with crispy spam, jalapeno pineapple marmalade, kabayaki sauce, and spinach.
The vegetarians in your family can now enjoy a vegetable patty. See all the delicious options listed and more at streetburgerkauai.com.
7. Sleeping Giant Grill – Kapaa
440 Aleka Pl, Kapa'a, HI 96746
Sleeping Giant Grill is a great place to take your kids for lunch or dinner because of its laid-back atmosphere. The fish or chicken tacos and the freshly prepared burritos offered here are popular with adults and kids.
A kid's menu for patrons 12 and younger is also available at Sleeping Giant Grill, along with vegetarian selections. A slice of mango cheesecake can let you end your dinner on a sweet note. Check out the Sleeping Giant Grill here.
8. Keoki's Paradise – Koloa
2360 Kiahuna Plantation Dr, Koloa, HI 96756
Keoki's Paradise in Koloa is a must-stop while on vacation if you want your food served in a beautiful setting. While waiting for their dinner, the youngsters are entertained with live entertainment in the evenings, including occasional hula displays, in the relaxed and comfortable open-air dining environment. Adults enjoy the chef's fresh fish pair or the ahi with Kalo crust, while children can select from items like cheeseburger sliders, top sirloin steak, or fish and chips from their menu. Freshly caught fish from Hawaii, meat from nearby farms for the chicken and hog, and locally sourced produce are all used in every meal. Get a feel for what's available by checking the Keoki's Paradise menu here.
The sights and sounds, outdoors, and historical spots are not the only adventures you should have with your family on Kauai. Take a leap and try a few of the options suggested here. You and the family may even find a few new favorites.
More Articles You'll Love!