Because Oahu caters to vacationing families from the mainland, there's no shortage of family-friendly restaurants on the island. Oahu's laid-back, casual vibe extends to many eateries, too, so parents with small children can relax. Many restaurants have kid-specific menus, which makes ordering a snap for even fussy eaters. But casual and family-friendly does not mean low quality. Oahu has some of the best food you'll find anywhere in the United States in all price ranges. Check out our list below of the 10 best restaurants for families on Oahu.
2464 Kalakaua Avenue, Honolulu, HI 96815
(808) 926-3447 • eggsnthings.com
Don't be turned off by the unassuming appearance and use of paper plates at this breakfast and lunch place right off of Waikiki Beach in Honolulu. Eggs 'n Things has some of the best-tasting breakfast food we've had anywhere, and much of it incorporates unique Hawaiian flavors. Everyone in the family will be able to find something they love on the huge menu. Kids 6 and up (and adults!) will gravitate toward the pineapple whipped cream pancakes, the macadamia nut waffles, or the strawberry and nutella mochi waffles covered with whipped cream and chocolate sauce. Kids 5 and under can get dollar-size pancakes or chicken tenders off of the keiki (kids) menu. Parents looking for something more substantial will savor the Portuguese sausage and eggs, crab cake Benedict, or Kalua pig Benedict. There's also a good-sized lunch menu as well. Eggs 'n Things is very popular so be sure to come early to avoid a long wait. Even if there is a long wait, it's absolutely worth it!
Duke's Waikiki & Barefoot Bar
2335 Kalakaua Avenue #116, Honolulu, HI 96815
(808) 922-2268 • dukeswaikiki.com
A stop at this legendary restaurant on Waikiki Beach is a must for any family visiting Honolulu. The unique decor celebrates Duke Kahanamoko, Hawaii's Olympic athlete who popularized surfing. This spot used to be his regular hangout when it was the Outrigger Canoe Club. It's a bit touristy and expensive, but the family-friendly food and service is excellent. And what family can resist eating lunch at a barefoot restaurant right on the sand? In the evening, dinner moves inside and the menu becomes bigger. Older kids and teenagers will like the crispy coconut shrimp and poke tacos, whereas younger kids and toddlers can order from the keiki (kids) menu things like mac 'n cheese, fish and chips, or the cheeseburger. Adults will relish the roasted lobster, ahi steak, or teriyaki sirloin. Everyone needs to save room for Duke's famous hula pie made of macadamia nut ice cream and hot fudge in a chocolate cookie crust. Strolling Hawaiian musicians playing island songs only add to an unforgettable meal.   
Leonard's Bakery
933 Kapahulu Avenue, Honolulu, HI 96816
leonardshawaii.com
If your family is heading out of Honolulu for the day, be sure to stop at this local favorite for a quick breakfast along the way. Leonard's is famous for its malasadas–Portuguese fried dough rolled in sugar and cinnamon. They are melt-in-your-mouth delicious, and everyone in the family will want more than one. And when you're getting more than one, try the malasada puffs, which are stuffed with a variety of flavored creams like macadamia nut and guava. Leonard's also has a good selection of muffins, cupcakes, and other confections that can power your whole day. Try to arrive early because lines do form later in the morning. After you try the malasadas, your whole family will understand why!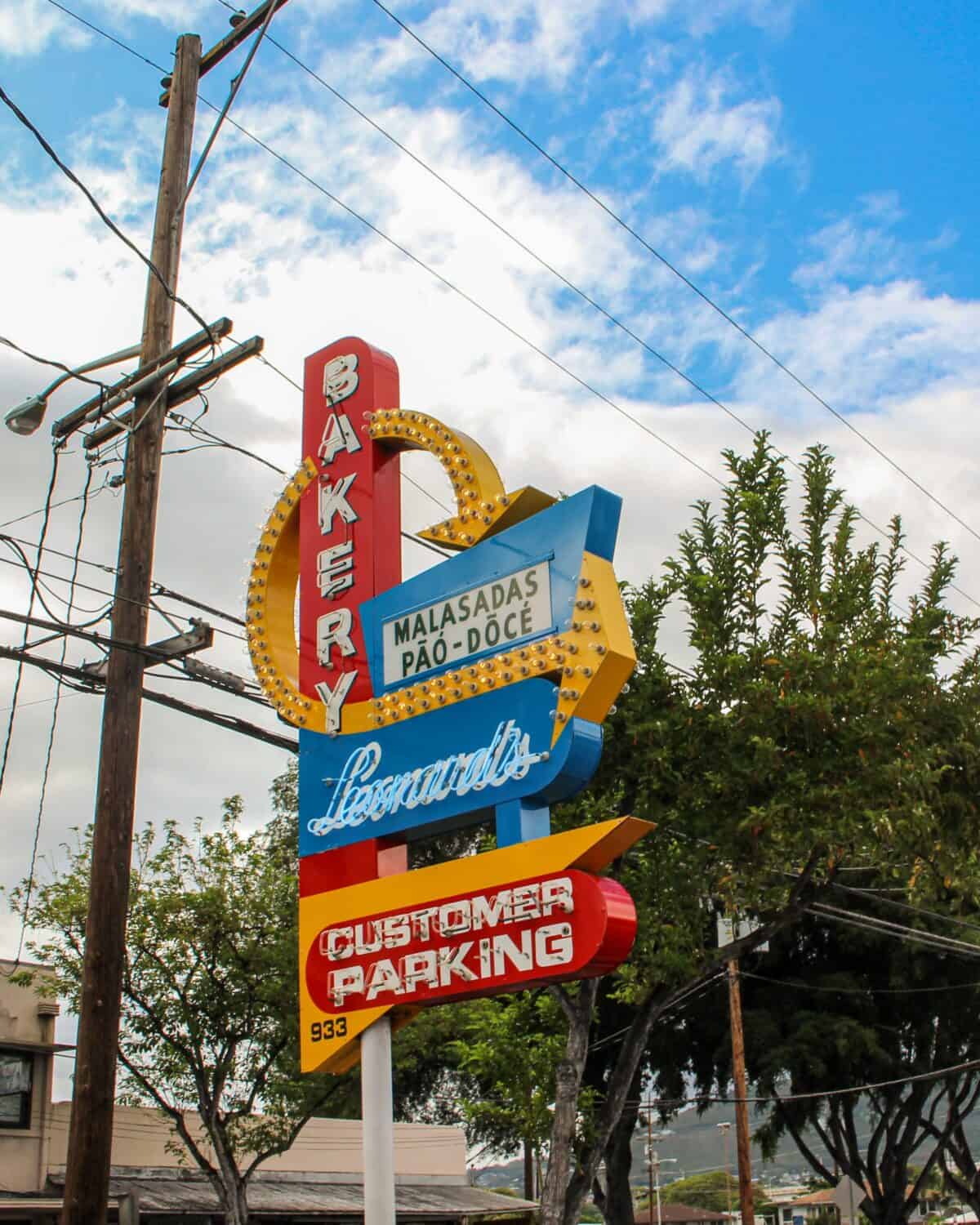 Cinnamon's
315 Uluniu Street, Kailua, HI 96734
(808) 261-8724 • cinnamons808.com
If your family loves breakfast food any time of day, they will love the all-day breakfast at this popular spot in Kailua, on Oahu's Windward Coast. Cinnamon's is most famous for its guava chiffon pancakes, which are out-of-this-world fluffy and delicious. Toddlers and little kids can get the short stack and hungry teenagers can go for the full stack. They'll also love the Hawaiian sweet bread, a local kind of French toast. Besides the traditional American favorites, adults can whet their appetite with local favorites like the mahi mahi eggs Benedict, Korean omelet, Portuguese sausage skillet, or shoyu pork belly. Of course, someone in the clan will have to save room for Cricket's Classic Cinnamon Roll, a homemade delight. Cinnamon's also has a lunch menu until 2pm. If you're headed to Kailua Beach or any other activity on the Windward Coast, be sure to fuel up at Cinnamon's! 
Monkeypod Kitchen
92-1048 Olani Street, Kapolei, HI 96707
(808) 380-4086 • monkeypodkitchen.com
When you're on Oahu's west side, you've got to visit this culinary gem at the Ko Olina Resort. It's super family-friendly, and not only because kids three and under eat free. They have a large menu of Hawaiian-inspired food and drinks with something everyone will love. Little kids will go for the King Kong cheeseburger or macaroni from the keiki menu, and no teenager will be able to resist a hand-tossed pizza like the margherita or kalua pork and pineapple. Parents will savor farm-to-table offerings like the ribeye steak or surf-to-table plates like the fresh-caught fish tacos or seared ahi steak. They'll also love the large cocktail, beer, and wine menu to help them relax after a day of activities. The live music will keep the whole family entertained as well.
Uncle Bo's Pupu Bar & Grill
66-111 Kamehameha Highway, Suite 101, Hale'iwa, HI 96712
(808) 797-9649 • unclebosrestaurant.com
If your clan is hungry after a full day of activity on Oahu's North Shore, and doesn't  want to wait for dinner, head to this excellent eatery in Hale'iwa. Here you'll find a large menu catering to the whole family; there's even a large selection of gluten-free items. Uncle Bo's is best known for its pupus, which are small plates of Hawaiian appetizers and finger food that are meant to be shared. Uncle Bo's pupus include, for example, ahi poke, prime rib strips, chicken wings, and nachos–tasty bites that all but the littlest ones can try. Little kids will like classics such as the chicken tenders or grilled cheese sandwiches, and older kids and teenagers will be satisfied with the wide range of pizzas and pastas. Mom and dad will relish the slow-roasted prime rib or the wild-caught island moonfish. Along with the excellent food, Uncle Bo's casual and welcoming atmosphere makes this a perfect family-friendly restaurant. 
Seven Brothers Burgers
55-510 Kamehameha Highway, Laie, HI 96762
(808) 744-6440 • sevenbrothersburgers.com
For the best burgers on Oahu, look no further than this local chain of eateries. The one we like is in Laie, on the northeastern coast, because of its casual vibe and outdoor picnic tables that just invite family eating. But don't let the atmosphere fool you–Seven Brothers serves some serious burgers, from the giant Paniolo (cowboy) topped with grilled pineapple and homemade onion rings to the Deep Blue with crumbled blue cheese and bacon. The monstrous size of the burgers makes them more suitable for hungry tweens and teenagers, but a grilled cheese and plain cheeseburger is available for younger kids. There's even a plant-based burger option for anyone who doesn't eat meat. The crispy fries are wholly unique and tasty as well. One thing's for sure: the whole family will come away stuffed and wanting to return.
Anna Miller's
98-115 Kaonohi Street, Aiea, HI 96701
(808) 487-2421 • annamillersrestaurant.com
Parents with noisy or restless kids will feel right at home at this family favorite just west of Honolulu. Oahu families have been coming to this local institution for decades. The delicious and affordable menu will feed even the largest families without ruining their budget. The all-day breakfast menu has kid pleasers like banana pancakes and Hawaiian sweet bread French toast. Teenagers and adults won't go wrong with the breakfast scrambles or three-egg omelets. Lunch-goers will find a wide range of burgers, sandwiches, and melts. If you have room left over, be sure to try a slice of Anna Miller's famous fresh fruit pie–it's scrumptious. Anna Miller's is the perfect jumping-off point for a day of visiting the attractions at Pearl Harbor, too. 
Tanaka of Tokyo
2250 Kalakaua Avenue, Honolulu, HI 96815
(808) 922-4702 • tanakaoftokyo.com
Everybody in the family will be mesmerized by the chefs' fast-moving knives at their teppanyaki table at this restaurant in Honolulu. There are lots of good teppanyaki places to choose from on Oahu, but we like Tanaka of Tokyo for its lively atmosphere and special menu for kids eight and under. The younger set in your clan will surely like the steak, shrimp, and chicken options because each comes with ice cream. Older kids and teenagers will no doubt be satisfied with the copious amounts of sirloin, steak, shrimp, and lobster that come in a variety of set-menu combinations. Pair that with all the rice and vegetables you can eat, no one in the family will leave hungry. And if the parents really want to splurge, they can indulge in premium set menus that feature wagyu beef, filet mignon, and the best lobster tail. Tanaka of Tokyo will make a memorable evening for everyone in the family. There are three locations to choose from; we've listed their central location below.  
Find more great family-friendly travel info for Oahu in our Oahu Vacation Planner.