Considering the difference between pizza sauce vs. Marinara? You may be stuck on the fact that they're both tomato-based red sauces that are often used in Italian cooking recipes. This is true, however, the differences lie in the process of making these individual sauces. It comes down to the way the tomatoes are cooked, and the final resulting consistency. While you may use Marinara sauce on your pizza, and pizza sauce on your pasta, they are in fact two different things. Let's get into more of the saucy details. You'll learn some of the history, the particulars of making each, and the overall nutritional profiles of pizza sauce vs. Marinara.
Keep on reading to learn about how these sauces came to be and to get some recipe ideas for your next tomato-sauce-based mealtime. We'll discuss their specific ingredients, major differences, and what makes them nutritional, or otherwise. By the end of this post, you won't have any trouble telling them apart, and you'll know exactly which one to get for dinnertime.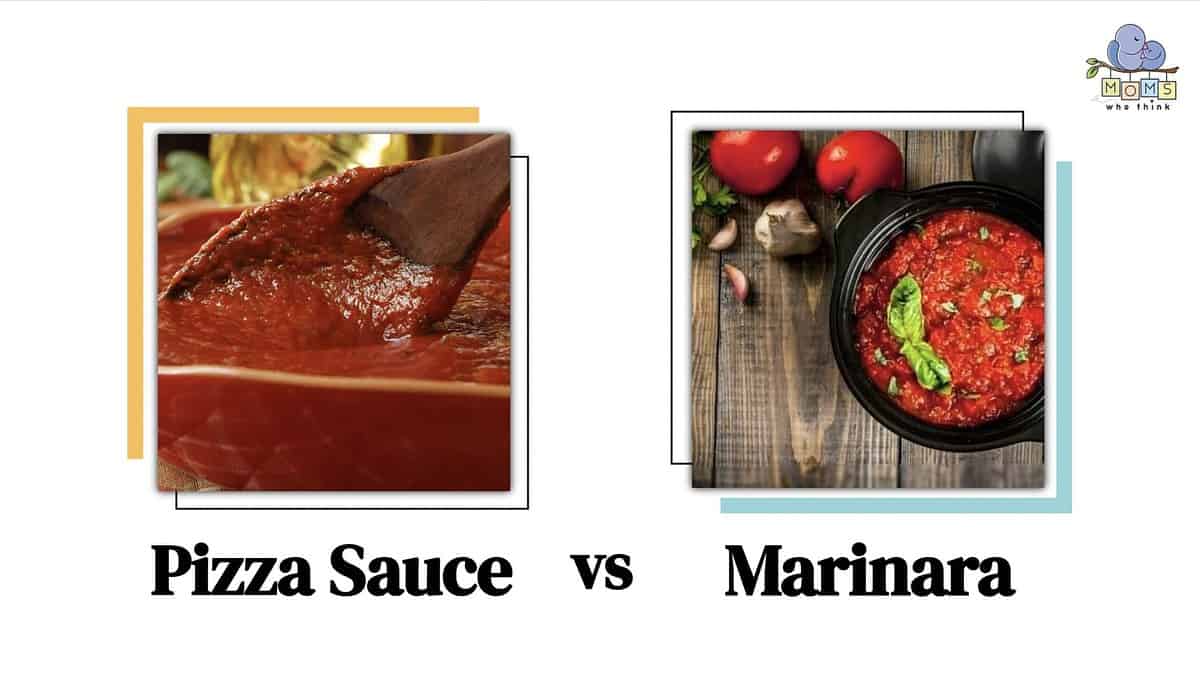 Pizza Sauce vs. Marinara: What Is The Difference?
The key differences we'll discuss between pizza sauce vs. Mariana come down to three major categories. These categories are the way the tomatoes are cooked, the added ingredients, and the consistency of the final sauce. It is these factors that impact which sauce is which, although the flavors, use, and general appearance of pizza sauce vs. Mariana can be quite similar.
What Is Pizza Sauce?
Pizza sauce is a tomato-based red sauce that includes lots of herbs, and other spices to add flavor to the toppings on a pizza. It is typical for pizza sauce to be a thicker consistency than Marinara because the tomatoes are pureed and types of meats and vegetables will usually be added to increase the flavor profile of the particular pizza you're making.
History And Origin Of Pizza Sauce
Pizza sauce likely originated along with the iconic food itself, pizza. From flatbreads with toppings in ancient Greece, Egypt, and Rome to Napoli-style pizza with fresh tomato sauce, basil, and mozzarella, there have been many iterations of how a pizza is made. Tomatoes didn't make it into Europe until the 1500s and pizza makers (pizolas) were documented in Italy during the 1700s, which meant that sauce was being developed all throughout this time period. Pizza entered the States around the early 1900s with Italian immigrants. It was easy to make, both sauce and pie, affordable to buy, and downright delicious – no wonder it's still so popular (via Reader's Digest).
How Pizza Sauce Is Made
According to an easy homemade version via Allrecipes, you need water, tomato paste, EVOO, garlic, oregano, dried basil, rosemary, and black pepper. Other recipes use canned tomatoes, or fresh, cooked tomatoes – in these situations 6you'll need to pureé the tomatoes to form a paste. Combine your tomato paste with water, herbs, spices, and possibly cooked ground meats of your choice, along with olive oil. Stir fully and allow to sit for several hours so that the flavors readily absorb and you can taste for salt. Spread the sauce evenly over your pizza dough, add your toppings, and voila! You made pizza sauce!
Popular Versions
Pizza sauce can vary in spices, added meats, and veggies. You can have fun with what you add to your pizza sauce of choice, and build out a flavor profile that fits your particular pizza cravings.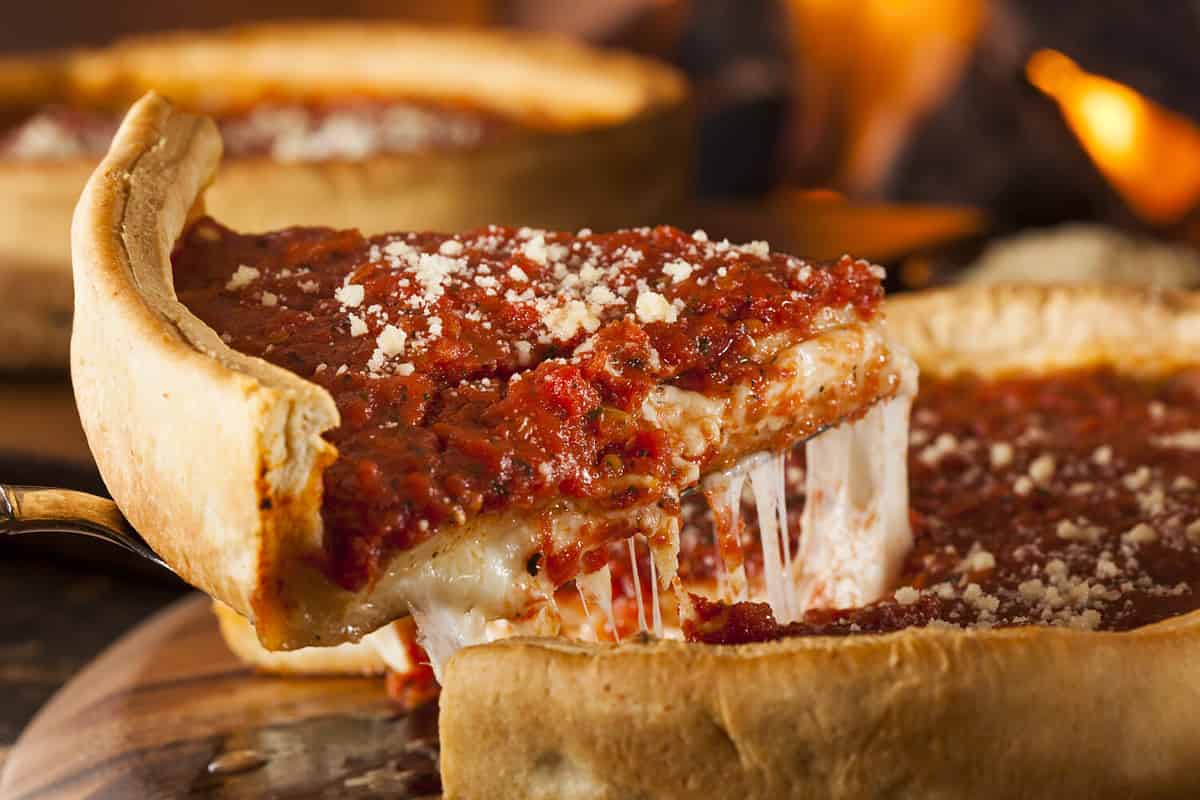 What Is Marinara?
Marinara sauce is also a tomato-based red sauce that features lightly blended tomatoes instead of pureéd tomatoes like in pizza sauce. Classic marinara is easy to make and delicious on pasta, or for dipping sauces. It can also be spread on pizza, although the consistency will be thinner than pizza sauce.
History and Origin Of Marinara Sauce
Similarly to the origins of pizza, Mariana was developing right alongside those early recipes. After the 15th century, tomatoes could be grown and cultivated to form the base of the sauce. From here, the cooks of Southern Italy perfected the recipe to add more flavors. There are traces of Marinara sauce recipes in 16th and 17th-century cookbooks. The name itself, which translates to "seafaring," suggests it was a sauce consumed during long voyages at sea with a little easily packed, and easily cooked, pasta (via Paesana).
How Marinara Sauce Is Made
The New York Times' Marinara sauce recipe calls for the following ingredients. You'll need whole tomatoes, water, olive oil, garlic, red pepper flakes, oregano, and basil. Quite similar ingredients to that of pizza sauce. However, the tomatoes are only lightly crushed or blended along with water to create a juice-heavy mixture. Add this mixture to some freshly roasted garlic in a large pan, and stir in the remaining spices. Add some salt for taste. A whole basil spring can be put into the combined, and bubbling sauce. Let the basil wilt before stirring it in as well. Simmer the sauce until the whole thing has thickened, and add whatever other spices you desire. Some recipes call for more chili to increase the heat factor of your Marinara sauce.
Popular Uses
Marinara sauce is often used for dipping and as a delicious pasta sauce. Add some parmesan cheese, or pour it over veggies. It can also be used in Lasagna. In a pinch, it will do fine as a pizza topping. It may have slightly less flavor than a specifically prepared pizza sauce.
Nutritional Value
Check out this handy nutritional chart to see some of the major differences between pizza sauce vs. Marinara. As you can see, 2 tbsp of each are nearly identical. This may change depending on what is added in the preparation of either, as well as in terms of what brand of sauce you choose to buy.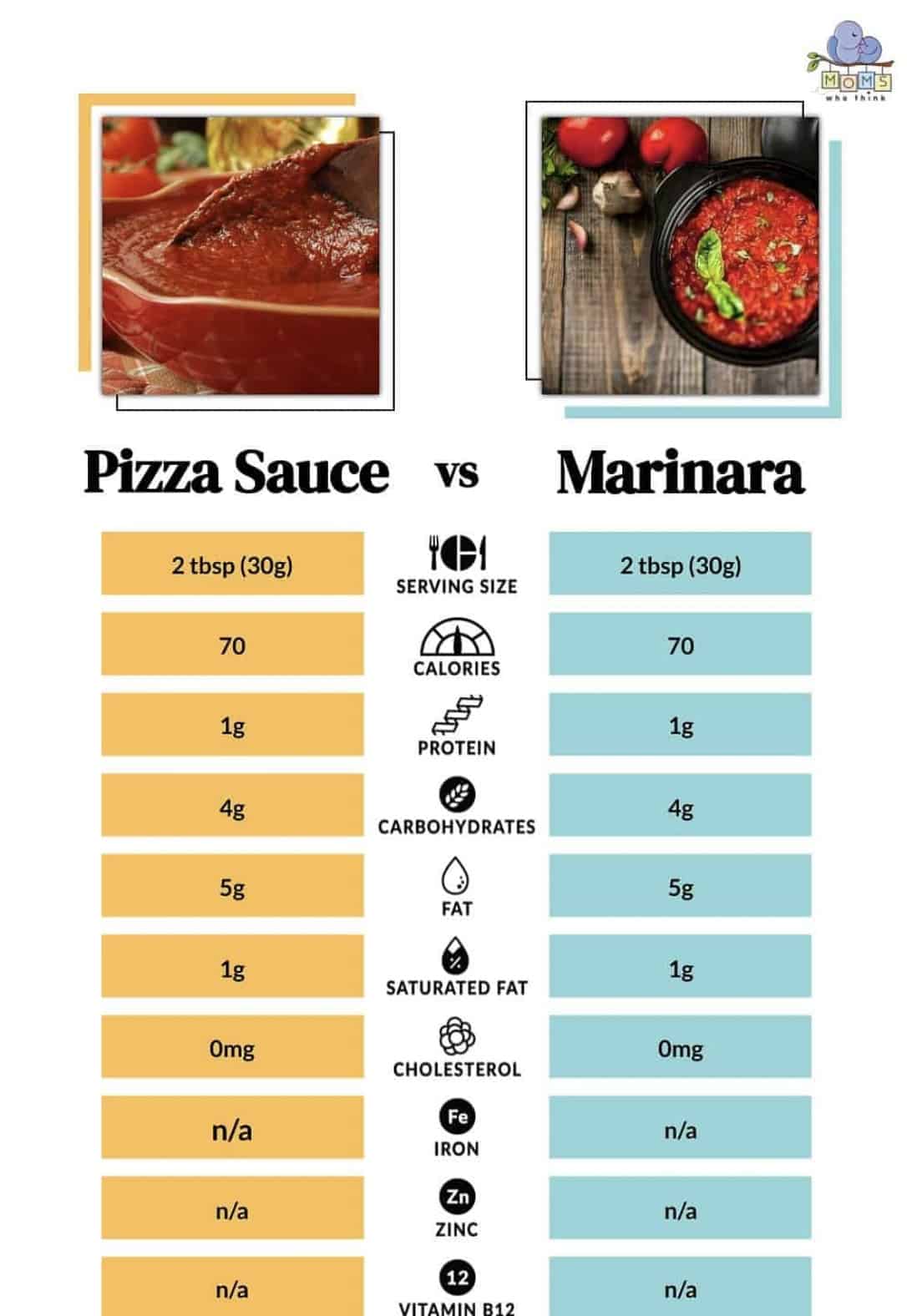 Pizza Sauce vs. Marinara: Are They The Same Thing?
Upon full consideration, it is clear that these two sauces have many similarities but they are, in fact, different things. Pizza sauce is thicker and typically has more ingredients/added elements. Meanwhile, Marinara stays pretty simple but can be used in a pinch as a pasta sauce. Just be sure to add some spices and lots of toppings. Have some fun with it and absolutely enjoy yourself!
Possible Alternatives To Pizza Sauce And/Or Marinara
For some delicious pasta sauce alternatives, other than Marinara, try out pesto, béchamel, barbeque, harissa, or a tomato chutney/jam. Hearth & Fire also recommends Za'atar and olive oil, or a vodka cream sauce. There are numerous ways to sauce your pasta and your pizza, that don't include tomatoes!
A Quick Comparison of Pizza Sauce vs. Marinara
Pizza sauce and marinara are quite similar, but both have a few distinct differences. For example, pizza sauce is made with puréed tomatoes, while marinara is made with lightly blended tomatoes. Of course, one of the more obvious distinctions between these two sauces is their use. Pizza sauce is, well, used for pizza, while marinara often goes on pasta. The sauce you choose is going to depend on what you need for a given recipe.
If you want a great use for pizza sauce, try making this pepperoni pizza supreme:
Print
Pepperoni Pizza Supreme
---
Author:

Yield:

6

slices

1

x
1 prebaked 12 inch thin pizza crust
1 can (8 ounces) pizza sauce
1 Tablespoon grated Parmesan cheese
1 teaspoon Italian seasoning
1/2 teaspoon garlic powder
1/2 cup sliced fresh mushrooms
1/2 cup chopped fresh broccoli florets
1/4 cup chopped green pepper
1/4 cup chopped sweet red pepper
1/2 cup shredded reduced fat cheddar cheese
38 slices turkey pepperoni
1 cup (4 ounces) shredded part skim mozzarella cheese
---
Instructions
1. Place crust on an ungreased baking sheet. Spread with pizza sauce; sprinkle with the Parmesan cheese, Italian seasoning and garlic powder. Top with the mushrooms, broccoli and peppers.
2. Sprinkle with cheddar cheese. Top with pepperoni and mozzarella cheese. Bake at 400° for 14 to 18 minutes or until vegetables are crisp tender and cheese is melted.
Nutrition
Serving Size:

1 slice

Calories:

244

Sodium:

698mg

Fat:

9g

Saturated Fat:

3g

Carbohydrates:

26g

Fiber:

1g

Protein:

17g

Cholesterol:

28mg
The image featured at the top of this post is ©Marie C Fields/Shutterstock.com.