Cooking is an activity that many people love and enjoy. One thing that is true when cooking is that spices matter. No matter what recipe or cuisine you cook, the ingredients you use make a huge difference. Flavors are the main part of enjoying a homemade dish. The more time and effort you put into researching your ingredients, the better your meals will come out. Two things that many people use in their kitchens are chili flakes and red pepper flakes to make their recipes a little "hotter." While both add heat and flavor, chili flakes and red pepper flakes have differences between them.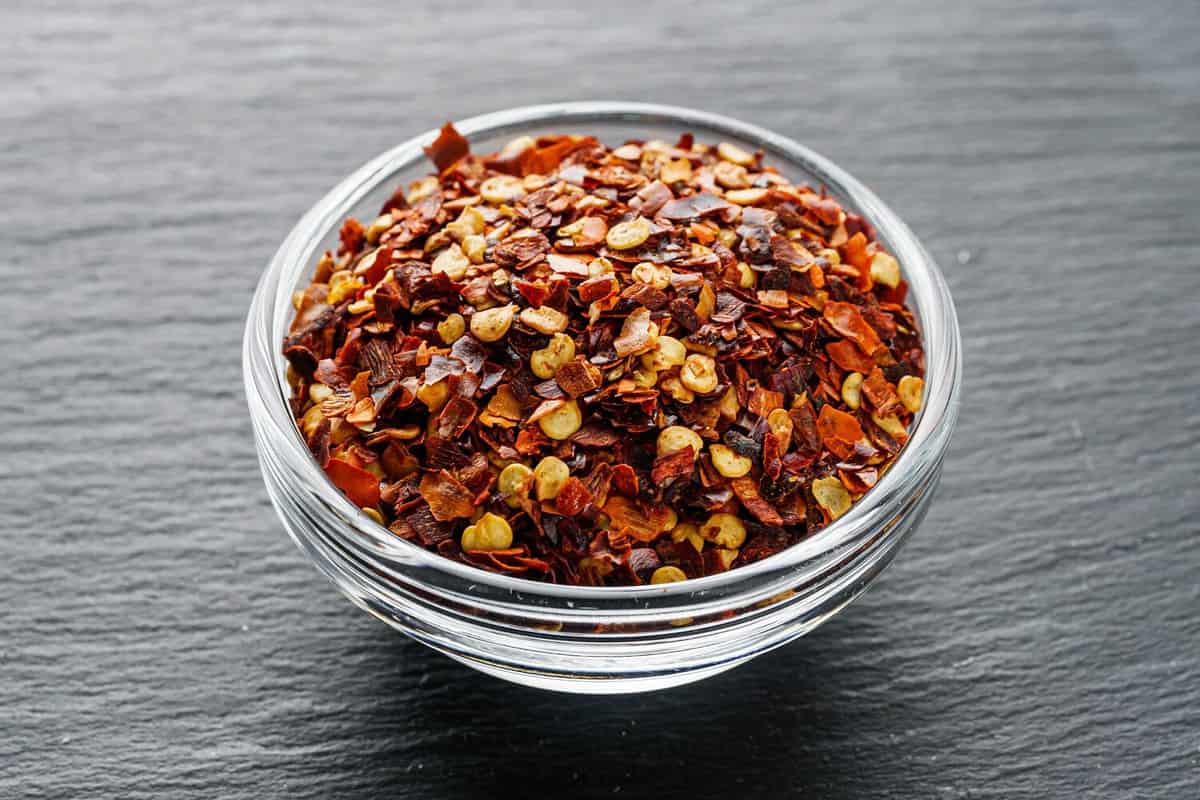 What are Red Pepper Flakes
Red pepper flakes are a spice/condiment that many people use in a variety of recipes. They are made from dried-up and crushed red peppers. They are made with a variety of different types of peppers. The peppers are, however, usually spicy and hot peppers, rather than just red bell peppers. These sometimes are Aleppo peppers, Korean gochugaru peppers, or cayenne peppers, combined.
Many people use red pepper flakes on top of pizza, in pasta dishes, or even in soups. The amount of spice truly depends on what type of peppers are being added to the flakes. Many times this depends on the brand.
What are Chili Flakes
Chili flakes are similar to red pepper flakes in a few ways. Chili flakes and red pepper flakes are both made from peppers. However, chili flakes are made from only using chili peppers. This means that you only used red chili peppers in order to make the chili flakes. They are dried and crushed, much like when making red pepper flakes. Some peppers that are used are cayenne, ancho, or bird's eye chili.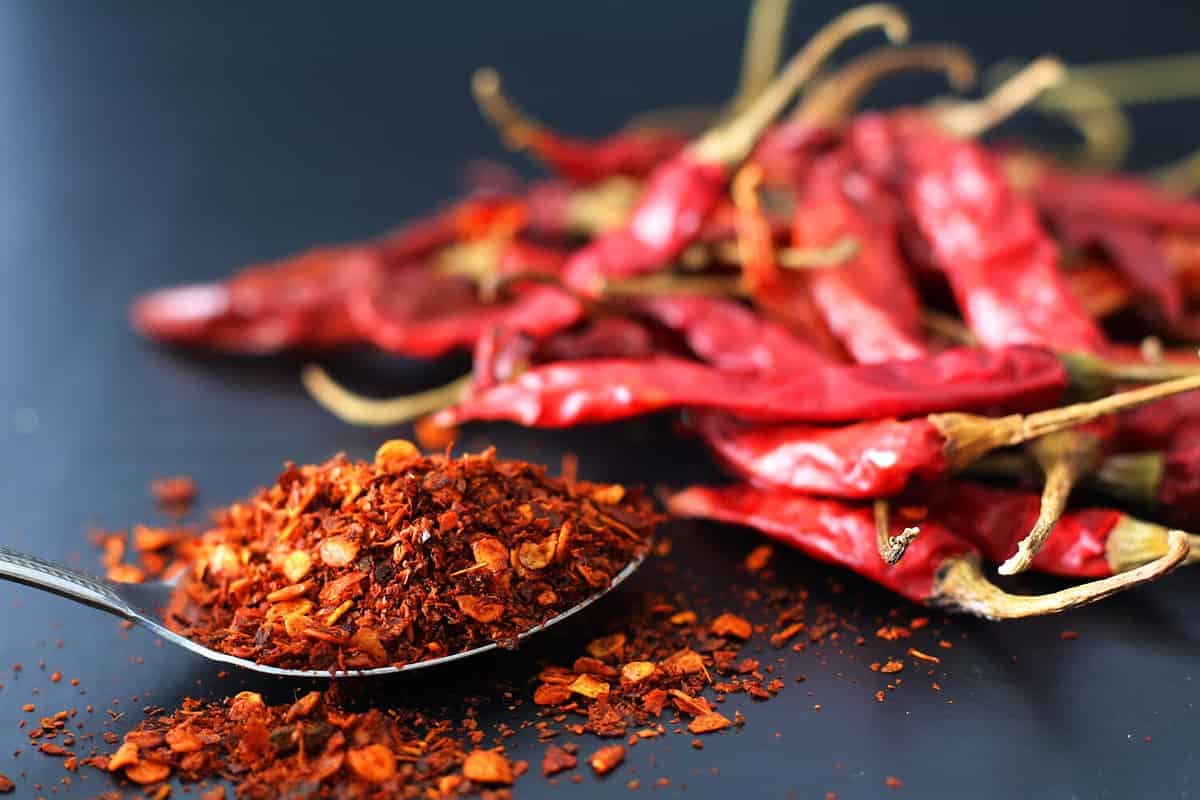 Origins of Pepper Flakes
Chili flakes and red pepper flakes both originated at the time when chili peppers and other red peppers were being discovered and used for cooking. Mainly, these peppers were first discovered and used in Central American countries and even Mexico. It can be traced back to the times when the Mayans and the Aztecs used these vegetables for different recipes.
Globally, these peppers spread, and their uses did, as well, once explorers came to the Western Hemisphere and discovered many new cultures, traditions, and food. They were then brought back to the European countries and spread throughout their cultures.
Differences Between the Two
Depending on where you live, where you are cooking, or what cultural recipes you are making, the spicing may differ. In some places, red pepper flakes and chili flakes are one in the same. Many consider them to be the same because chili peppers are included in red pepper flakes, as they are a pepper that is often used in its creation. However, not all peppers used in red pepper flakes are used in chili flakes.
That is the major difference between the two: the use of peppers. Red pepper flakes use multiple types of red peppers, such as chili peppers. However, chili flakes do not use all of the peppers that red pepper flakes use.
Uses for Chili and Red Pepper Flakes
Both chili flakes and red pepper flakes have a ton of uses in the kitchen. Whether you are looking to spice something up as an additive or use it in a recipe or a rub, it should be in everyone's spice rack if you want to add texture, heat, and flavor to a recipe.
Marinades and Sauces
Using chili and red pepper flakes in marinades and sauces is a great way to spice up any meat, seafood, or chicken. They can add a lot of texture and flavor to bland dishes. They can also give off more heat when cooked.
Seasoning
You can also use red pepper flakes and chili flakes for seasoning things that are already cooked. Many people use these spices to season pasta or pizza when cooking Italian food or at an Italian restaurant. It adds a nice zest of heat and kicks things up a notch for those who enjoy spicy bites.
Spreads and Oils
Many individuals also add these types of pepper flakes to spreads such as butter and cream cheeses so that their bagels, sandwiches, and other things get a little spice kick. In addition, the flakes can be infused into oils that can be used to cook a plethora of things.
Recipes for Chili Flakes and Red Pepper Flakes
Comparison of Chili Flakes vs. Red Pepper Flakes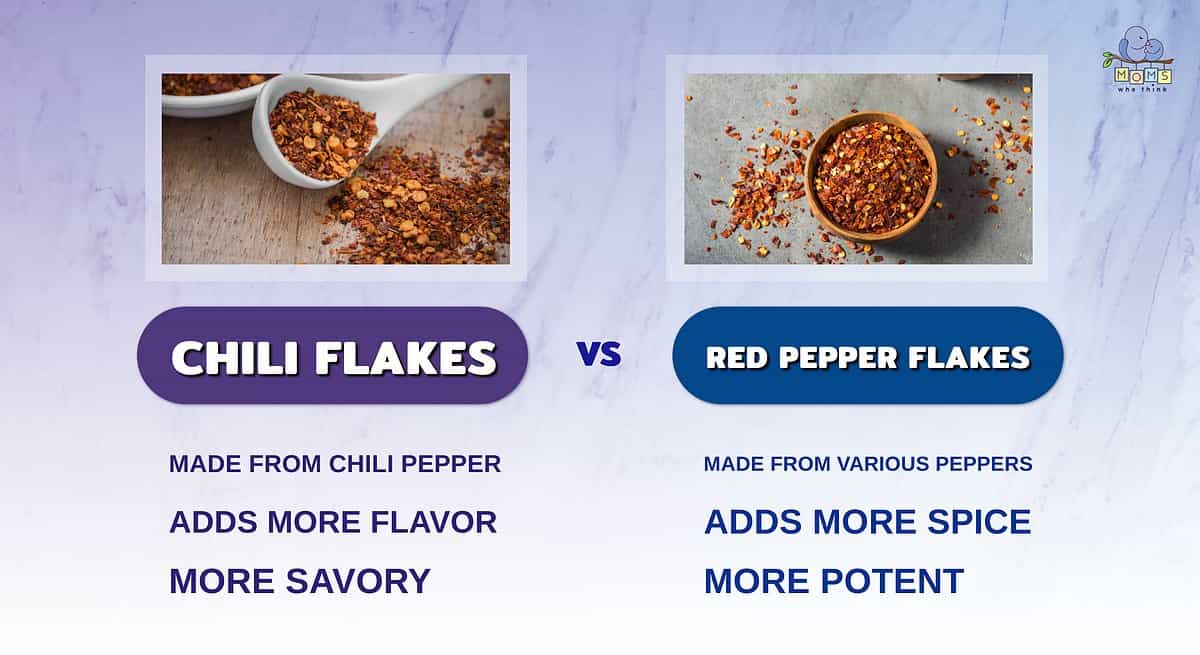 Many people would agree that adding heat to certain foods makes the flavor of that dish that much better. Enter chili flakes and red pepper flakes, which do a great job of achieving that. However, as discussed in this article, not all spices are created equal. So, let's recap a few differences between chili flakes and red pepper flakes:
While both chili flakes and red pepper flakes are made from peppers, chili flakes are only made from chili peppers. On the other hand, red pepper flakes are made from a variety of peppers.
Chili flakes are great to add flavor to a dish, while red pepper flakes are great for adding heat.
Because it's made from various peppers, red pepper flakes tend to have a stronger flavor than that of chili flakes.
Print
Veggie Pepperoni Pizza Pasta
---
Author:

Yield:

9

servings

1

x
8

ounces

uncooked bow tie pasta

1

large onion, chopped

1 1/2

cups

julienned green pepper

1 1/2

cups

julienned sweet red pepper

2

garlic cloves, minced

1 Tablespoon

olive oil

1

can (14 1/2 ounces) petite diced tomatoes with juices

1 1/2 teaspoons

dried basil

4

ounces

turkey pepperoni, halved and sliced

1

cup

diced fresh tomatoes

3/4 teaspoon

salt

1/4 teaspoon

pepper

4 ounces

part skim mozzarella cheese, diced
Crushed red pepper flakes, optional
---
Instructions
Cook pasta according to package directions.
Meanwhile, in a large nonstick skillet, sauté the onion, peppers, and garlic in oil until vegetables are crisp tender.
Add stewed tomatoes and basil. Bring to a boil. Reduce heat; cover and simmer for 10 minutes, stirring occasionally.
Stir in the pepperoni, diced tomatoes, salt, and pepper; simmer for 2 minutes.
Drain pasta; add to the tomato mixture.
Add cheese and toss well. Sprinkle with pepper flakes if desired.
Nutrition
Serving Size:

1 cup

Calories:

213

Sodium:

585mg

Fat:

6g

Saturated Fat:

2g

Carbohydrates:

29g

Fiber:

3g

Protein:

12g

Cholesterol:

22mg
The image featured at the top of this post is ©Amarita/Shutterstock.com.