Pizza and pasta are staples eaten in many households. It is common for families to have pizza movie nights or spaghetti Wednesday every week. It makes creating a menu for the month so much easier! With pizza and pasta come a variety of sauces. For example, you have red sauces like pizza and pasta. Then there are alfredo, pesto, and more sauces to choose from. It makes one wonder, what is the real difference? This article will discuss the difference between pizza and pasta sauce.
Although they look very similar, simple differences set the two apart. For starters, pasta sauce undergoes cooking the tomatoes and herbs together. Cooking the pasta sauce allows the seasoning and herbs to develop a delicious flavor. On the other hand, pizza sauce is uncooked with added herbs and seasoning.
More differences include consistency, water content, texture, and even flavor. Let's explore these differences in more depth below.
Pizza Sauce vs. Pasta Sauce: What are the Differences?
Pizza sauce is pureed tomatoes that are uncooked. Contrarily, pasta sauce undergoes cooking. The tomatoes in pasta sauce are blended or crushed. The blending method for pasta sauce will allow the sauce to sometimes contain chunks of tomatoes.
The different methods of preparing the sauces mean the consistency of each will be different. Pizza sauce is pureed, leading to a thicker sauce. Pizza sauce needs to be thicker in consistency. This is because once it is spread across the crust, it acts as a "paste" to keep the cheese and toppings on top of the crust. Also, the uncooked pizza sauce will cook in the oven with the ingredients, adding to the fresh and tangy flavor that pizza offers.
Pasta sauce is a thinner consistency. This is because it is blended and then cooked. Once the pasta sauce covers the pasta, it will add a robust flavor. The thin consistency makes the pasta sauce flavor present but not overwhelming.
The thin consistency also adds higher water content to pasta sauce.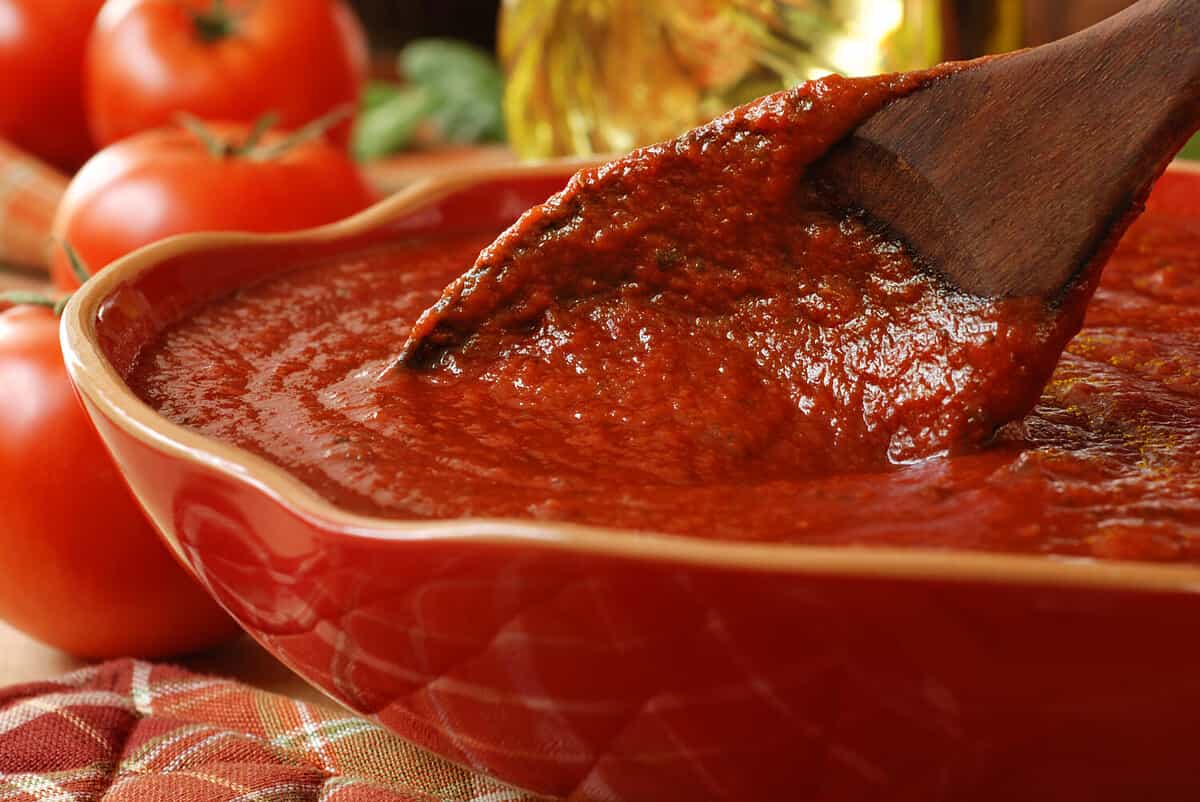 The Flavor of Pizza Sauce
When it comes to the flavor between the two, pizza sauce has a very distinct flavor. This can be attributed to the dried herbs that are present. Since pizza sauce is uncooked with added herbs and seasoning, it can cook alongside the other toppings adding to the rich flavor of pizza.
The ingredients in pizza sauce are simple, yet the preparation method sets it apart. Many different flavors can be excellent on pizzas; here are a few:
BBQ sauce
Red Sauce
Marinara
Peppery
Sweet
The flavor depends on the herbs and seasonings in the pureed sauce.
The thick consistency of pizza sauce keeps the pizza sauce from becoming soggy and unenjoyable!
The Flavor of Pasta Sauce
You can choose from many different flavors of pasta sauce on the market. However, the most basic pasta sauce will have a concentrated tomato flavor. The various herbs and seasonings may also mean the sauce will have a garlicky flavor.
However, don't lose heart. If you do not enjoy the garlicky flavor, there are many more to choose from! Choose from pesto, alfredo, marinara, bolognese, clam, carbonara, and more.
Take the time to experiment and decide exactly which flavor you enjoy on your pasta. You do not have to stick with the tomatoes as the base!
Nutritional Profile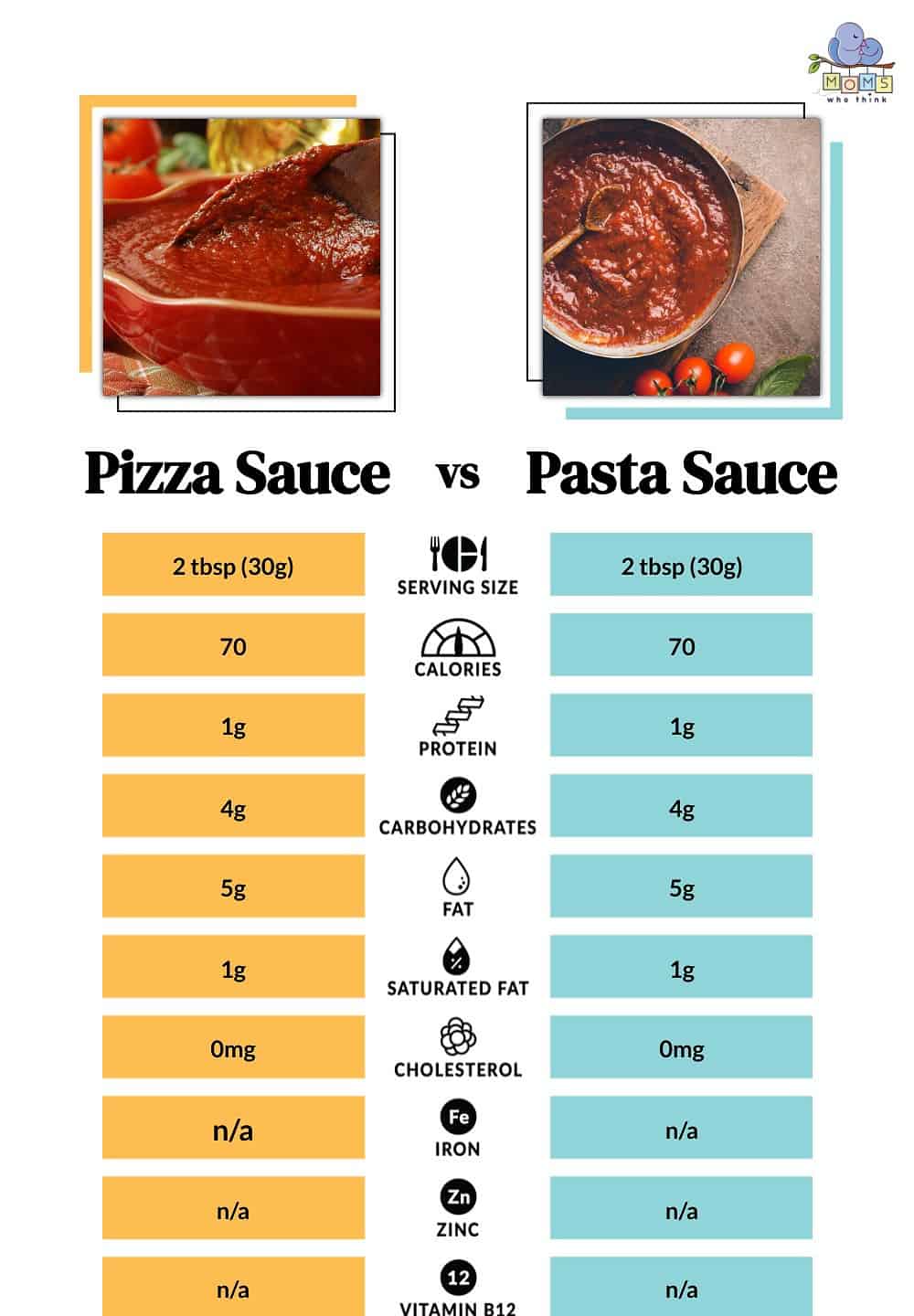 The Use of Pizza Sauce
Pizza sauce is primarily for pizzas. Yet, some use pizza sauce as a dipping sauce or a substitute for pasta dishes.
The Use of Pasta Sauce
Pasta sauce is typically used as a thin sauce covering the pasta. What pasta you use all depends on what you prefer! The pasta sauce adds a delicious and robust flavor to your pasta. It also acts as a binding agent that keeps spices, meat, cheese, and more together with your pasta.
What is Pizza Sauce?
Although pizza sauce is very similar to pasta sauce, it does have fundamental differences. Pizza sauce is pureed tomatoes that are not cooked. The herbs and seasonings are added to the uncooked sauce.
The plain tomato sauce offers a simple yet distinct flavor for various pizzas and toppings. The tomatoes are pureed, giving a thicker consistency. This is a great attribute to have when working with dough. Adding thick pizza sauce on top of the dough before adding the ingredients will act as a binder for the cheese and toppings. Fortunately, the thick consistency means the sauce does not contain a high water content, keeping the dough from becoming too soggy! Not many people enjoy soggy bread.
The flavor profile of pizza sauce can vary. Nevertheless, most simple pizza sauces contain herbs like Italian seasoning, oregano, garlic salt, and onion powder. The seasoning will cook with the sauce and toppings, adding a more assertive and fresh flavor.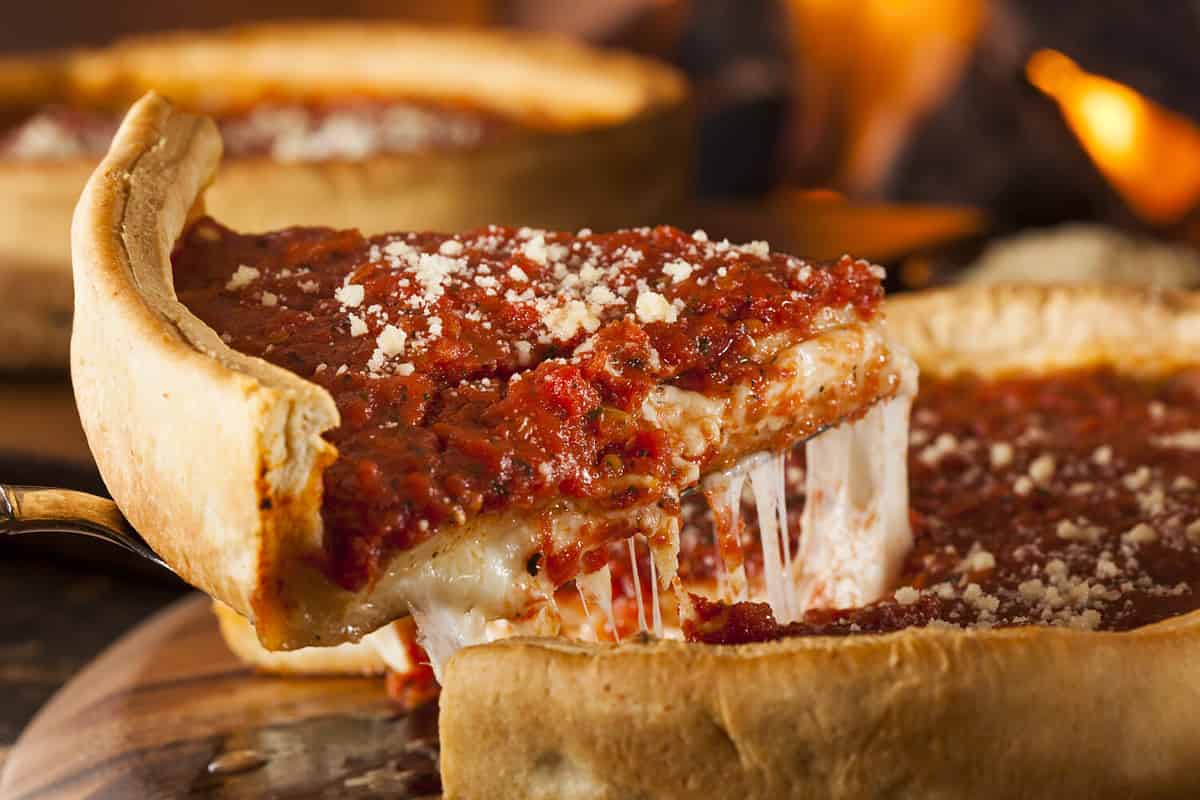 What is Pasta Sauce?
Pasta sauce, on the other hand, has a more robust flavor profile than pizza sauce. It contains a blend of herbs and spices and typically has some garlic.
Pasta sauce has a base of crushed tomatoes blended just enough to offer a thinner consistency. The water content of pasta sauce is thinner than pizza sauce.
It is also possible for pasta sauce to have chunks. The fact that the pasta sauce has already undergone cooking offers a few benefits.
The first benefit is that the flavor is already present. Pasta contains little flavor. Therefore, the dish's flavor will be more robust and change depending on the added pasta sauce.
The sauce is thin enough to coat the pasta lightly yet not overpower the entire dish.
Pasta sauce is added to the noodles after they are already cooked. Consequently, having a sauce that has already undergone cooking makes preparation simple and quick.
Although most pasta sauces have simple ingredients, the herbs, and seasonings can change, creating unique pasta dishes.
Can You Substitute Pizza Sauce for Pasta Sauce?
The short answer is yes. It is possible to substitute pizza sauce for pasta sauce or vice versa. Nonetheless, it is essential to remember a few key facts before doing so:
Pasta sauce is thinner in consistency than pizza sauce.
Pasta sauce has a higher water content than pizza sauce.
Pizza sauce has not undergone any cooking. Whereas pasta sauce has already been cooked through.
They both have different flavor profiles.
Knowing these important factors can help you adjust your sauces accordingly.
One Last Note
Pizza sauce is made from pureed tomatoes that are left uncooked, while pasta sauce is made from blended or crushed tomatoes that are cooked.
Pasta sauce tends to be a thinner sauce with a higher water content, while pizza sauce is thicker.
Due to the herbs and spices that are often added in, pizza sauce has a more distinct and stronger flavor compared to pasta sauce.
Although pizza sauce and pasta sauce are similar, some key differences exist. The main one is that pizza sauce is not cooked, yet pasta sauce is.
Pizza and pasta sauce can also have different flavor profiles, water content, and consistency.
Both of these delicious sauces allow us to bring our dinners to life. Don't be afraid to experiment and determine the perfect sauce for your next pizza or spaghetti night!
Pizza Sauce Recipes
Print
Pizza Sticks
---
8 ounces turkey Italian sausage links
2 cups whole fresh mushrooms
2 cups cherry tomatoes
1 medium onion, cut into 1-inch pieces
1 large green bell pepper, cut into 1-inch pieces
30 slices turkey pepperoni (2 ounces)
1 tube (10 ounces) refrigerated pizza crust
1 1/2 cups (6 ounces) shredded part-skim mozzarella cheese
1 1/4 cups pizza sauce, warmed
---
Instructions
1. In a large nonstick skillet, brown the sausage over medium heat until no longer pink; drain. When cool enough to handle, cut sausage into 20 pieces.
2. On 10 metal or soaked wooden skewers, alternately thread sausage, vegetables, and pepperoni.
3. Unroll the pizza dough onto a lightly floured surface; cut widthwise into ten 1-inch wide strips. Starting at the pointed end of a prepared skewer, pierce skewer through one end of dough strip and press dough against last ingredient on the skewer. Spiral-wrap dough strip around skewer, allowing vegetables and meat to peek through. Wrap the remaining end of dough strip around skewer above the first ingredient. Repeat with remaining dough strips and prepared skewers.
4. Arrange the kabobs on a baking sheet coated with nonstick cooking spray. Bake at 400°F for 10 to 12 minutes or until the vegetables are tender and pizza crust is golden. Immediately sprinkle with cheese. Serve with pizza sauce.
Nutrition
Serving Size:

Per serving

Calories:

400

Sodium:

1,208mg

Fat:

13g

Saturated Fat:

5g

Carbohydrates:

42g

Fiber:

4g

Protein:

28g

Cholesterol:

58mg
Pasta Sauce Recipes