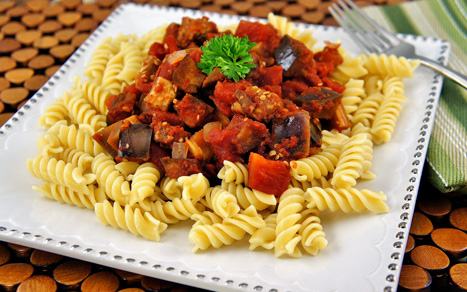 Eggplant and Tomato Sauce with Pasta
Ingredients:
1 (28 ounce) can diced tomatoes, drained
1 (6 ounce) can tomato paste
½ cup red wine or water
1 medium eggplant (about 1 pound), cut into ½-inch cube
1 onion, finely chopped
2 garlic cloves, finely chopped
1 teaspoon dried oregano
Salt
16 ounces rotini pasta
Grated Parmesan cheese, for garnish if desired
Directions:
1. Combine tomatoes, tomato paste, wine, eggplant, onion, garlic, oregano, and ½ teaspoon salt in a 5-quart slow cooker; cover and cook on low 4 hours or until eggplant is soft and sauce is thick.
2. Just before sauce is done, bring a large pot of salted water to boil over high heat. Add pasta, and cook until al dente, about 10 minutes. Drain pasta, and toss with sauce. Garnish, if desired.
Try one of our favorite Crock Pot Meals: