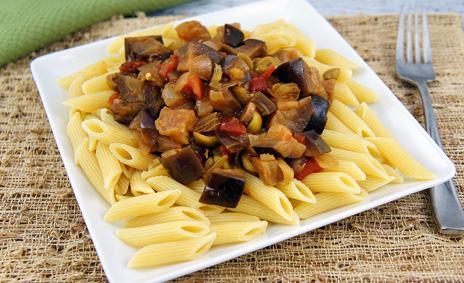 Crock Pot Caponata
Ingredients:
4 cups eggplants cut into 1-inch cubes
1 large onion, diced (about 1 cup)
10 3/4 ounces condensed cream of mushroom soup (canned or homemade)
14 1/2 ounces diced tomatoes
2 stalks celery, diced (about 1 cup)
1/2 cup sliced green olives
2 Tablespoons balsamic vinegar
1 Tablespoon tomato paste
1 clove garlic, minced
1/2 teaspoon dried oregano leaves, crushed
1/4 teaspoon crushed red pepper
16 ounce package penne pasta, cooked
shredded Parmesan cheese
Directions:
1. Stir the eggplant, onion, soup, tomatoes, celery, olives, vinegar, tomato paste, garlic, oregano and red pepper into a 6-quart slow cooker.
2. Cover and cook on LOW for 7 to 8 hours or on HIGH for 4 to 5 hours, until the vegetables are tender.
3. Serve over the cooked pasta. Sprinkle with Parmesan cheese.