Michigan was only the 26th state that was admitted to the Union all the way back in 1837, so it's been around a while. When a state is that old, it only makes sense that many of the elementary schools, high schools, and colleges would also be quite ancient. Today, we're going to speak about the oldest schools in Michigan. We'll talk about thier formation, some of the interesting facts you never knew about each of them, and we'll disclose many of the alumni that once called the schools home.
Oldest Schools in Michigan – Elementary and Middle School
As of the time of this writing, there are 3,191 elementary schools in Michigan, which includes private and public institutions. Michigan has a lot of middle schools, and it ranks 8th as far as total schools per state. It stands to reason that a few of those schools are going to be pretty ancient.
The Bridge School
Though it's no longer in operation, The Bridge School, which was founded all the way back in 1828, is considered to be one of the oldest schools in the nation. It's recognized as the first-ever public school in the Territory of Michigan. The building was first constructed in 1828, and stood for a while until it was rebuilt in 1832. It wasn't anything fancy, just a log cabin structure that was built from the logs of walnut trees. In 1868, that structure was replaced by one made out of brick. Back then, it only had two rooms until an addition was attached. 
The school was created as a result of the first school law that was passed by the Legislative Council of the Michigan Territory back on April 12, 1827. That law said that each municipality was responsible for organizing its own school system. The school was in operation until 1946 for an incredible 118-year run. In 1950, it was shuttered, and the students that still attended went to other local schools. Since then, the property has been used as a township hall and a polling place for the residents of the area.
Most Holy Trinity Catholic Academy
When it comes to private institutions, one of the oldest schools in Michigan is Most Holy Trinity Catholic Academy. This elementary school began in 1838, and it has been serving the children of Detroit ever since. Since then, the academy has seen amazing growth. It continues to educate children from kindergarten to 8th grade, and they're provided with multiple classes, including math, Spanish, science, technology, and faith-based education. What started as humble beginnings has grown exponentially, and they recently added on a new 10,000-square-foot school gym and auditorium.
Oldest High Schools in Michigan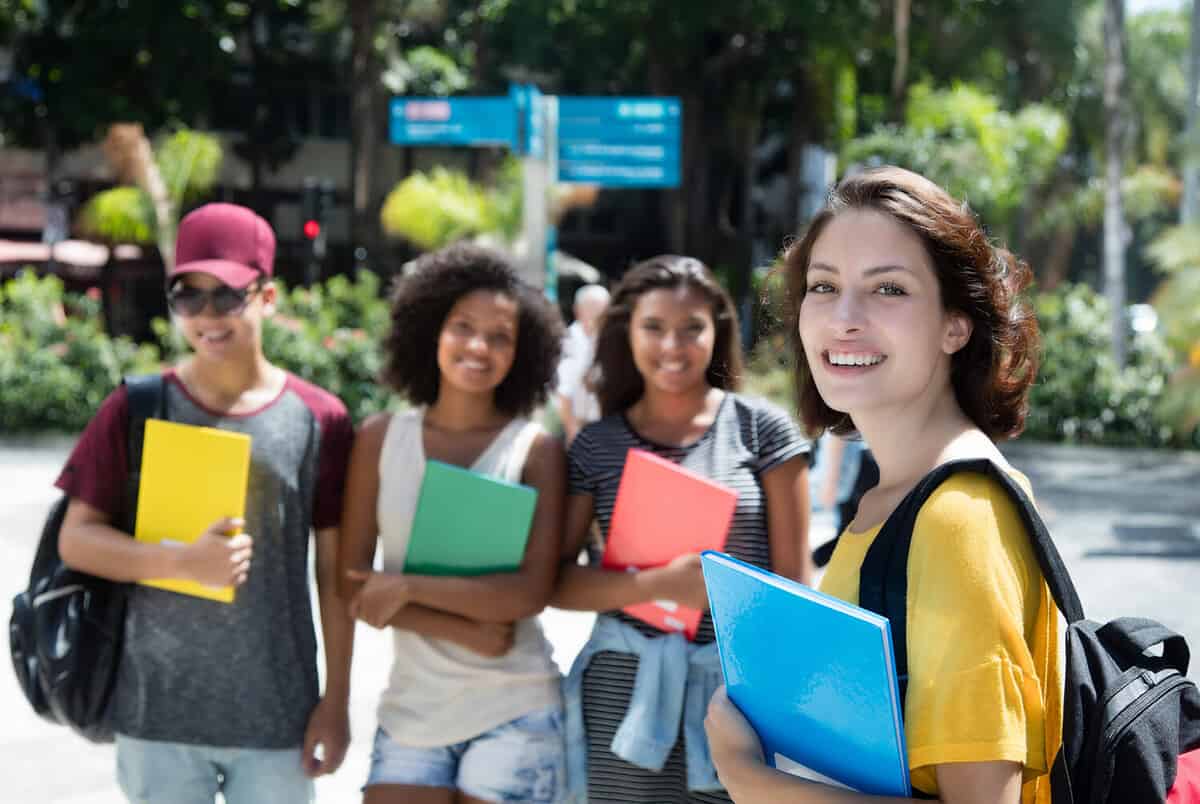 Michigan is also home to many older high schools, some of which are more than 100 years old. The schools in this section have amazing faculty members and teachers that have been shaping young minds for many years. Here are some of the oldest schools in Michigan that serve high school students.
Birmingham High School
When the city of Birmingham was first growing its legs back in 1916, more families began to move in. That meant there were a lot of students and no room for them, so the district school board requested a bond issue to build a new high school, and with the help of the District Superintendent, Birmingham High School was born. Construction of the school was completed in 1916. 
As the 1920s went on, the classes started overflowing, so the school grew to fill the demand. Three more schools were built to accompany it. By 1968, student enrollment had peaked, and over 18,000 students called the school home. Birmingham is a very historic town with many old structures and a lot of rich history, so check it out if you're in the Michigan area.
Academy of the Sacred Heart
Founded in 1851, the Academy of the Sacred Heart, located in Oakland County, is one of the oldest schools in Michigan. This is a Catholic institution that's for boys (infant to 8th grade) and girls (infant to 12th grade). Though it's general education, the real objective of the school is to prepare kids of many faiths for college. Academy of the Sacred Heart is part of a larger network of schools, and they have affiliations in 41 countries around the world.
The history of this school is very rich, and it began in 1818, when five nuns, including Philippine Duchesne set out on an adventure, traveling from New Orleans to St. Louis. That is where they opened the very first Academy of the Sacred Heart in a primitive log cabin. In 1819, the academy moved to Florissant, Missouri. This school flourished there and began to expand, moving to Michigan and other states after that. The school has many religious classes but also general education.
Colleges and Universities
If you really want to talk about the oldest schools in Michigan, then you need to look at some of the famous universities in the area. Many of them span decades, and they have a great history that continues to drive new students to them every year. Here are a few of the oldest schools in Michigan.
University of Michigan
The oldest college in the entire state is the University of Michigan, which was founded in 1817. This is a public research university, which means that they're committed to research as a central part of their mission over general education. The university is located in Ann Arbor, Michigan. The school is so old that it was established before Michgan even became a state. It's also one of the earliest research universities in general. Although it's a public college, the University of Michigan is very esteemed, and it's considered one of the "Public Ivies" because its education is similar to an ivy league school.
The University of Michigan is very vast, and it is composed of 19 different colleges. Students can take classes for undergraduate, graduate, and doctorate degrees, in 250 disciplines. The school started in 1817 under the act of the Michigan Territory. It started out as more of a collection of libraries, schools, and cultural institutions than a centralized school. The original president was a reverend, and the vice president a Catholic priest. This was the first university in the West to pursue a professional education and then a medical school. In recent years, the university has continued to grow, and today, it's made up of 500 major buildings.
Famous University of Michigan Alumni
A school this old is bound to have its fair share of impressive alumni, and the University of Michigan doesn't disappoint. The college has produced several heads of state, many members of the U.S. House of Representatives, and 26 billionaires. Selected alumni of the college include:
Frank Murphy – Supreme Court Justice
Gerald Ford – President
Arthur Miller – playwright
Mike Wallace – journalist
James Earl Jones – actor
James Irwin – astronaut
Lawrence Kasdan – filmmaker
Madonna – entertainer
Larry Page – co-founder of Google
Tom Brady – football player
Michael Phelps – Olympic swimmer
Aisha Brown – NASA aerospace engineer
Willis Hawkins – Lockheed engineer who contributed to some of the most important designs in aerospace
James Irwin – former astronaut and one of the men to walk on the moon
Ed White – first American to walk in space
Jim Buckmaster – President and CEO of Craigslist
Sid Meier – creator of landmark video game series Civilization and Rollercoaster Tycoon
Kalamazoo College
The next oldest college institution is Kalamazoo College, which is a private liberal arts college that was founded in 1833. The college was founded by the Baptist ministers as the Michigan and Heron Institute before it changed its name to the Kalamazoo Branch of the University of Michigan from 1840 – 1850. Finally, in 1855, the college was officially named Kalamazoo College.
Kalamazoo College was the first school that was officially chartered by the Legislative Council of the Territory of Michigan. The first president of the college was James Stone, who presided over the school from 1842 – 1863, and he was the one who instituted the high academic standards that still exist today. The college was famous for admitting ex-slave Rufus Lewis as their first student of African descent. He ended up earning his Ph.D. from the college. This is considered to be a more selective school and not everyone will get in, though recently they have accepted close to 75% of applicants. The school offers 30 majors in the fields of humanities, fine arts, natural sciences, mathematics, and literature.
Notable Kalamazoo College Alumni
Notable alumni from Kalamazoo College include:
Selma Blair – actress
Teju Cole – author
Jordan Klepper – comedian
Don Lane – singer
Garry E. Brown – politician
Ty Warner – founder of Beanie Babies
Robert J. Shiller – winner of Nobel Prize in Economics, 2013
Martin A. Larson – religion scholar
Amy Courter – former National Commander of the Civil Air Patrol
Harry Garland – founder of one of the earliest highly successful microcomputer companies
John E. Sarno – innovator in back-pain therapy
David Hildebrand Wilson – founder of the Museum of Jurassic Technology
Holly Hughes – performance artist
Albion College
Next, we have Albion College, which was founded in 1835. This is a private liberal arts college that's located in Albion, Michigan, and it currently has about 1,500 students. The school started back on March 23, 1835, when several Methodist settlers obtained a charter to set up a new seminary in the Michigan territory. Construction began in 1837, and the school was built on 60 acres.
Students who attend Albion College are provided with a great education. They can earn degrees in the fine arts, humanities, and natural and social sciences. The school is also famous for its study abroad programs that send students to Europe, Israel, Africa, Australia, and other countries. The college also has many fraternities and sororities and a very active sports scene.
Notable Albion College Alumni
Some notable alumni from Albion College include:
Forest Ray Moulton – astronomer
Philip Campbell Curtis – painter
Jon Scieszka – author
John Sinclair – poet
Doug Parker – Chairman of American Airlines
Mark Schauer – U.S. Representative from Michigan
Josh A. Cassada – NASA astronaut
Barbara Bush – former First Lady of the United States (honorary degree)
Geoffrey Merszei – CFO of Dow Chemical Company
Joel Manby – former CEO of SeaWorld
Martin Nesbitt – campaign treasurer for Barack Obama
George Heartwell – former mayor of Grand Rapids, Michigan
Chris Greenwood, former cornerback for the Detroit Lions
Eastern Michigan University
Next on our list of the oldest schools in Michigan is the research university that is Eastern Michigan University. Founded in 1849, it's not only one of the oldest colleges, but it's also one of the first "normal schools," which means it was a university that taught teachers about the norms of the curriculum. The university is quite large, and it includes eight different colleges and schools, including a school of music and dance.
The school opened its doors in 1853, and it quickly became one of the go-to normal schools in the nation. In 1899, it became Michigan State Normal College, and the school continued to thrive through the years of World War I and the Great Depression. The school continues to grow and expand until this day. Eastern Michigan University offers a diverse list of courses and degree programs, and it has a robust graduate school program. The school has many great traditions, including Martin Luther King, Jr. week and homecoming.
Notable Eastern Michigan University Alumni
There's a long list of great alumni from this school, with some notable graduates. Among them is Andrew Foster, who has the distinction of being the first black deaf person to ever earn a master's degree. Other notable alumni include:
Charles St. John – Astronomer
Anouar H. Smaine – Film director
John Edward Ames – Author
John Hammink – Musician
Greg Mathis – Judge
Ron Campbell – CEO of Tampa Bay Lightning
Edward P. Allen – Republican Congressman
William Horace Frankhauser – Republican U.S. Representative
Bob Owchinko – MLB player
Jim Snyder – MLB player
Maxx Crosby – NFL player
Michigan State University
Back when it was founded in 1855, this college was originally called the Agricultural College of the State of Michigan. It was the first one of its kind in the U.S., in addition to being the first land-grant college in America. The college became an official university in 1955 and officially got its official name of Michigan State University in 1964, so it hasn't really been that long. This is a very large college, and it continues to draw in record numbers of students. There are over 634,000 living alumni around the world; MSU has the highest undergraduate enrollment among all Michigan colleges.
The college started to go beyond its roots when the school's first president, Joseph R. Williams, wanted to start a curriculum that included more than agriculture and one that encouraged all branches of education. Although there were some struggles along the way, including the resignation of Williams, the college eventually started providing the well-rounded educational curriculum that it has today. It helped that Abraham Lincoln passed the Morrill Land-Grant Acts that gave federal funding to colleges of that sort. 
Today, the main campus is located in East Lansing, Michigan; it consists of over 560 buildings, and it will likely only grow from here.
Notable Michigan State University Alumni:
There are many notable alumni of the school, including:
Gretchen Whitmer – Michigan Governor
Debbie Stabenow – Senator
Lee Wan-koo – Former Prime Minister of South Korea
James Caan – Actor
Anthony Heald – Actor
Sam Raimi – Film director
Chris Hansen – Reporter
Jemele Hill – Sportscaster
Michael Kimball – Novelist
Carl Banks – NFL player
Ryan Riess – Poker player
Wayne State University
This public research university, located in Detroit, was founded in 1868. The whole Wayne State family consists of 13 colleges and schools, and overall, it's the third-largest university in Michigan. Overall, the campus sprawls over 203 acres and includes over 100 research and education buildings.
The school started out as the Detroit Medical College in 1868; in 1885, it merged with the Michigan College of Medicine. It then became the Detroit Teacher's College. The college continued to grow and add buildings over time until it became the major university you see today. Even the libraries are huge as they have over four million volumes of books, which makes it the 75th largest collection in the entire country.
Notable Wayne State University Alumni
Some of the famous alumni of Wayne State University include:
Tony Brown – Comedian
Casey Kasem – Radio host
Elvis Mitchell – New York Times film critic
Mark Bertolini – CEO of Aetna
Dan Gilbert – Founder of Quicken Loans
David M. Overton – Founder of the Cheesecake Founder
Ernie Hudson – Actor
Tim Meadows – Comedian
Lily Tomlin – Actress
Anthony Bass – MLB player
Conclusion
This is a sampling of some of the oldest schools in Michigan. Some of these institutions laid the groundwork for what would be the future of the education system, so they're very important. There are many other older schools in Michigan, so check out this expanded list if you ever get the chance, and you'll learn some great facts.
The image featured at the top of this post is ©Sean Pavone/Shutterstock.com.