Connecticut is a state in the Northeastern region of the United States with a population of over 3.6 million. The state is filled with beautiful landscapes and numerous state parks that attract many tourists and locals. It has a rich history dating back centuries and is home to many historic landmarks and educational institutions. The 5 oldest schools in Connecticut are ancient. In this article, we will dive into the history of these institutions.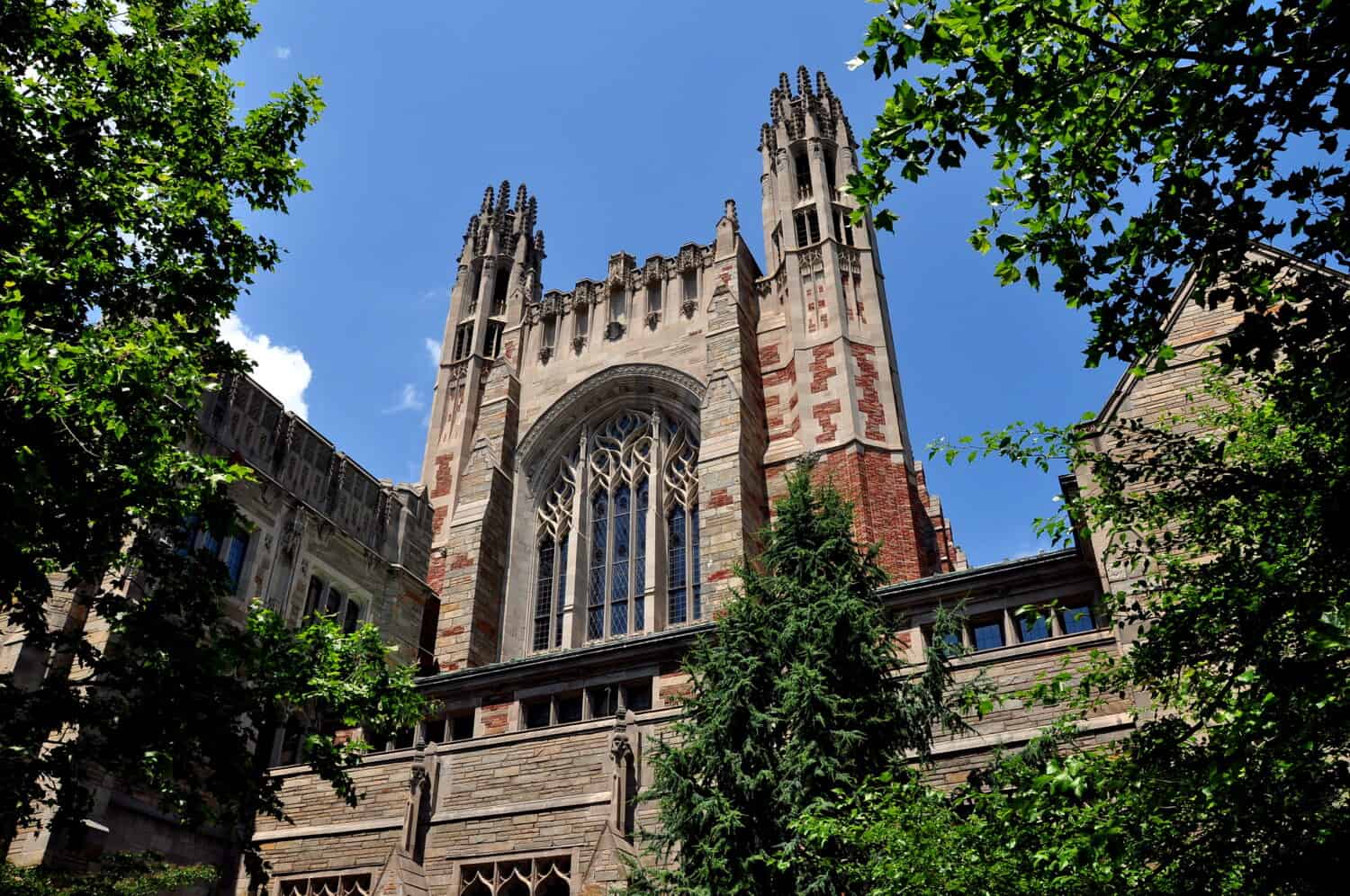 Hopkins School
986 Forest Road, New Haven, Connecticut 06515
Originally, Hopkins Grammar School founded by Edward Hopkins in 1660 in a one-room building on the New Haven green is now a private middle and high school with 710 students for grades 7-12. It is the third oldest independent school in the United States. In 1926 the school relocated to its current location. In 1972 the school merged with Prospect Hill School creating a new co-educational school with a strong education centre.
Hopkins Academics
Mathematics
History
Modern Language (which covers Latin, Ancient Greek, French, Italian, Chinese, and Spanish)
English
Computer Science
Arts
Hopkins Sports
Softball
Swimming/diving
Soccer
Water polo
Cross country
Crew
Football
Field hockey
Basketball
Downhill skiing
Track
Tennis
Wrestling
Volleyball
Fencing
Squash
Lacrosse
Golf
Notable Alumni
Michael L.J. Apuzzo: Editor and academic neurosurgeon
Roger Sherman Baldwin: Governor of Connecticut
Augustus Brandegee: Lawyer
Guido Calabresi: Dean of the Yale Law School
Paul MacCready: Aeronautical Engineer
William Hoppin: Governor of Rhode Island
Scott Lowell: Actor
Harold Hongiu Koh: Assistant Secretary of State for Democracy and Dean of the Yale Law School.
Selden Palmer Spencer: United States Senator for Missouri
Joseph Mansfield: American Civil War Major General
Notable Heads Of Hopkins School
Jeremiah Peck: 1660-1662 Hopkins Grammar School
Haley Olmstead: 1839-1849 Hopkins Grammar School
James M. Whiton: 1854-1864 Hopkins Grammar School
Katherin Glendinning: 1907-1916 The Day School
George B. Lovell: 1916-1953 Hopkins Grammar School
Mary Brewster Thompson: 1939-1952 Prospect Hill School
F. Allen Sherk: 1953-1974 Hopkins Grammar School
Barbara Masters Riley: 2001-2016 Hopkins School
Kai Bynum: 2016-2022: Hopkins School
Yale University
41°18′59″N 72°55′20″W New Haven, Connecticut
Founded in 1701 Yale University was originally known as the "Collegiate School", located at the home of Abraham Pierson in Killingworth now known as Clinton in New Haven. He was considered the first president of Yale.
It is the third oldest school providing higher education in Connecticut with worldwide renown and respect. Further, the curriculum was limited to teaching sacred languages and ministers' theology. Later, the American Revolution extended it to include sciences and humanities.
The university is governed by the Yale Corporation and consists of one of the original undergraduate colleges, Yale Graduate School of Arts and Sciences, and a few other schools. However, each school's faculty is accountable for its degree and program.
Furthermore, the university's facility is the second largest institution and was valued at $42.3 billion in 2021.
Yale Offers An Outstanding Academic Program
At Yale, students have the opportunity to choose from a variety of academic programs such as engineering, social sciences, and natural sciences. You can find out further information here.
Sports at Yale
The football revolutionary between Yale and Harvard began in 1875. It was later between 1892 that Yale and Harvard had their first interschool debates. These debates were covered by magazines and newspapers in 1905 and become a highlight bring communities together. Let us take a look at the sports Yale offers today.
Golf
Soccer
Basketball
Volleyball
Tennis
Ice hockey
Softball
Football
Baseball
Field hockey
Gymnastics
Filed lacrosse
Woman's tennis
Cross country
Fencing
Diving
Presidential Yale Alumni
Many of the U.S. presidents have attended Yale University let's dive into the Presidential Yale alumni.
William Howard Taft: 27th
Gerald Ford: 38th
George H.W. Bush: 41st
Bill Clinton: 42nd
George W. Bush: 43rd
Notable Alumni
Henry Louis Gates Jr.: Historian and Literacy critic
Clarence Thomas: Associate Justice of the Supreme Court of the United States
Paul Krugman: Economist
Samuel Alito: Associate Justice of the Supreme Court of the United States
Sonia Sotomayor: Associate Justice of the Supreme Court of the United States
Jodie Foster: Actress in movies such as Tom Sawyer, Silence of the Lambs, Panic Room, and Elysium. As well as TV shows like The Doris Day Show, The Courtship of Eddie's Father, Gun Side, Frasier, The X-Files, and many more
Northwich Free Academy
305 Broadway, Norwich, CT 06360
Located in Norwich, Connecticut, founded in 1854 the Norwich Free Academy has been in action since 1856. It is an independent co-educational school teaching students in grades 9-12. Furthermore, it is managed by a board of trustees. The Connecticut State Department of Education defines the Academy as "a privately overseen, brilliant, regional independent school" and one of the three best, academies in the state.
The Academy is the primary high school for the Northwich region and commits to providing quality education to students in the surrounding areas of Voluntown, Bozrah, Frankin, Preston, and Brooklyn. In 2001 the U.S. Department of Education recognized Northwich Free Academy as a National Blue Ribbon School of Excellence.
Academics
Northwich Free Academy offers more than 230 courses and more than 40 visual and performing arts classes including six different languages.
Campus Size
The main campus is 38 acres and has seven buildings listed in the National Register of Historic Places with the Slater Memorial Museum being the most popular.
Sports Activities
Additionally, for centuries football has been one of the most popular and captivating sporting games in the United States. The oldest high school football competition was between Bulkely School for Boys and Northwich Free Academy in May 1875. It has turned into a phenomenal sport that brings people together. Northwich Free Academy has a variety of sporting activities that bring the people of Northwich and surrounding areas together.
Baseball
Basketball
Cheerleading
Cross country
Dance team
Fencing
Field hockey
Football
Golf
Hockey
Lacrosse
Soccer
Softball
Swimming
Tennis
Track and field
Volleyball
Wrestling
Notable Alumni
Edwin H. Land: Co-founder of the Polaroid
Allyn L. Brown: Chief Justice of the Connecticut Supreme Court
Andrew Carignan: Professional baseball player for the San Francisco Giants
Ida Mae Martinez: Yodeler in April 1999 on the Rosie O'Donnell Show and professional wrestler. She was also awarded Senator Hugh Farley Award in 2006 by the Professional Wrestling Hall of Fame
Matt Shaughnessy: Professional football player for the New Orleans Saints
Notable Faculty
Wally Lamb: Author of I Know This Much Is True and She's Come Undone
Paul Faulker: Artist
Alexey von Schlippe: Artist
Henry Watson Kent: Museaum administrator and librarian
Wesleyan University
45 Wyllys Avenue, Middletown, CT 06459
Located in Middletown, and established in 1831, Wesleyan University was founded by the Methodist leader John Wesley as a men's college. Tuition was $36 per year and first commenced with one tutor, three professors, Willbur Fisk as first president, and 48 students. Between 1872 and 1909 the university accepted female students, although it did not become fully co-ed until 1970. Later, in 2000 it was chosen as a Methodist historic site.
Over the years Wesleyan University has expanded and invested in the campus academic programs and infrastructure, therefore, allowing students to gain the best academic experience and providing them with a positive foundation to change the world.
Wesleyan attracts students from all over the world and has a reputation for its liberal arts education. Wesleyan University offers more than 900 courses and has roughly 2,900 full-time undergraduates and 140 graduate students, along with 100 part-time students. About 300 full-time faculty members join each semester to teach and most courses have less than 20 students.
Athletics
Furthermore, Wesleyan is an associate of the Division III New England Small College Athletic Conference (NESCAC). Offering 29 sports for men and women.
Men's sports offered:
Basketball
Crew
Cross country
Football
Golg
Ice hockey
Lacross
Soccer
Squash
Swimming/diving
Track and field
Tennis
Wrestling
Women's sports offered:
Crew
Basketball
Cross country
Golf
Field hockey
Ice hockey
Lacross
Soccer
Squash
Softball
Tennis
Track and field
Volleyball
Notable Alumni
Lin-Manuel Miranda: Actor in the Heights and Hamilton also received the Pulitzer Prize and Tony Award
David Josiah Brewer: Former Associate of the Justin Supreme Court of the United States
Lael Brainard: Director of the National Economic Council
Michael Bay: Director of Pearl Harbor, the Transformers series, and Armageddon
D.B. Weiss: Showrunner and co-creator of The Game of Thrones
John Hickenlooper: Former Governor of Colorada and U.S. Senator of Colorada
Joss Whedon: Co-writer of Toy Story, director of The Avengers, and creator of Buffy the Vampire Slayer
Willie Garson: Actor in Hawaii Five-0 and Sex and the City
Dana Delany: Actress in Desperate Housewives and China Beach
Akiva Goldsman: Academy Award-winning screenwriter for The Da Vinci Code, A Beautiful Mind, Batman & Robyn and I Am Legend
Choate Rosemary Hall
333 Christian Street, Wallingford, CT 06492
Choate Rosemary Hall was founded by two New England families, Mary Atwater Choate and her husband William Gardner Choate on Rosemary Farm in Wallingford in 1890 at their summer home residence. It is a private, college preparatory co-educational boarding school in Wallingford, Connecticut. It acquired its current name and became a co-educational school when The Choate School for Boys and Rosemary Hall for Girls combined in 1971. Choate Rosemary Hall has an ancient history of supporting its community and students with an outstanding academic program. Preparing students for success in college and further.
What Academics Does Choate Rosemary Hall Offer?
Additionally, Choate Rosemary Hall's faculty challenges their students to step out of their comfort zone and explore the following subjects.
Arts
English
History, Philosophy, Religion, and Social Science
Languages
Mathematics and Computer Science
Multidisciplinary
Science
Signature Programmes
Athletics
Know as the Wild Boars Choate Rosemary Hall offers a wide variety of sports throughout each season.
Fall and in-house sports include:
Cross country
Field hockey
Football
Soccer
Girls volleyball
Boys water polo
Dance
Squash
Crew
Fitness & Conditioning
Farming
Rock Climbing
Senior Soccer
Kayaking
Tennis
Winter and in-house sports include:
Archery
Basketball
Ice-hockey
Squash
Wrestling
Swimming and diving
Dance incentive
Fitness rowing
Winter running
Yoga via Zoom in the a.m.
Spring and in-house sports include:
Baseball
Crew
Lacross
Sailing Softball
Softball
Tennis
Track and field
Ultimate frizzbie
Boys volleyball
Girls water polo
Gardening and farming
Fitness swimming
Spring running
Afternoon activities that consist of Community Service, tech theatre costumes, and scenery
Final Thoughts
Finally, Connecticut is favored for its natural beauty, coastal towns with delicious seafood restaurants as well as favorable tourist attractions. This state is proud of its historical heritage and its commitment to continue providing quality education to our youth and guiding them to become remarkable leaders. The 5 schools in Connecticut are ancient and are continuing to guide and educatate our future leaders.
Related Articles
The image featured at the top of this post is ©PeopleImages.com - Yuri A/Shutterstock.com.