South Dakota is located in the North Central Region of the United States and was named after the Dakota Sioux Native American tribe. It is also part of the Great Plains. As of 2022, it has a population of 909,824 million residents. It is bordered by Montana to the northwest, Lowa to the southeast, North Dakota to the north, Nebraska to the south, Minnesota to the east, and Wyoming to the west. If you love the outdoors, South Dakota is the perfect holiday destination. Whether you enjoy walking trails, hunting, or fishing, there is something for everyone to do. However, the most expensive hotels in South Dakota are outrageous. In this article, we will explore some of the most expensive hotels and activities you can do in South Dakota.
The Bank Hotel Deadwood
696 Main Street, Deadwood, SD 57732, United States
Price: $1000
This sumptuous 5-star boutique hotel is situated on Main Street across Deadwood's Outlaw Square in the historic Black Hill Trust & Savings Bank that was erected in 1903. From the condos, you can see all of Deadwood's main events, such as concerts and ice skating. The hotel is within walking distance of casinos, nightlife fun, brew pubs, and restaurants. In addition, the hotel does not allow any pets, including service dogs, as the owner has severe allergies.
Condos
Additionally, warm fireplaces exist in one- or three-bedroom apartments and studios for two. Each condo has complimentary wireless internet, a well-equipped kitchen, flat-screen TVs, a fireplace, and comfortable king-size beds. In addition, there is also a queen-sized sofa bed in most of the suites. The flooring is made of hardwood, parquet, marble, or tile.
What's Near the Bank Hotel Deadwood?
Adams Museum, 150 m
Sturgis City Park, 19 km
Off-Leash Dog Park, 11 km
Lookout Park, 18 km
Manuel Brothers Park, 3.4 km
Mavericks Steaks & Cocktails, 40 m
Hickok's Pizza, 50 m
Café/bar Sick-N-Twisted, 30 m
Kussy Express Ski Lift, 9 km
Surprise Express Ski Lift, 9 km
Goldcorp Express Ski Lift, 9 km
EO Bungalows
28 N 7th St, Custer, SD 57730, United States
Price: $160
This 4-star hotel was built in the 19th century and is located in Custer. It is 32 km from Mount Rushmore, 1 km from Black Hills National Forest, and 8 km from Crazy Horse Monument. There are four private bungalows, and each is made for two people; children are not allowed. Further, it has a beautiful rose courtyard with comfortable seating and a gas fire pit with a Weber gas grill where you can enjoy a few drinks and watch the sun go down.
Each room has a patio with city views. The rooms include a living area, air conditioning, a flat-screen TV, a dining area, a kitchenette, a private bathroom with free toiletries, a steam shower, and a hair dryer. Furthermore, each room has a safety deposit box, a coffee machine, a fitted closet, plush linen, and a fully adjustable, purple mattress.
Activities Near EO Bungalows
Wind Cave National Park, 0 m
Charolette Tracy Park, 18 km
Harbach Centennial Park, 200 m
Gates Park 2.1 km
South Seas Climbing Area, 17 km
Way Park, 350 m
French Creek Park, 500 m
Big Rock Park, 350 m
Crazy Horse Monument, 8 km
Custer State Park, 7 km
Maria's Mexican Restaurant, 40 m
Café/bar VFW Post, 20 m
Our Place Restaurant, 100 m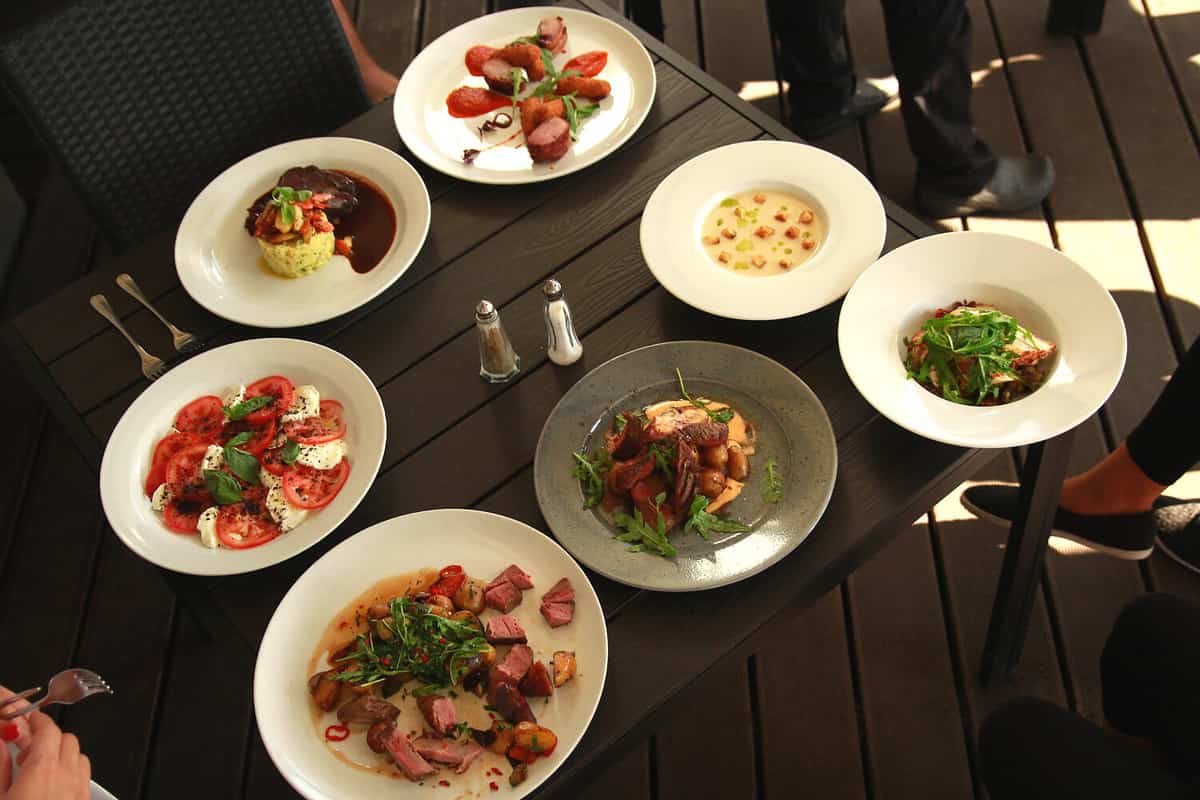 Holiday Inn Express & Suites
2803 8th Ave SE, Watertown, 57201, United States
Price: $167
The Holiday Inn Express & Suites has 84 rooms and 18 suites. It focuses on value, space, and comfort. Rooms include soft bedding, a closet, a lounge chair, a fridge, a microwave, a work desk, and a coffee maker. It also features an indoor pool and an indoor whirlpool.
Eat and Drink
The Express breakfast bar has its popular cinnamon rolls and is home to the famous pancake maker.
Kids eat free
Continental breakfast is included
Full breakfast included
Complimentary coffee is available in the lobby
Breakfast buffet included
Conclusion
In conclusion, whether you're planning a weekend away, a business trip, or a family vacation, South Dakota offers a variety of hotels to suit every budget. If you are looking for luxury, then The Bank Hotel Deadwood would be an excellent choice. Known for its elegance, this hotel caters to those who appreciate the finer things in life. On the other hand, if you're looking for a more budget-friendly hotel, the Holiday Inn Express would be a great choice. They offer affordable rates and still provide great amenities without reducing their quality. And to start your day, you get to have a complimentary breakfast. The most expensive hotels in South Dakota are outrageous but well worth it.
Related Articles
The image featured at the top of this post is ©JohnDSmith/Shutterstock.com.