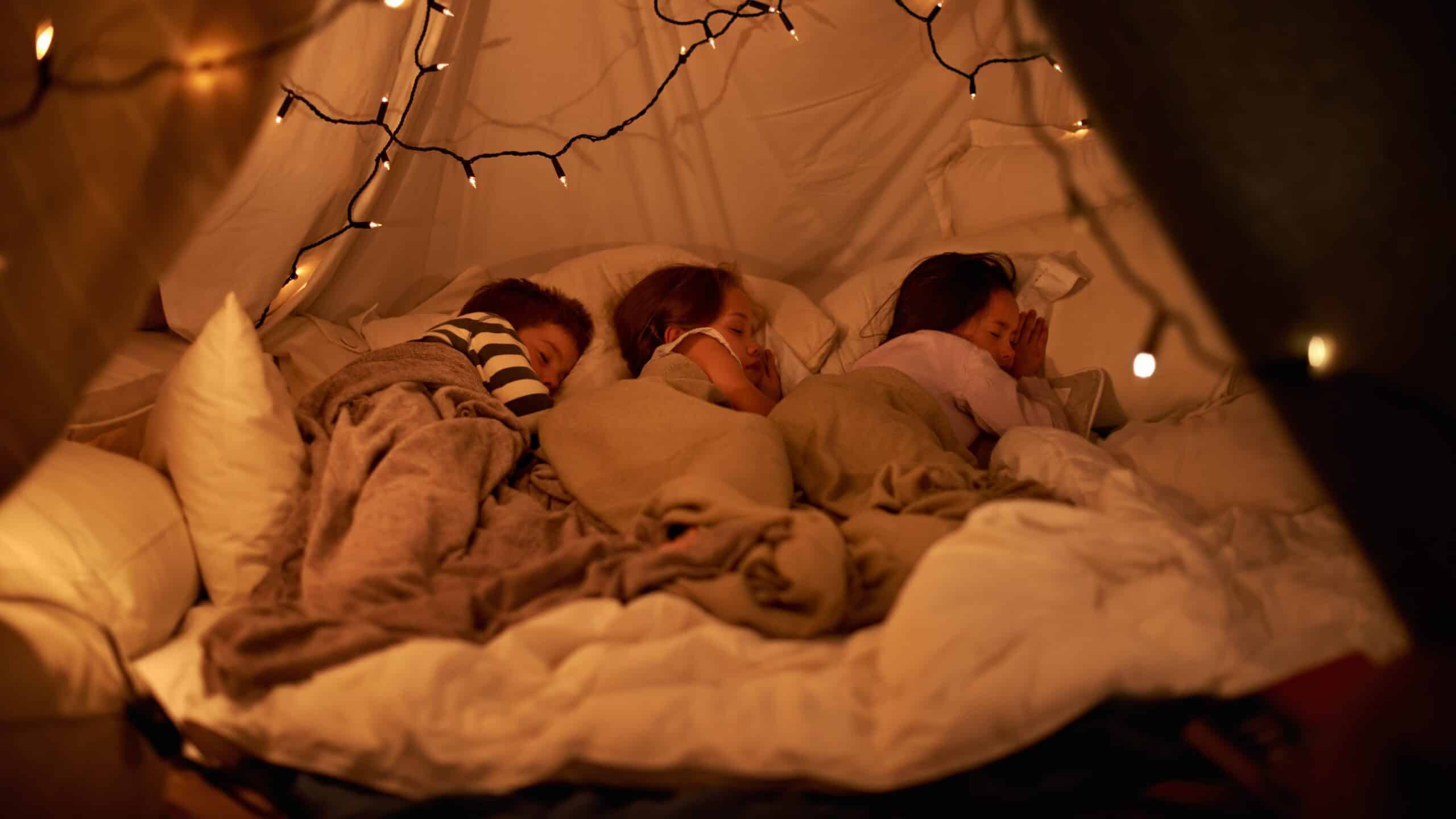 A specially designed kid's sleeping bag is undoubtedly one of the most crucial pieces of equipment for children to make sleeping away from their bed work. Fortunately, many of the major brands produce weather-resistant bags that are aesthetically pleasing for kids, and easy on your pocket. Your kids will love having their very own multipurpose sleeping bag that they can use for sleepovers in the living room, and even in the backyard!
It's incredibly practical to have a kids' sleeping bag with a built-in pillow because it's comfortable, it all rolls up together, and is simple to carry or toss in the car. A sleeping bag gives your child a cozy, comfortable spot to lounge or nap while keeping them warm.  Also, they are fun and convenient! There are so many interesting designs available today that will undoubtedly provide plenty of options for both you and your youngster to choose from.
Below, we look at our top options for the best kids sleeping bags with pillows. We will also provide a detailed explanation of what to look for in a kids' sleeping bag when purchasing one, along with how to clean, maintain and store them for long-term use.
What To Consider
While looking for the best children's sleeping bag, there are several factors to bear in mind:
Use: What purpose do you have in mind for the sleeping bag? Do you need something for your kids to hang out at home or for use at daycare, preschool, or outdoor camping? If it's for school, search for one that has a built-in name tag and is simple for your youngster to fold up.
Material: If you camp outdoors and during the colder months, materials are a major consideration. It's essential to have a water-resistant outer made of nylon or polyester if it's going to be cold and damp where you are. The warmest and smallest-packing filler is down, which is also typically given a protective shell to keep it weatherproof. Yet the price is also the highest. Although they are a little heavier, synthetic fillers work well in the cold and stay warm even when wet. They are also fairly inexpensive.
Shape: Shape relates to the actual silhouette of the children's sleeping bag; there are various options. Rectangular, lightweight sleeping bags are excellent for use indoors or during the summer. The modified mummy form comes next, its intention is to retain heat a little bit longer on chilly nights. The full mummy is excellent for maintaining heat and providing maximum warmth in chilly outdoor situations. The final design is the double, a rectangular sleeping bag made for two people.
Design features: In most situations, design features like pack straps, zipper type, pockets, and hoods are important considerations when buying a sleeping bag for kids. It's excellent that hoods and pillow pockets add a little more warmth to the head region. A child's sleeping bag must have zippers that don't clog the lining as a basic feature. Your youngster will find it simpler to put on and take off their sleeping bag on their own thanks to these. This style of zipper also helps kids stay calm when nature makes urgent nighttime calls.
Temperature: Manufacturers determine what temperatures are ideal for each sleeping bag based on its warmth rating. Three-season bags are for temperatures between 10 and 30 degrees Fahrenheit. Summer bags can be used in temperatures as high as 30 degrees. Winter bags are typically in use in temperatures as low as 15. Make sure the bag you purchase is suitable for the time of year when your child will use it the most.
Size: When purchasing a sleeping bag for children, size is crucial. Kids' sleeping bags should snugly fit them with a few extra inches at the bottom. Due to the risk of SIDS, you should never place an infant in a typical sleeping bag. Nevertheless, for children over 2 (who are old enough to sleep with blankets), sleeping bags without a hood should be able to be brought up to their neck with room below for them to kick their feet.
Here is a guide to the best children's sleeping bags with pillows for every child in every season, keeping these factors in mind.
The Best Sleeping Bags With Pillows for Kids
1. DreamsBe Glow-in-the-Dark Slumber Bag
This is the coziest and most distinctive sleeping bag for children. The fact that it lights at night adds to its distinctiveness. The DreamsBe sleeper bag is ideal for bedtime cuddles, camping, visits to grandma's, sleepovers, and movie nights. It easily rolls up for storage and transportation. This is available in either a blue dinosaur or pink unicorn fun design.
This one does not have a separate pillow but does have a handy hidden zipper pocket where you may place your preferred pillow. Kids of all ages can zip open and shut the zipper without getting trapped or stuck because it is sturdy but simple to use.
Because it is composed of premium 100% plush polyester with additional batting sewed in, it is soft, warm, and snuggly. The bedding won't fade, shed, shrink, or wrinkle. The polyester fleece fabric may be machine washed on cold and tumble dry on low without losing its plumpness.
A fairy perched on a cloud, a fairy perched on the moon, two adorable unicorns, and stars can be seen on the pink unicorn sleep mat. Four common dinosaurs, including Stegosaurus, Brachiosaurus, T-Rex, and Triceratops, are on the blue dinosaur nap mat. You kids will be happy to know that when this sleeping bag is near a light source, the designs will glow green at night. How fun!
2. Oaskys Camping Sleeping Bag – 3 Season Warm & Cool Weather
This sleeping bag is one of the most popular on Amazon by a wide margin and with good reason. Reviewers remark on how weather-resistant, comfortable, and warm it is.
Oaskys' camping sleeping bag is a warm-weather and cool-weather bed that works well for three seasons (on the warmer side). This bag works best between 10 and 20 degrees Celsius (50-68 degrees Fahrenheit), making it excellent for summertime camping. With the weather-resistant stitching on the nylon fabric, you can forget about moisture and sweating, translating to a warm and dry sleep time.
After a long day of adventurous sports, this bed is the perfect temperature to sink into thanks to Oaskys' innovative double-filling technology. A separate zip at the bottom allows their little feet to breathe, and the design is rectangular with a round top.
Due to its sturdy 210T anti-tear polyester exterior and 190T polyester pongee inner, this sleeping bag is made to last. It is quite simple to carry and appropriate for lengthy excursions. The bag has a reasonable price and is available in a wide range of sizes, colors, and forms for everyone.
The interior is plush and velvety, and there is room for your little wiggly worms to spread out and have a peaceful evening. Yeah, this is for camping in the summer, but it's also great for sleepovers and for huddling up by a fire in the fall.
3. Urban Infant Bulkie Kids All-Purpose Nap/Sleep Mat
Not only does this sleeping bag by Urban Infant come with a pillow for your child's comfortable sleep, but it also transforms into a lightweight, portable backpack. The ideal option for daycare, preschool, sleepovers, and chilling out at home on a wet day.
The Bulkie's moniker is well-deserved. It can be used directly on a hard floor and is thick, snug, comfortable, and fluffy. The inner blanket lining is 100% cotton flannel, and the body is a plush mixture of cotton and polyester materials. For a cozy snooze, the blanket is quilted and the base padding is thick.
The innovative construction allows it to fold so your child can carry it directly on their back. The Bulkie securely snaps together with two basic buckles and comes with kid-sized backpack straps. Also, there is a handy top-carrying handle since, as we know too well, parents wind up carrying everything!
The Bulkie grows with your child, which is another fantastic feature. It is 48 inches long for children ages 2-4 when used with the pillow turned down. Just flip it up as your child grows for a full 56″ length, suitable for children up to age 7.
Urban Infant creates distinctive items for parents. They have won the National Parenting Product Award, the renowned Mom's Choice Award, and the National Parenting Center Seal of Approval.
4. EVERYDAY KIDS Toddler Nap Mat With Removable Pillow
This nap mat will make children aged 2 to 6 feel as though they are resting on a soft, silky blanket on their bed! Your children will have plenty of room to wander around thanks to the attached comforter's soft microfiber material and lack of a zipper. The sleeping bag rolls up and has a carrying strap, and the pillow is detachable. They can quickly recognize which mat is theirs for nap time thanks to the name tag window.
It comes in 15 distinct patterns, is machine washable, and measures 20″ x 50″. The majority of people seem satisfied with this napping bag, based on reviews. With no polyester feel and super-soft cotton make, it dries and washes beautifully while maintaining the integrity of all the padding which stays intact, with no lumping. It provides just enough padding for its young customers without being overly bulky.
They enjoy carrying it around because it is so lightweight! Your children will remain covered even if they turn over. This is thanks to the top cover flap being slightly wider than the bag's bottom. For such a low price point, it is a pleasant surprise, considering it is very well made!
5. Happy Nappers Pillow & Sleepy Sack
Happy Nappers are the ideal play pillows that, with a quick pull and zip, unfold into a surprise sleep sack. They are ideal for fun, naps, short trips, or sleepovers. Your kids will adore cuddling up to this beautiful cuddly companion.
Lilly the Ladybug, Duncan the Dragon, Shak the Shark, Monique the Pink Unicorn, Kodiak the Gray Husky, Dusty the Yello Dog, Charlotte the Pink Cat, and Arianna the White Unicorn are just a few of the amusing characters for your little one to choose from!
This lovely circular plush is the ideal play pillow and is just the cutest thing ever. Just pull on their feet to reveal the comfortable sleep sack when it's time to go to bed. Once sleep time is over, the sleepy sack can be folded up, fastened with two button snaps, and used for playtime once more.
Given that it is made of such soft material, your child will adore cuddling up in it. Also, while they are napping, the soft built-in pillow will support their head. There are two sizes available: large and medium. Thus, choose the size that fits your child's height the best.
An added plus of the Happy Napper is that it's easy to clean. Since it is machine wash on a gentle cycle, you will always have a clean sleep sack available for your little one to use.
Sleeping Bag Liners
They are typically made of fleece, cotton, silk, or synthetic materials (such as microfiber or polyester). Silk and fleece act as insulators. They raise a bag's temperature by a few degrees. Whereas, cotton or synthetic materials are good for keeping your sleeping bag's interior clean.
Though bulky, the fleece ones are excellent for situations when you might be sleeping in a range of temperatures. For instance, on a large mountain, base camp might be significantly warmer than the high, frigid camps where you might use a four-season bag. In that situation, you can use the sleeping bag as a duvet while sleeping in the fleece liner.
Silk liners are lighter and more compact than fleece liners, yet they are also warm, though not as warm.
For hot and muggy jungle excursions where you don't even need a sleeping bag, cotton liners work great. If you wish to use them as a liner instead of a whole sleeping bag, they're considerably simpler to clean and are ideal for hostels and indoor use.
Some synthetic liners are fairly innovative. They make use of a hollow-core Thermolite fiber and a three-dimensional knitted structure that effectively traps air. This may be used as a stand-alone sleeping bag.
How to Care for A Sleeping Bag
It's not necessary to wash your child's sleeping bag after each use. If done improperly, washing a sleeping bag in the washing machine too frequently could degrade the fabric's quality. This will cause it to lose insulation.
Instead, use a toothbrush, soap, and water to spot-clean any unclean spots. One should thoroughly clean the sleeping bag without submerging it in water. Baby wipes are another excellent option. When cleaning and rinsing these places, be careful not to get the insulating material wet. After cleaning and rinsing, let the sleeping bag air dry.
If you must wash your child's sleeping bag in the washer, avoid using an agitator and avoid using fabric softener. Instead, for synthetic and down-filled bags, use a technical fabric soap. Use the gentle setting on your machine or hand-wash the sleeping bag.
Storing Your Kids' Sleeping Bags
The storage bags with children's sleeping bags typically offer some degree of protection against grit and dust while they are in storage. To prevent mildew and mold, make sure the sleeping bag is entirely dry and clean before storing it for an extended period. Keep the sleeping bag warm, dry, and out of direct sunlight.