Project-based learning is among the best methods for teaching kids new things. Not to mention, a lot of project-based ideas, like painting, may also be really enjoyable and creative! Any kid may explore, ponder, create, and learn via painting, which can also be an incredibly soothing and often therapeutic craft. Therefore, if you're unsure of what painting activities you can do with a child, whether it be your own kid or a student, these 6 painting projects have you covered!
6 painting projects to make with kids
1. Watercolors and Glue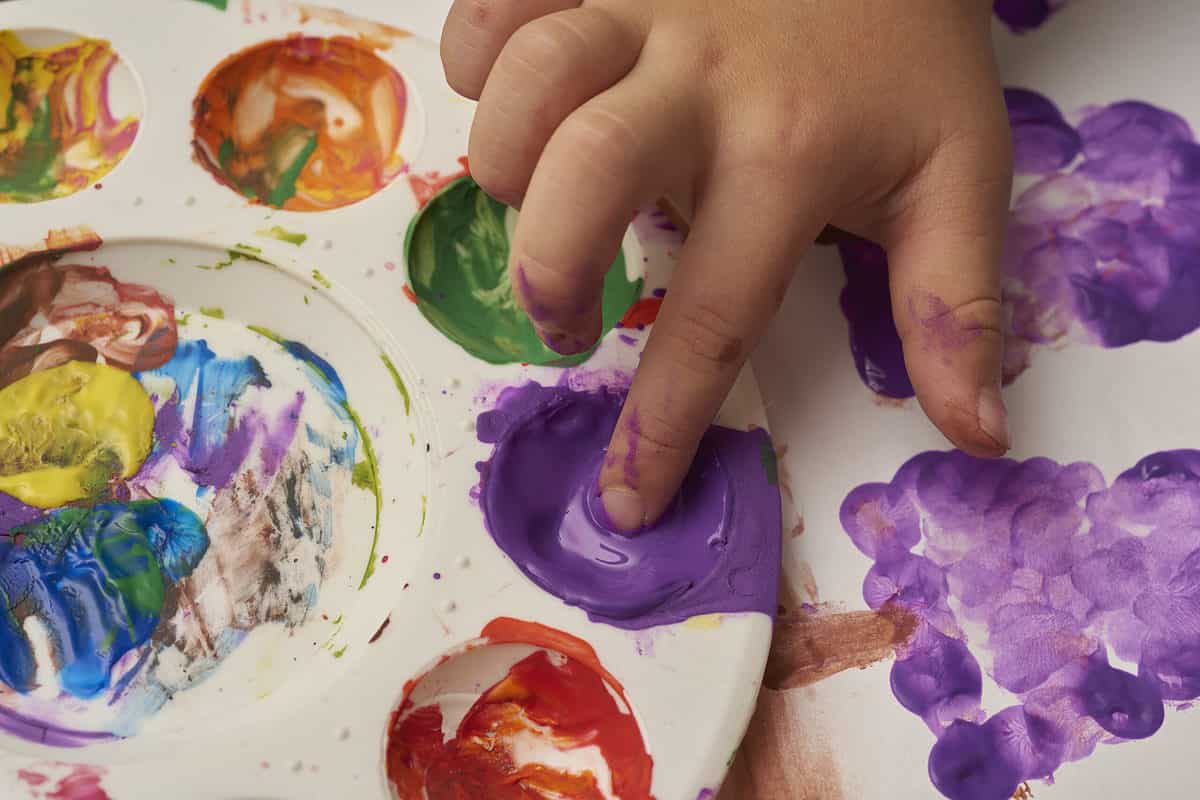 Want to elevate any watercolor picture with your child? Try adding glue! For this idea, you will need paper, watercolor paints, brushes, and a bottle of any generic or name-brand glue. Trace or draw an image onto a piece of paper using the bottle of glue, let it dry, then let the kid paint inside the image with watercolors to their heart's desire! Using this method not only creates an elevated look but also allows the child to experiment with texture and also create 3D-looking images! You can even take it a step further and add dye to the glue bottle to make it even more abstract. It is an incredibly cheap and easy painting project, not to mention it is also very fun!
2. Paint Pouring
Want to try a viral trend with your student or child? Paint pouring is a massively popular painting project tried all throughout the world! Not only is this form of painting both affordable and easy, but it is also very fun and fascinating to watch. For supplies, you will need a plastic tablecloth, acrylic paint, water, a cup, and a blank canvas. You can even find many of these items at your local dollar store. Grab a cup and fill about ¼ of it with water and then pour or squeeze some acrylic paint into it and stir. You want the consistency to be like runny pancake batter. You can either make your own colors by adding different paints or use several cups with different colors within them.
Next, center the blank canvas onto a plastic tablecloth because this project can be quite messy. Once the area is ready, start drizzling your paint cups onto the canvas! You can either pour the paint onto all blank areas and move the canvas around, or you can lay the colors on top of each other. Whichever method you choose, the result will be both abstract and fascinating!
3. Puff Paint
Wanting to create a raised look on a sheet of paper or canvas? Or does your child want to create their own wardrobe or need to make a shirt for a school project? Well then, puffy paint is your best friend! Puffy paint is an acrylic craft paint that dries on your project's surface as a raised puff. You can make specific drawings on a variety of media, including paper, wood, clothes, and shoes, thanks to this extra dimension. While most stores sell this paint in variety packs, you can also make it on your own by adding equal parts shaving foam and glue to a bowl (plus food coloring or dyes)! However, this DIY method usually only works on paper and not really on fabric. Either way, puffy paint is really fun and creative for any kid!
4. Ice Paint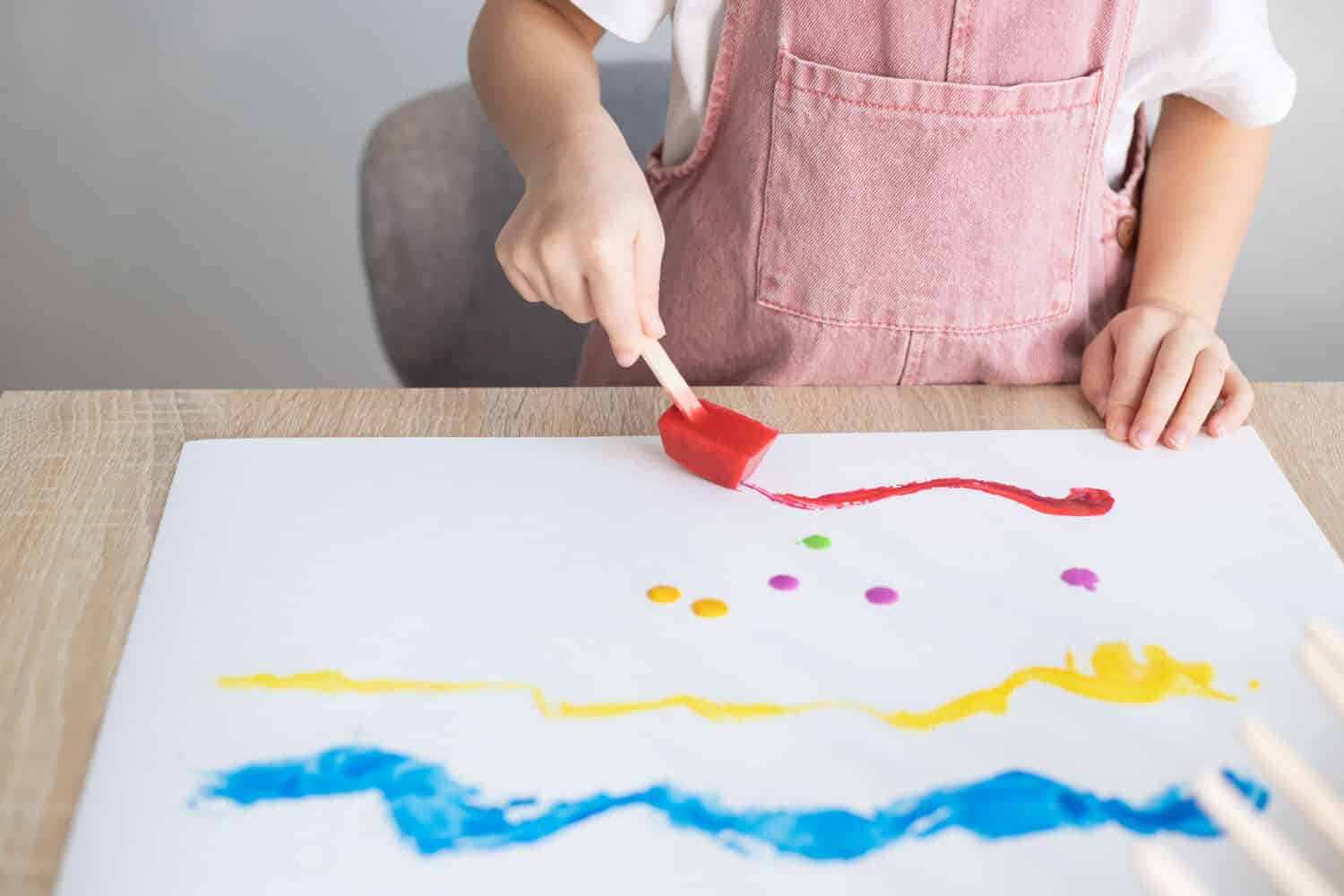 Trying to stay cool in the summer with your child or find a fun activity to try for your camp students? Look no further than ice painting! For this project, you will need an ice cube tray, washable paint, and water. Fill each ice cube slot with a little warm water. Then, add some washable paint to fill the rest of the slot. Now, mix each filled slot with a brush, and stick it in the freezer for a few hours! Once the paint cubes have formed, pop them out and create any masterpiece you'd like on paper with them in your hands! This activity is fun to do outside, but the ice will melt fairly quickly. So, be sure to have your kiddo do this near any area that you don't mind getting messy. And remember, use washable paint!
5. Straw Painting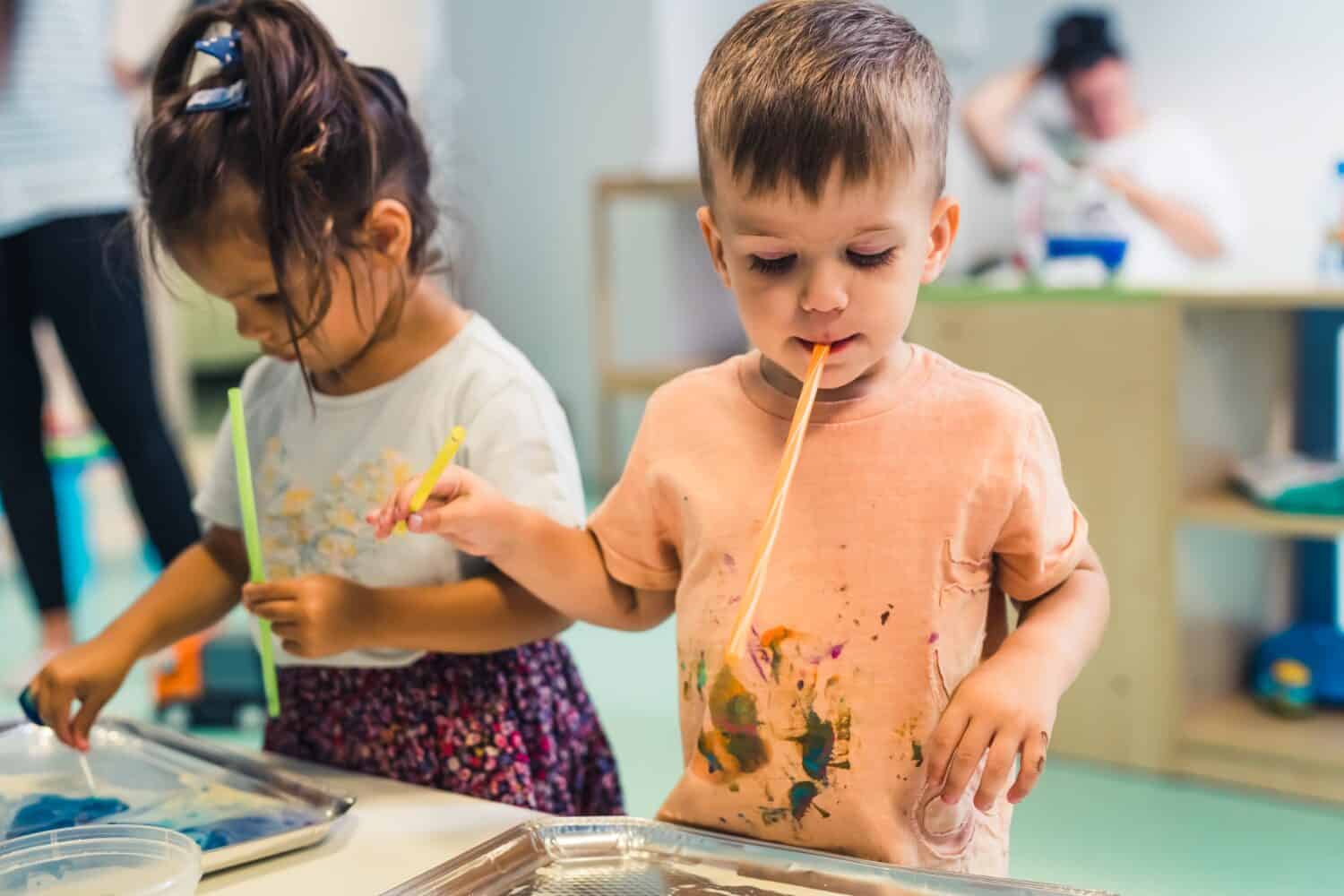 Another fun and affordable method of painting can actually be done with a straw! This is a great painting project that can be done in the kitchen using easy and cheap materials. Grab a sheet of paper, mix some watercolors together, grab a straw, and blow the paint around to make a masterpiece come to life! You can get really creative with this or create an abstract image that will allow any kid to explore through color and motion. For example, you can paint a yellow circle in the center of the paper, let it dry, grab a brush, and dab orange dots around the circle. From there, you can use a straw to blow the wet orange dots into lines and create a really fun and abstract-looking sun. The options for this painting project are endless and each piece is guaranteed to be completely unique!
6. Nature Painting
Have some paint but no brushes on hand? Just go outside! Many of our earth's resources can be used as a natural brush for any child's painting project! Most leaves, branches, and flowers can be dipped in any kind of paint and then spread around on a blank canvas to create a vivid piece of art. Simply swirl, draw, or splat the paint around with any natural materials. You can also paint on many collected items, such as rocks or leaves, as well as glue the materials down to your canvas to make it even more unique! This project is not only affordable and easy, but it is also a great way to introduce any kid to our planet's very own natural resources!
In Conclusion
Even if a lot of parents and teachers perceive painting to occasionally be a messy and expensive process, there are many different ways to produce amazing art projects with kids using inexpensive and simple supplies! These options are a ton of fun and also enable your child to pick up simple gross motor skills while engaging their creativity and playing with color.
The image featured at the top of this post is ©Billion Photos/Shutterstock.com.