When Easter rolls around, the air is warmer, you start seeing colorful blooms on flowers, and everything feels brighter. Your children may start to feel more blissful and content. Spring is right around the corner, and you may be gearing up for engaging and fun activities by looking for the best things to do with kids for Easter this year.
They can get outside and play while enjoying the sunshine beating down on them. Spring brings a fresh outlook to our days and a joy that may have felt lost during the winter.
Your children are eager to get outdoors, enjoy the Spring air, and participate in Easter activities! Your kids will love so many fantastic activities it can feel hard to narrow them all down! Now you don't have to. We have compiled the best Easter activities that your child will love this year!
Easter Activities Cultivate A Family Culture That Will Last For Years To Come
Life gets busy. It can be hard to create time for new traditions for our kids and families. However, if you want to encourage a tight-knit family culture, creating new holiday traditions is one of the best things to do with kids for Easter.
Kids love holidays, and giving them a fun activity to look forward to will create a sense of closeness and excitement they will look forward to every year. No matter what you decide, your children will love doing any fun Easter activities this year with you!
The Best Things To Do With Kids For Easter
If you want fun things to do with kids for Easter this year, this list will provide creative and engaging ideas! You can find easy crafts using hands-on materials to ideas for Easter egg hunts. Create an engaging Easter tradition this year with your family!
Easter Crafts
Easter crafts do not have to be hard! You can create simple crafts out of materials you have on hand, and your children will love them just the same. Here are a few fun ones to try this year:
Paper Plate Bunny
Paint your paper plate any color, add ears out of construction paper, and build the face however you want! It's simple but fun for children to create their own Easter bunny faces.
Decorate Your Own Easter Eggs
Cut easter egg outlines from construction paper or cardstock. Provide your child with plenty of decoration material, such as puffballs, glitter glue, markers, and paper strips. Enjoy decorating your Easter eggs; you could even add googly eyes to create a chick and then hang them around the house!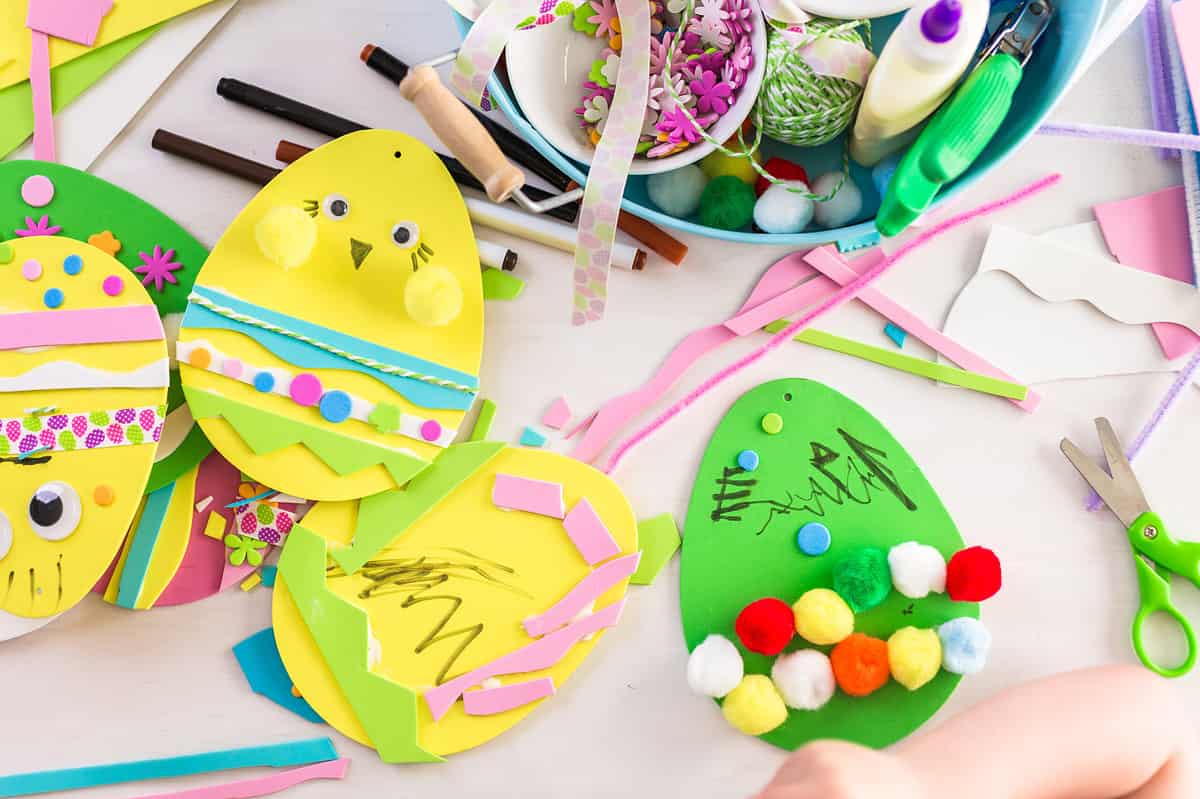 Toilet Paper Bunny
Paint your toilet paper roll and let it dry. Afterward, attach construction paper ears to the top, and then decorate with googly eyes, ribbon, or whatever you have on hand! Now you have a beautiful Easter bunny to decorate your home with.
Hand Bunny
This one is so simple! Trace your hand and then cut it out. Cut out the middle finger, so there are only four fingers left. Fold your thumb and pinky finger down. You now have two arms and two ears. Decorate your bunny by adding your ear outlines, face, and belly!
Easter Egg Wreath
Cut out easter egg outlines from construction paper. Color and decorate the eggs however you want, and glue each end to the next egg to create a wreath. You can even add a bunny for the bottom! Hole punch the top of the egg wreath and run a ribbon through it or glue it on. Now you have a beautiful Easter egg wreath!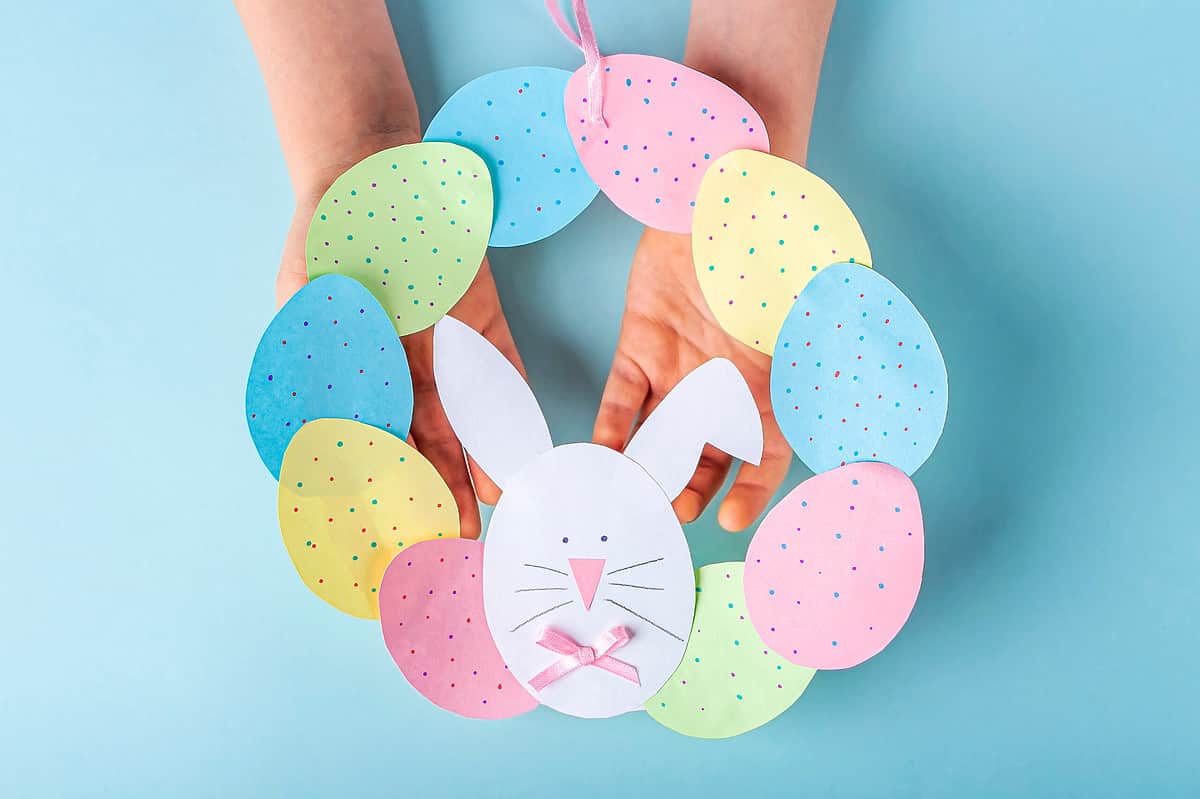 Easter Treat Baking
There are so many Easter treats that you can make as a family! Try out this fun Easter bunny cake to make as a family. The ingredients are simple and easy!
Use two round cake layers to create a bunny, coconut, and green food coloring to put on top of the bunny cake, and the food coloring is for the grass around the bunny! Decorate with jelly beans and candy. It's so easy. Your littlest ones will love this fun activity. Read this post for complete instructions.
There are also so many other Easter treats you can bake as a family, check out these adorable baking ideas!
Easter Printables
Easter printables can make a mom's life easy and fun! Your child will love getting a new coloring page; all you have to do is hit print.
You can also try this fun activity with your child called "You've been egged!"
This activity is so fun your children will be begging to do it with all their neighbors and friends! Instead of egging a person's house (Don't do that! We want to make friends, not lose them), Fill up 12 plastic easter eggs with treats or come up with your own Easter egg styles, and hide them in your neighbor's or friend's yard. Then, print out the cute sign to put in their yard and watch them have a fun Easter egg hunt!
Easter Egg And Scavenger Hunts
The pinnacle of Easter is the Easter egg hunt! You can create so many different scenarios of the Easter egg hunt that will make this year even more fun:
The Golden Egg– hide a golden egg, it can be big or small, and leave a special treat inside, chocolate, money, whatever you would like!
Scavenger hunt– create a fun scavenger hunt for your child to go on and find specific eggs placed in specific places!
Color-coded eggs– If you have a large family, this may be a great alternative to the easter egg hunt, so one child doesn't end up with all the eggs! Color code each child's egg so that only one person gets a specific color. For example, your oldest daughter can only pick up the pink eggs while your son picks up the blue eggs.
Easter egg hunts are so fun for children to participate in. Put your unique spin on it this year and every year after, and develop fun family memories!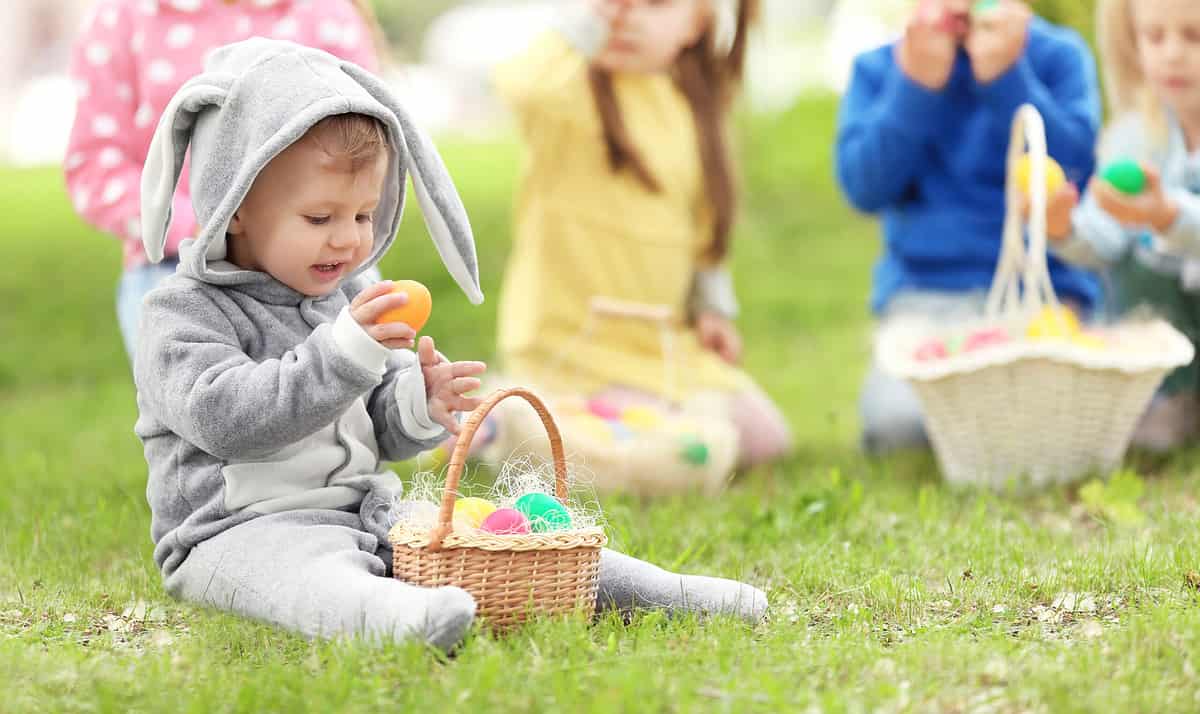 Dying Easter Eggs
Easter egg dying is one of the most basic fun activities children love yearly! It's fun to get creative with your Easter egg. There are so many different ways you can dye your Easter eggs:
Color with dye and vinegar and make solid-colored eggs.
Paint with regular paint, and create block patterns, strips, or even circles.
Use glitter to decorate your egg.
Consider using this unique scarf-dying activity.
Draw on your egg while they are warm with a white crayon, and then dye it. Your writing will be seen. Get creative with fun designs are words!
Instead of using dye, consider using nail polish!
Add stickers or gold foil to your eggs.
Use puffy paint to decorate your eggs.
Watercolor is also a fun way to paint eggs!
There are so many creative ways to decorate those fun Easter eggs. Don't just stop at these. Keep looking for unique techniques that you and your family will love.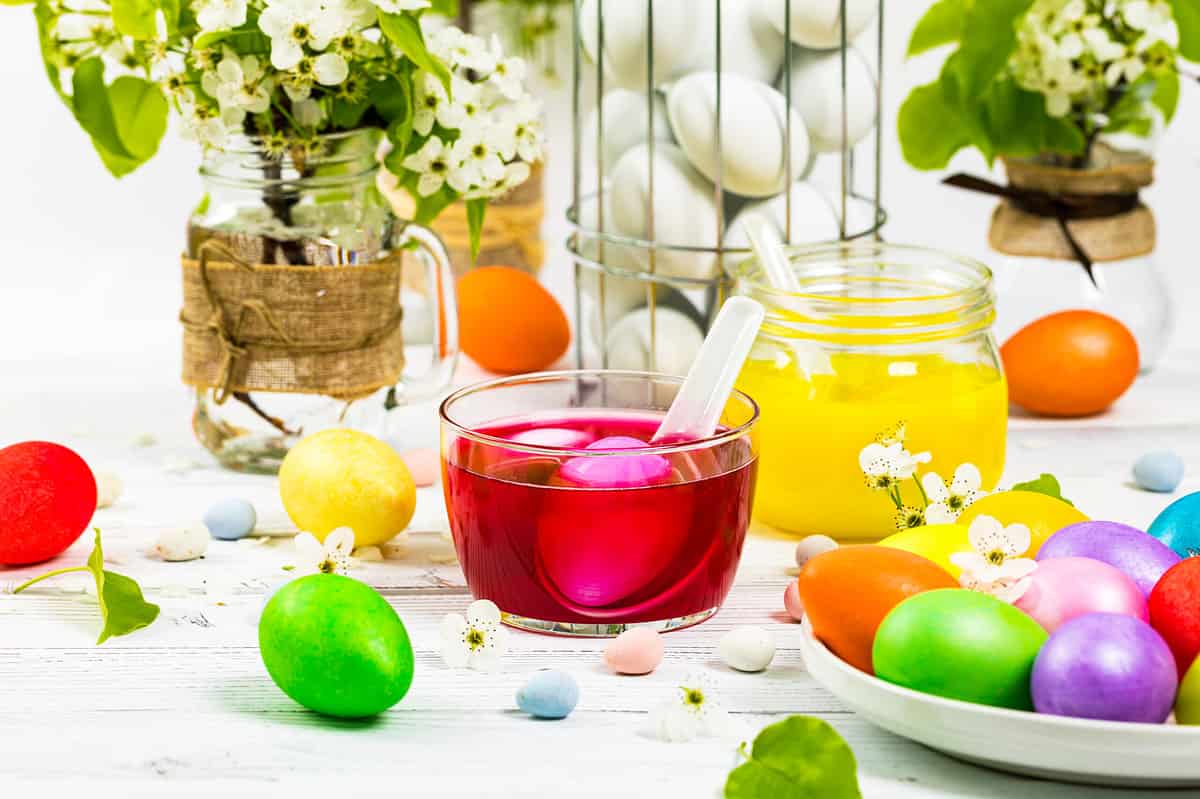 Easter Egg Games
You can play many fun Easter egg games as a family. But here are a couple that your kids will love!
Throwing Easter Eggs
Pick out a hard-boiled egg, go up a hill, then throw the egg! Take turns throwing your eggs until one break. The first one who breaks their eggs wins.
Carry The Egg On A Spoon
Play the classic game this Easter of carrying an egg on a spoon. Go safe with hard-boiled eggs, or get a little risky with raw ones! Then, race to the finish line, and the one who gets there first without breaking their eggs wins!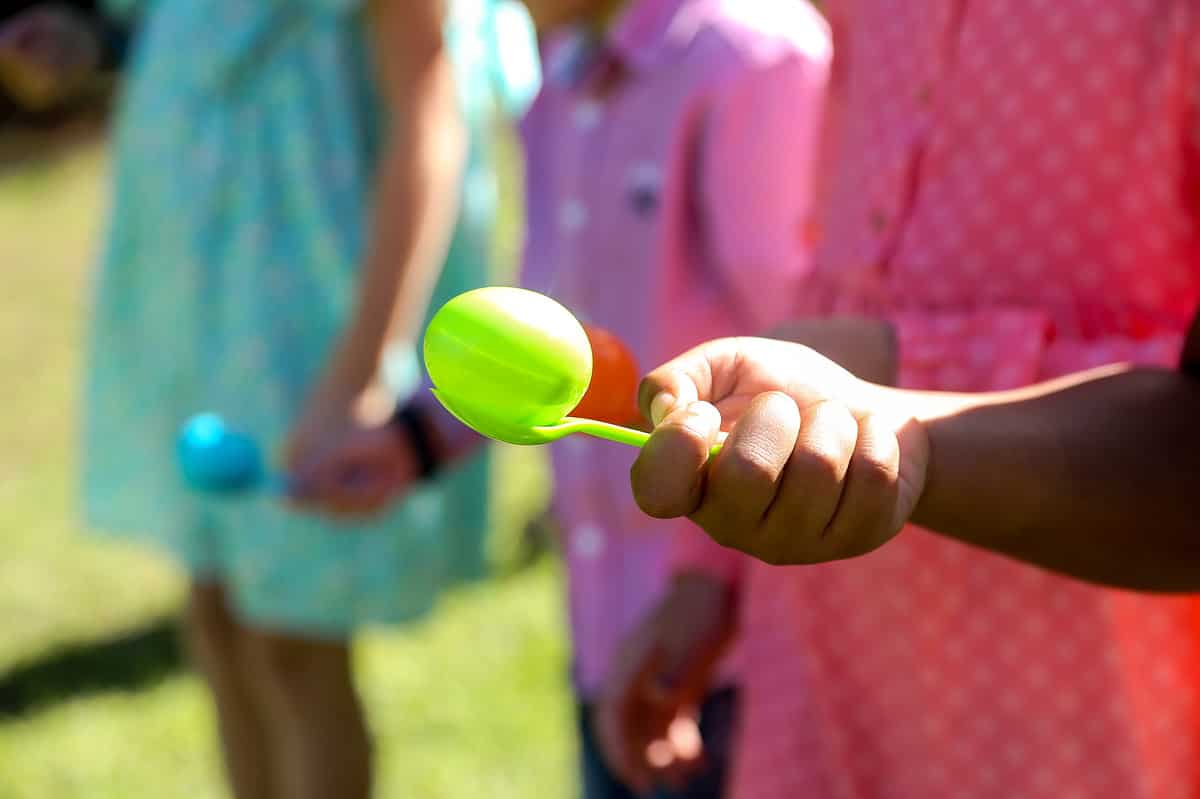 Toss The Egg
Team up into groups of two. Then toss the egg back and forth. If your team drops the egg, you are out! The last team standing without breaking their egg wins!
Bunny Hop
Play the bunny hop game! This is even more fun with a sack, also known as a sack race. Either pretend you are a bunny and hop to the finish line, or use a sack to help keep your legs together. Either way, this game is fun for kids of all ages!
Play Easter Egg-cerise
Write 12 exercises for your child to do, like the bunny hop, quack like a duck, or hop like a frog. Then put each one in a plastic egg. Next, take turns opening a plastic egg and have everyone participate in the exercise! Your children will have the time of their lives and be filled with laughter playing this entertaining game!
In Conclusion
There are so many fun things that you can do as a family this year! No matter what your child's favorite things are, baking a treat, decorating eggs, or playing games, this list of fun things to do with kids this Easter has an activity for everyone!
The image featured at the top of this post is ©FamVeld/Shutterstock.com.