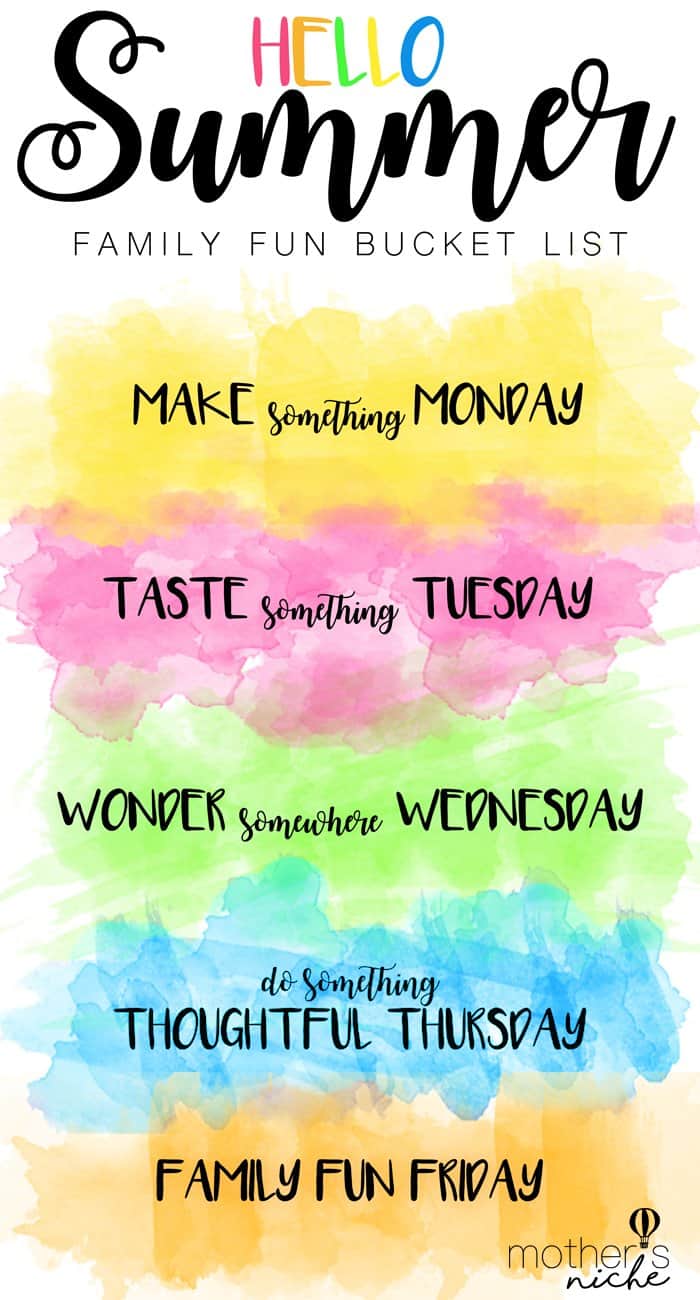 Let's Get Ready for Baby!
Sign up for our monthly pregnancy email series, and you'll get regular updates on your baby's development, helpful timelines to get ready for their arrival, must-have baby needs and so much more! PLUS, you'll get instant access to the MomsWhoThink "Ultimate Guide to Baby Naming in 2022."
CLICK HERE
to get started!
I LOVE summer. I love the warmth. I love 4th of July. And I love playing outside with my kids. However, a creative summer schedule for fun summer activities is the difference between a great summer, and a summer of chaos…. for us.
Having a creative summer schedule doesn't mean everything is strict and always planned out and there's no flexibility…quite the opposite! Our summer schedule gives us guidance and inspiration so that we make sure we are making every day of the summer count!
Every day might end up being something different (check out our Summer Fun category for some ideas), but our daily summer themes guide our creative summer schedule. What do I mean by daily themes? Here's what our summer schedule looks like this summer:
Our Family's Creative Summer Schedule for Daily Activities
Our days don't ALWAYS have to follow this schedule, but having it helps guide our ideas and summer activity planning. Here's a few examples of how our summer schedule might go:
Make Something Monday: Make slime, do a fun science experiment, do a craft, learn a new talent (how to make _____).
Taste Something Tuesday: This day for for cooking in the kitchen, going to a farmer's market, or maybe even ice cream or shaved ice!
Wander Somewhere Wednesday: Maybe we don't always leave the house, but on Wednesdays we try to make it a point to do so. Our summer schedule will try to accommodate going on some kind of adventures on Wednesdays, whether it's to the pool, the park, or just to grandma's!
Thoughtful Thursday: I have always felt it important to teach my children the joy that comes to one's life when you are doing something kind for someone else. Thursday is the day for this! Maybe we visit the elderly, do some weeding, make someone treats, or simply return extra grocery carts to their stall. Whatever it is, it's joyful and rewarding and my kids start to learn the important things in life: Like how life doesn't always revolve around their own wants and needs.
Family Fun Friday: Family fun Friday is pretty easy to plan because so many things can fit into this category, but we try to save the things that the kids are looking forward to the most, and we try to include dad when we can! These are the nights we look at the stars, have movie nights, go bike riding, eat picnic dinners, or maybe go camping or on a little weekend getaway of some sort!
For fun summer ideas, check out our Summer Fun Bucket List from last year!
We hope you enjoyed our family's summer schedule! I hope you will share you fun summer activity ideas with me!